American comedy has as distinct and varied a voice as America itself -- which should be no surprise, considering how vast our comedians' backgrounds are. Although it may seem like the most powerful comedic voices in the United States are concentrated in geographic clusters, the truth is that some of the most enduring personalities are represented all across the country. Some use their birthplace is part of their identity (like Jeff Foxworthy, born in Atlanta, GA), while others are more surprising. (Who knew Steve Martin is a hometown hero of Waco, TX?)
We found a comedian from each of the fifty states. (See below the map for a list of all included.) Who is your favorite comedian from your home state?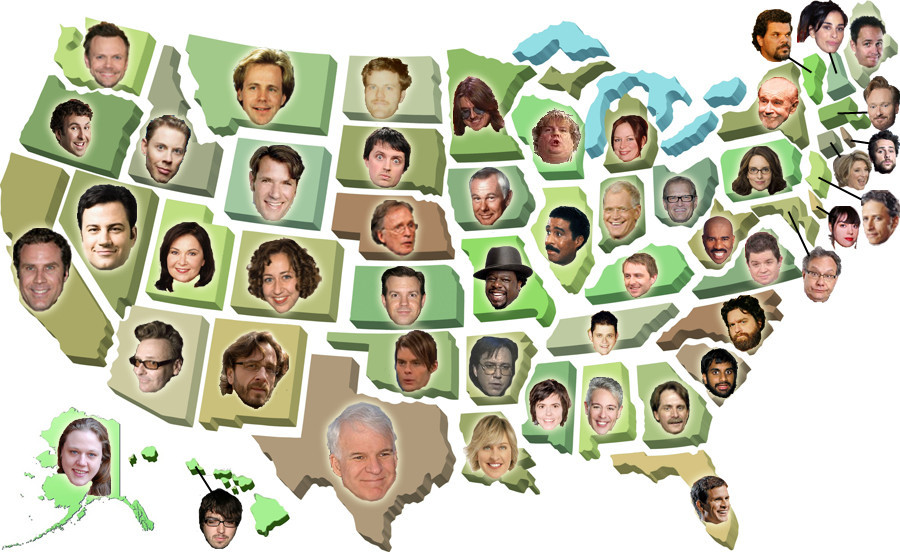 Alabama - Vic Henley
Alaska - Haley Boyle
Arizona - Greg Proops
Arkansas - Bill Hicks
California - Will Ferrell
Colorado - Kristen Schaal
Connecticut - Lisa Lampanelli
Delaware - Aubrey Plaza
Florida - Daniel Tosh
Georgia - Jeff Foxworthy
Hawaii - Jonah Ray
Idaho - Ryan Hamilton
Illinois - Richard Pryor
Indiana - David Letterman
Iowa - Johnny Carson
Kansas - Jason Sudeikis
Kentucky - Chris Hardwick

Louisiana - Ellen DeGeneres
Maine - Bob Marley
Maryland - Lewis Black
Massachusetts - Conan O'Brien
Michigan - Mary-Lynn Rajskub
Minnesota - Mitch Hedberg
Mississippi - Tig Notaro
Missouri - Cedric the Entertainer
Montana - Dana Carvey
Nebraska - Dick Cavett
Nevada - Jimmy Kimmel
New Hampshire - Sarah Silverman
New Jersey - Jon Stewart
New Mexico - Marc Maron
New York - George Carlin
North Carolina - Zach Galifianakis

North Dakota - Ryan Karels
Ohio - Drew Carey
Oklahoma - Bill Hader
Oregon - Matt Braunger
Pennsylvania - Tina Fey
Rhode Island - Charlie Day
South Carolina - Aziz Ansari
South Dakota - Timmy Williams
Tennessee - Ralphie May
Texas - Steve Martin
Utah - Roseanne Barr
Vermont - Luis Guzman
Virginia - Patton Oswalt
Washington - Joel McHale
West Virginia - Steve Harvey
Wisconsin - Chris Farley
Wyoming - Jim J. Bullock
Calling all HuffPost superfans!
Sign up for membership to become a founding member and help shape HuffPost's next chapter