In early October 2015, on a chilly and drizzling Sunday afternoon in our nation's capital, U.S. Surgeon General Dr. Vivek H. Murthy practically shouted these words in front of tens of thousands of people on the National Mall: "We're going to stop treating addiction as a moral failing and start seeing it for what it is: a chronic disease that must be treated with urgency and compassion."
With that, America's top doctor announced that his office would undertake the first-ever Surgeon General's Report surrounding addiction issues to alcohol and other drugs. Facing Addiction is proud to partner with the Surgeon General's office to co-host the launch event of that report during a live-streamed national summit event today at the Studios at Paramount in the historic Paramount Theater.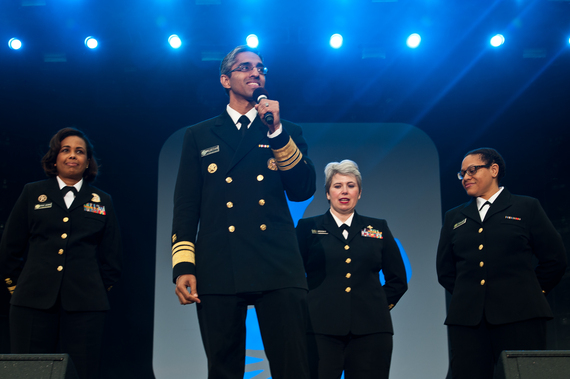 Titled, "Facing Addiction in America: The Surgeon's General's Report on Alcohol, Drugs, and Health," this groundbreaking report is already being compared to the 1964 Surgeon General's Report on Smoking and Health when it comes to importance and long-term impact. In fact, two years ago on the 50th anniversary of that landmark report, then Health and Human Services Secretary Kathleen Sebelius' first line of the executive summary read, "Fifty years after the release of the first Surgeon General's report warning of the health hazards of smoking, we have learned how to end the tobacco epidemic." Sebelius continued, "Americans' collective view of smoking has been transformed from an accepted national pastime to a discouraged threat to individual and public health . . . I believe that we can make the next generation tobacco-free."
We believe this most recent Surgeon General's Report will be just as powerful-maybe more so-in the ways American lives are changed in the coming years and decades. Never has a report tackled such a massive social health issue as substance use, misuse, and addiction, but then again, our nation has never been better positioned to pick up the mantle this report presents.
"Addiction has been a challenge for a long time, but we finally have the opportunity and the tools to address it," Dr. Murthy says. "By bringing together researchers, treatment providers, policy makers and key influencers, this summit will help our country see that a united front is necessary to address a public health challenge of this magnitude."
Addiction is an urgent health crisis. Consider this:
• Nearly 21 million people suffer from a substance use disorder but only one in 10
receives treatment--that's more than one and a half times the number of people who have cancer!
• In 2015, substance use disorders affected 21 million Americans--approximately one in 12 adults and adolescents.
• Implementation of evidence-based interventions around substance use disorder can have a benefit of more than $58 for every dollar spent.
But this is the stat we can leverage to inspire quick and far-reaching changes:
Substance misuse costs society an estimated $442 billion each year in terms of lost
productivity, healthcare costs and criminal justice costs.

By anybody's standards, that's a hell of a lot of money. We have to do better. And we will, starting this week. The conversations we're going to have with the Surgeon General and others during this National Summit have the potential to be seen via livestream.
Last year's UNITE to Face Addiction rally and concert on the National Mall at the foot of the Washington Monument was a pivotal moment for the emerging social movement of people impacted by addiction. Yes, our all-star lineup of musicians, actors, models, athletes, and influential government officials, certainly entertained us. But there was a bigger moment. I'm not sure when it happened, but there was a moment when we knew, beyond a shadow of a doubt, that we were at the tipping point of change for addiction issues.
Thirteen months later, the U.S. Surgeon General is keeping his promise. He unequivocally states in the report that science tells us how to solve the problem. Now it's our turn. If every person in every community in America would stand up to addiction as they stand up to other major health issues, we would forever shift the way addiction is looked upon in this country. It's our duty to take this historic moment and make it an enduring turning point for our children and generations to come. More than our duty, Dr. Murthy says that "how we respond to the addiction crisis is a moral test of America."
Let's make sure we respond with decisive action. For more information about Facing Addiction and the Facing Addiction in America: A National Summit, go to http://www.facingaddiction.org.
Popular in the Community