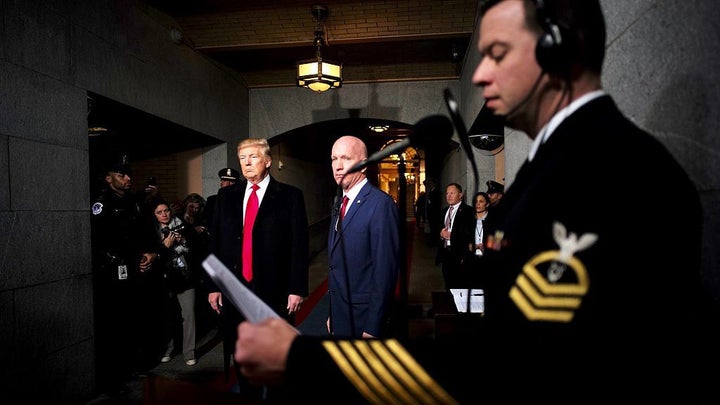 "We are transferring power from Washington DC and giving it back to you, the people," Trump said in an attempt to align himself with "the people." He then attempted to unite "the people" by appealing to nationalism. "We share one heart, one home, and one glorious destiny," he said. What would that destiny be? According to Trump, It's to be the "greatest" most powerful country on earth. A country which will be, like Donald Trump, a winner.
He reminded us that "we are one people" united under one flag and protected by one God. The country is currently so divided, along political and ideological lines, it could definitely use some unification. What's worrying is not that Trump seeks to unite, but the way in which he's attempting to do it.
He goes on to say, "For many decades, we've enriched foreign industry at the expense of American Industry." This anti-globalization stance is popular on both sides of the political spectrum. In fact, this was something Bernie Sanders also campaigned on. Americans want to see "their jobs" come back from overseas. Particularly, Americans whose only method of generating income is through selling their labor.
Trump's statements will give the impression that the United States is a Christian nation run by a Christian government. Many more people will begin to see all U.S. action around the globe as furtherment of Christian causes.
This "us vs. them" attitude towards the rest of the world is sure to create some friction. Especially with other powerful economies, like China, who depend on exporting to the States. It will also likely damage smaller economies, like Mexico, who also depend on the U.S. to export to and also have less negotiation leverage. If Trump follows through with his anti-globalization stance, the rest of the world will grow to resent the United States.
What was most worrying about Trump's speech was his rally call to the "civilized world" to destroy "radical islam." This was followed by short speeches from a rabbi and two priests, but no Islamic representatives. ISIS' goal of recruiting muslims by creating a narrative in which "the west" is at war with Islam will be much easier to sell because of this speech. ISIS will most likely create a piece of propaganda which will feature the leader of the "civilized world" vowing to destroy "radical islam." Many here in the west will understand this as being a direct threat towards ISIS. Many muslims around the world will interpret this as a threat on all of Islam.
These anti-radical Islam statements were followed with references to the Bible. "The bible tells us how good and pleasant it is when God's people live together in unity," he said. "...Most importantly, we will be protected by God." The God of the bible, of course. From a demographic perspective, Christians make up 75 percent of the population. From a legal perspective, the US government is not Christian in the same way Isreal is Jewish. Instead, the constitution mandates for a separation of "church and state."
Trump's statements will give the impression that the United States is a Christian nation run by a Christian government. Many more people will begin to see all U.S. action around the globe as furtherment of Christian causes. The United States will be trusted even less in the eyes of non-Christians around the world.
This will make it even easier for terrorist groups like ISIS to garner support. They will further the "war with the west" narrative by attempting to unite muslims against "Christianity." This is something they already do, but which will be made much easier after this speech.
The Trump administration is even antagonizing US allies. It recently accused Germany of manipulating the Euro in order to increase exports at the expense of other countries. The price of the Euro proceeded to surge by over 1%, a major move for a currency. Trump is also straining ties with Australia, another long time ally of the United States, and has reportedly had a "tense" phone call with Australian Prime Minister Malcom Turnbull. Later, Trump accused Australian officials of attempting to take advantage of the US by dumping "illegal immigrants" on it.

Expect more anti-US sentiment from certain areas around the globe. If Trump is true to his word and decides to turn the U.S. economy inward, China's economy will falter. China relies on the U.S. economy for growth, but so does the U.S. on China for its growth. Hurting the Chinese economy will eventually damage the U.S. economy.
The U.S. is currently the world's second largest exporter, and so it relies on maintaining trade partners for maintaining a healthy economy. Closing itself off from the rest of the world is likely to cause it some damage economically. In the short term, global markets will remain stable and maybe continue to rise. In the long run, this anti-globalism stance will have disastrous effects on the global economy.
REAL LIFE. REAL NEWS. REAL VOICES.
Help us tell more of the stories that matter from voices that too often remain unheard.
BEFORE YOU GO