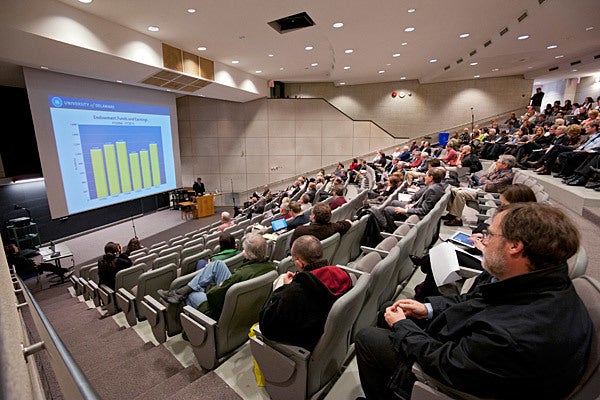 Following my piece on the University of Delaware's consistent failure to maintain a commitment to Title IX, I was pleased to see the university's president, Dennis Assanis, issue an email to all students and faculty in the university reaffirming the school's stance under existing protocol. In this email, dated October 13th, 2017, President Assanis said this: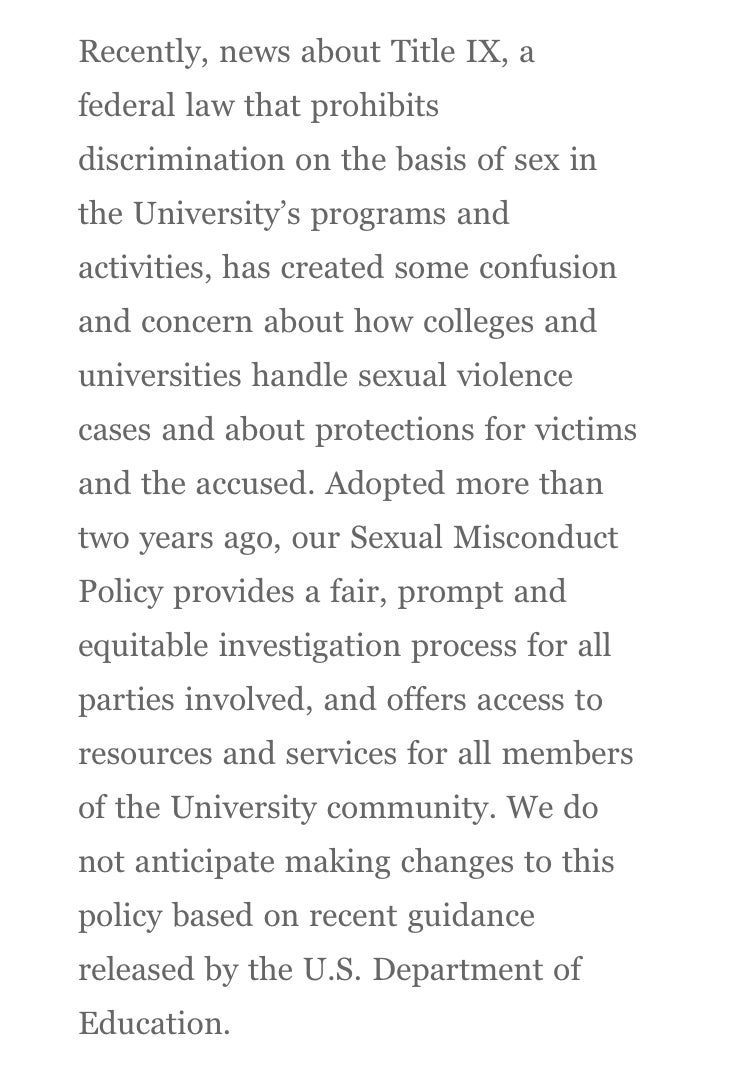 Imagine my surprise, then, when the Faculty Senate spent their meeting yesterday in part debated revisions to the university's non-disicrimination policy, which include a change from "preponderance of the evidence" to "clear and convincing evidence". You can see the revisions below:
I am deeply disturbed by this turn of events. While it is not clear who has been spearheading these ill-advised changes, they coincide with the appointment of an interim provost, Dr. Robin Morgan. Three years ago, Morgan and her colleagues were sued for wrongful termination after dismissing a tenure-track faculty member who reported another professor for having an inappropriate sexual relationship (a summary judgement for Morgan and her co-defendants was issued).
Less than two months ago the university affirmed, in writing, a direct commitment to Title IX protections according to the 2011 Dear Colleague Letter, and yesterday they went back on their word. It is nothing short of a full betrayal of trust and confidence.
I have spent four years at this university advocating for survivors and victims of sexual violence, and I do not intend to stop any time soon. In the wake of the Me Too movement, when we are beginning to grasp the severity and scope of sexual violence, we need administrators now more than ever to not only verbally affirm their support but to actively do so. I know of no other issue that affects such a large segment of the population, particularly students of color, LGBT students, and low-income students which the university ostensibly wants to attract. I see no reason, other than shameful self-interest, for this university to treat sexual violence as anything less than a top priority.
It is too little too late, as far as I'm concerned, for apologies on the part of the university. The mere act of creating these revisions and bringing them to a debate in front of the Faculty Senate is a slap in the face to me and everyone else on this campus who has suffered sexual violence. This change will not happen without a fight, and the university would do well to brace itself for an onslaught of unwelcome local and national attention should they continue down this path.
Note: This piece has been updated since its initial publication to reflect new information regarding the distinction between the Non-Discrimination Policy and the Sexual Misconduct Policy. Although such differences are notable, this author still firmly believes a change in one will negatively affect the other, and should be taken seriously.
Second Note: A section of this article about the involvement of Interim Provost Robin Morgan in the changes to the non-discrimination policy was inaccurate. The author has removed the segment and would like to offer a sincere apology for any professional and/or personal distress he might have caused.
REAL LIFE. REAL NEWS. REAL VOICES.
Help us tell more of the stories that matter from voices that too often remain unheard.
This post was published on the now-closed HuffPost Contributor platform. Contributors control their own work and posted freely to our site. If you need to flag this entry as abusive,
send us an email
.