Big-time athletics at the University of Michigan haven't been going so well lately. The football team recently finished with a 5-7 mark. This marked the third time in the past seven years the Wolverines failed to win half their football games. Prior to this stretch, Michigan hadn't had a losing record since 1967.
After such a miserable football season, Wolverine fans were probably looking forward to another men's basketball season. After all, the men's basketball team has advanced to the NCAA tournament in each of the past four seasons. And when the 2014-15 season began, the Wolverines were ranked 17 in the nation.
In the past few weeks, though, the wheels have come off of the basketball bus. After starting the season 6-1, the Wolverines proceeded to lose at home to the New Jersey Institute of Technology. Seemingly in an effort to prove that a loss to NJIT wasn't a fluke, Michigan then lost at home to Eastern Michigan. And then on back-to-back Saturdays Michigan lost by 27 points in Arizona and by 11 at home to Southern Methodist University.
At this point it seems clear that Michigan has declined in the sport of men's basketball. Unlike football -- where very large interaction effects make individual player analysis difficult -- we can actually look at the numbers in basketball to see which specific players are responsible for the team's success (and/or failure). Specifically, the box score statistics tracked for the players can be utilized to measure how many wins each player produces (in a similar fashion to what has been done for the NBA).
In addition to measuring each player's contribution to wins, we can also look at how much revenue these players are worth. According to the Department of Education, the University of Michigan's men's basketball team generated $13,636,966 in revenue in 2012-13 (the last year data is available). North American professional sports leagues -- (like Major League Baseball and the National Football League) tend to pay about 50 percent of their revenue to their players (a similar story is told in the NBA and the NHL). If we argue that Michigan's players are worth 50 percent of the team's revenue -- and revenues did not change in 2013-14 -- then these players produced $6.8 million this past season.
This revenue could be allocated a few different ways. If the money is allocated equally across all 14 team members, then each player would be paid $487,035. For a less equal distribution, one could divide revenue in terms of minutes played or player productivity. As the following table indicates, either approach indicates that every player who played at least 100 minutes in 2013-14 was worth at least $250,000 in revenue. And since this number greatly exceeds the cost of attending Michigan, it is clear that the University of Michigan got a very good deal.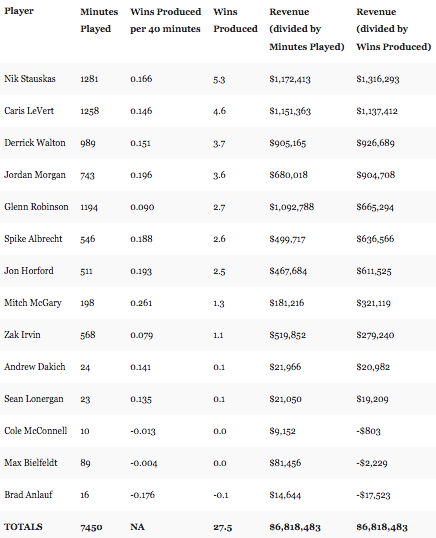 To understand what is happening this year, let's start by noting that Michigan lost eight players -- including Stauskas, Morgan, Robinson, Horford, Morgan and McGrary -- from the 2013-14 team. These eight players produced 15.4 wins (or more than half the team's wins last year) So unless the Wolverines found a collection of very productive freshmen (and/or transfers), it seemed likely Michigan would decline. And when we look at how the Michigan players have done after 10 games -- reported in the following table -- it seems clear that Michigan's newest players haven't been able to replace the players who have departed.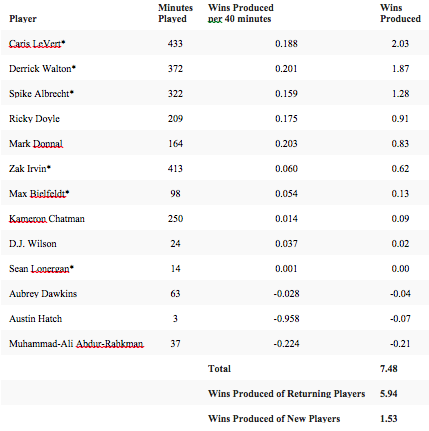 * - returning players
As one can see, Michigan's six returning players have produced virtually all the team's wins this season. And that means the freshmen Michigan has added really haven't helped much. This group includes Kameron Chatman, the 38th ranked recruit in 2014 (according to ESPN). Currently Chatman is only shooting 28.6 percent from the field. So it is not surprising that he has not produced any wins for the Wolverines.
Despite these results, Michigan is still getting a good deal from this collection of players. Let's imagine that Michigan continues to lose and this reduces team revenues (there is a link between wins and revenue in college basketball). For example, Penn State in 2012-13 only won 2 games in the Big 10 and the team's revenue was only $10,386,880. If Michigan only brings in this amount this year, then the players are still worth $5,168,440. And an equal distribution means each player receives nearly $400,000.
If we focus on wins, three returning players -- Caris LeVert, Derrick Walton and Spike Albrecht -- are projected to be worth more than $700,000 (assuming their current performance continues). This is far more than Michigan is giving these players. So even with the team's struggles (which are not caused by these three players), Michigan is still coming out ahead with its men's basketball program in 2014-15.
Of course, not everyone is happy. Certainly the fans are not happy. They are accustomed to an institution (that is supposedly devoted to higher education) providing them with winning sports teams. And the players, who are clearly underpaid by a very large amount, should also be unhappy.
Obviously that is not really Michigan's problem. In fact, as we have seen, the University of Michigan doesn't have any real problems with respect to its basketball program. Yes, losing seems bad. But because the pay of players is restricted by NCAA rules, Michigan is a winner even when the team loses.
Related