This week, the University of Michigan cancelled a showing of the film American Sniper after nearly 300 students protested through an online petition, writing that the film promotes negative and misleading stereotypes against the Muslim community. The University's Center for Campus Involvement, which initially chose to replace the film with a showing of Paddington Bear, a PG film about a stuffed bear, later reversed its decision and declared that American Sniper will be shown as scheduled on Friday, April 10 at the weekly UMix event.
Designed as "a series of fun, late night activities and events for University of Michigan students between 10 p.m. and 2 a.m. most Friday nights," Nobody initially questioned the negativity and tension that would spark as a result of showing an autobiographical war drama at a university social event where students decorate mason jars and play on moon bounces. Nobody, including myself, took even a minute to imagine the hate and xenophobia that one screening would, and has, ignited. I hoped that both the Ann Arbor and American population in general would be sensitive enough to avoid such disgusting and inhumane discrimination. I now see that I was wrong.
Within the last six hours of me writing this article, there has been an exorbitant influx of "hate mail" directed at Middle Eastern, North African, South Asian and other Muslim self identified students at the University of Michigan. Complied at UM Got Mail's tumblr, this collection of Tweets, Facebook comments and other social media posts is proof that what I previously thought was an unnecessary debate over a movie is, in actuality, evidence of a disruptive, exclusive and malignant social climate that needs to be addressed.
Simply put, UMix, or any other playful, university-sponsored social gathering, is no place to screen a movie that carries as much controversy as American Sniper. The decision to cancel the venue was not only a smart one -- although campus conservatives, Jim Harbaugh and Fox News in general will tell you otherwise -- but it was one of immediate necessity; the problem with this film is not simply about Chris Kyle or undying patriotism or our personal entitlements to free speech or even the accolades American Sniper has received since its initial release -- it is about the lack of dialogue that UMix presents and the atmosphere of the screening environment.
I have no problem with American Sniper being shown. But, for anyone to believe that a UMix is an appropriate place to show the film, to believe that such media can be played without first establishing a safe place for students of all backgrounds to have an educational discussion about the underlying messages presented by Clint Eastwood's direction, to believe that arts and crafts can possibly coexist with the bloodshed and intolerance, is not only naïve; it is dangerous.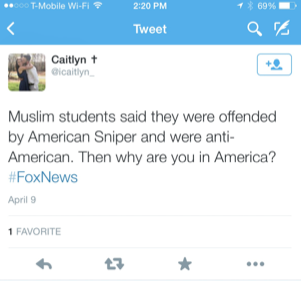 As a student journalist, I will be the first to say that I advocate free speech. But, with free speech comes an expensive responsibility, and it is when we forget these responsibilities that we become blind to the backgrounds and well-beings of others. This incident is hardly the first to question the free speech policies at the University of Michigan -- from the Inclusive Language Campaign, a program designed to discourage students from using racial, homophobic or other degrading slurs in their daily conversations, to Yik Yak, there have been a multitude of conversations (many of them hostile) about our inherent right to "say what we want when we want."
The desire to foster an atmosphere of complete free speech definitely competes with the desire to establish an inclusive environment at a large and diverse public university. But we can reduce the intensity of this competition by maintaining an open mind and refusing to be hypnotized by the extreme polarizations presented by the liberal and conservative news outlets of this country. The University has both a right and an obligation to intervene when the emotional or physical safety of its students is significantly compromised, and we have an obligation to respect that right and promote the well being of those around us.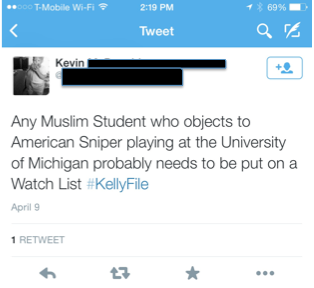 The racial and ethnic targeting that has resulted from the American Sniper debate is to say the least, revolting and nauseating. If you believe that the unfiltered spewing of such hate is appropriate, if you believe that social media is an effective means of "defending your country," you clearly do not understand what being a member of the American community is about. Using social media to attack an innocent student does not make you loyal; it makes you a spineless coward.

I have not seen American Sniper, and I have no solidified opinions about Chris Kyle, but I have very strong feelings when it comes to the dehumanizing of my peers. It is something that I refuse to stand for, and if you have any ounce of humanity, then you will feel the same way. I am proud to be a student at the University of Michigan, but I am not proud of the behavior that our community has exhibited in the past few hours and days.
There is no doubt in my mind that this issue will resurface in the near future, even if the academic school year is coming to an end. And when it does, hopefully we will then realize that this incident is and never was about a film; it's so much more than that.
REAL LIFE. REAL NEWS. REAL VOICES.
Help us tell more of the stories that matter from voices that too often remain unheard.