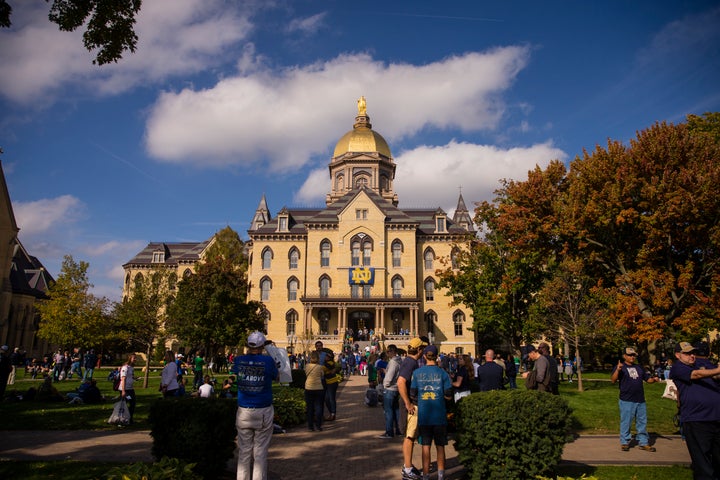 I came out as a lesbian in May of my first year of college. As a student at the University of Notre Dame, I was well aware of the challenges I would face as far as likely facing discrimination and being regarded as "different." However, I did not know then truly how much my experience would change. The goal of this piece is to bring attention to the issue of the treatment of LGBTQ+ individuals at Notre Dame. As this provides so much information, I do not have the space here to go into proposing solutions.
I began noticing this issue in my first year, as Notre Dame's housing system helps to create an environment in which queer and transgender students often feel unwelcome. The University currently only has undergraduate housing in which only students of one gender—male or female—are allowed to live in a dormitory together. Also, only people who were assigned that gender at birth are allowed to be in the rooms from midnight to 9 am on weeknights and 2 am to 9 am on the weekends, to, as the University says, help to create a dorm community. Students who break these parietals are subject to punishment. However, as members of other dorms who are of the same gender are allowed and sexual intercourse is banned by the University's rules governing students, many students believe these rules are in place to limit heterosexual sexual activity on campus. This seems to enforce heteronormativity and ignore that LGBTQ+ students exist here. This also makes being a transgender student on campus impossible, as the University requires that you live in a community of those who all were assigned the same gender at birth, which can be an institutional challenge to the identities of transgender students.
In addition to this, in a required course for first-year students, one of the assigned readings is "Beloved Friends and Allies: A Pastoral Plan for the Support and Holistic Development of GLBTQ and Heterosexual Students at the University of Notre Dame." In essence, this is an entire website dedicated to articulating and reminding students that their "sin" of same-sex sexual acts is not welcome here. While this may have good intentions, it only goes to divide students. Nowhere else is it articulated that other sins specifically are not permitted (the rules of the University may specify certain behaviors, like sexual intercourse, are prohibited, but it does not call them sinful). While the content of this piece flows from the Catechism of the Catholic Church, the inclusion of this as a required reading only marginalizes the students to which it pertains: those who are not straight and thus, already marginalized. All this does is articulate to students here — especially first-year students who are assigned this — that if you are queer or transgender, you are different in a bad way.
Last week, the Student Government of the University of Notre Dame, with the support of numerous departments, hosted a GlobaLGBTQ+ Film Festival. As Student Government is emphasizing inclusivity this year, this event was created with intersectionality in mind; that is, the coalition of identities which are marginalized or in the minority. The goal of showing these films and documentaries which tell the stories of queer people around the world, in addition to the dialogue they encouraged, was to foster an environment of inclusivity on campus. However, I do not see that much progress was made.
Like any campus event, posters were created, distributed, and hung in buildings and dorms. In at least one of these, the posters were vandalized. The letters "LGBTQ+" and the location of the event were removed. This is the specific event which prompted me to speak out.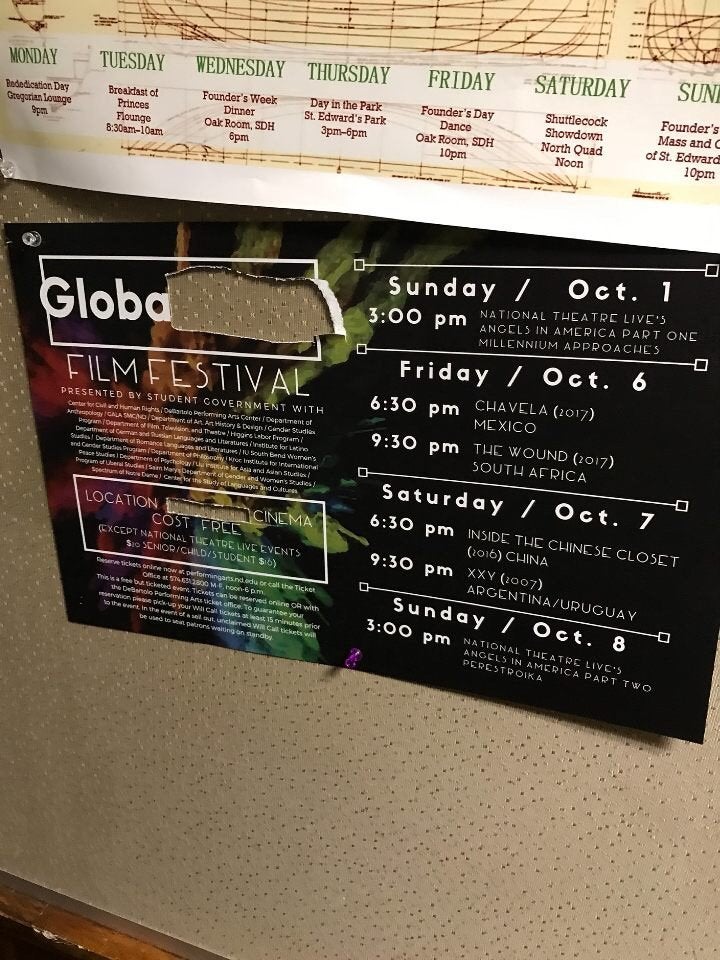 For the students on campus who identify as LGBTQ+, like me, this act is threatening. Seeing this, for me, is a constant reminder that because of things out of my control, I am not welcome or wanted on this campus. As an out person at Notre Dame, I have noticed the hostile treatment of LGBTQ+ individuals on this campus is encouraged by the campus' climate. I am not shown the same love or empathy as other students.
This is not the first time Notre Dame has been hesitant to allow such an event. An annual Queer Film Festival began at Notre Dame in 2004 to promote inclusivity and emphasize the accomplishments of queer artists of cinema. To accomplish this, the organizers showed films and documentaries which were relevant and interesting and then hosted panels wherein experts on the films and in various subjects spoke about different aspects of these and fielded questions. This was allowed to happen because of the academic freedom granted to students on this campus, as this was an event focused on education. Nearly a decade ago, these organizers were told they could no longer use the words "queer" or "festival" to promote or name it. Though the festival had run for some years by that point, protests from those against the free speech of students, which protesters justified with Catholic theology, eventually led the then-new President Jenkins, C.S.C. to impose these limits which led to the end of the event. The GlobaLGBTQ+ Film Fest was aware of this history and wanted to ensure that the goals of promoting a discussion, educating, showcasing poignant films, and inclusivity were at the heart of it. It was also given a name which reflected that it was not a continuation of the Queer Film Festival. Though changes were made to make this even more academic, it was still met with the hostility of Notre Dame which is specific to queer and transgender students.
Not only does this attitude negatively impact students who identify as LGBTQ+, but it also reiterates that straight, cis students are in some way above us. As the University intentionally frames these conversations in how specifically only queer and transgender students can sin, this encourages a pecking order wherein students who are not straight are last. This is a bastardization of the Catholic ideals which the University claims to uphold. These attitudes and actions of the University create an atmosphere wherein queer and transgender students are ignored. This creates a hostile environment for us as it encourages other students and staff members to think of us as different and less than them or else, ignore that we exist. Though the administration of Notre Dame may preach love, the connotation has always been that LGBTQ+ students are the "other" and I am tired of it.
Of course, I am sure you are thinking "but Anne, why did you pick Notre Dame?" That, friends, is because I did not know I was gay until my first year of college. (I encourage those who think I should transfer to fund this for me.) You also may be thinking, "I just do not want to hear about it anymore." To which I say, simply: no. I refuse to be silent. I refuse to allow the University to gloss over the problem of reinforcing heteronormativity any longer. I demand acceptance and equality and inclusivity. Diversity is not enough.
Popular in the Community