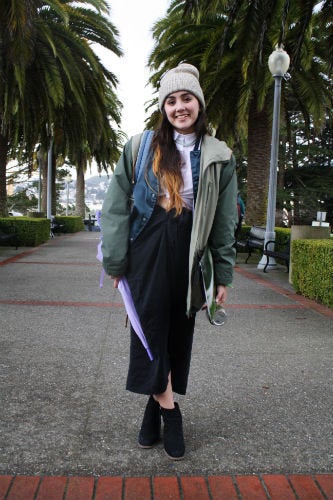 The city of San Francisco is home to all walks of life and over 112 different languages. We are home to some of the best cuisine in the states, breathtaking views of the Golden Gate Bridge, and ridiculously high rent... (thanks, techies). Apart from high academic standards, the city is the main reason students choose to come to the University of San Francisco. We are smack dab in the middle of city, and in turn our college experience is molded by what we encounter in the streets of San Francisco. Students at USF take advantage of the individualistic and open attitude of the city by experimenting with style. Personal style is a journey -- it is shaped by our experiences, our surroundings and our peers. As we encounter new environments and are exposed to new ideas, our personal style may morph as well.
Freshmen year was a whirlwind of figuring out MUNI, navigating a foreign city and managing classes. As upperclassmen, we have established ourselves as apart of the city, and our style may reflect this. Maybe we found ourselves immersed in the hip Mission vibe -- riding a customized fixie and conversing over Four Barrel coffee. Perhaps you found yourself immersed in the chic professionalism of the Financial District in the heart of the city or maybe we fell outside the confines of these districts. Wherever USF Fashionista/o's find themselves, they let their individuality shine through.
Unlike New York City, anyone can make it in San Francisco. We are not a high-fashion hub in the way that perhaps NYU may be. Our students and neighboring college campuses take advantage of the lax vibe our city gives off.
This University of San Francisco Fashionista is an embodiment of letting your style speak for yourself. She knotted a high-waisted maxi skirt with a white polo buttoned to the top. Like all USF students, she utilized layering for the foggy winter weather by pairing a green parka and cozy knit beanie. She is consistently spotted around campus in lovely ensembles, projecting a cool and comfortable vibe -- which is the best way to describe her warm personality.
Chelsea is a junior pre-law student studying at the University of San Francisco. When she's not making a mess in her kitchen coming up with new vegan recipes, you'll find her running the trails of San Francisco or cuddled up with tea watching every episode of Planet Earth. She plans to move back to Los Angeles after graduation in May 2014 to pursue a career as an attorney