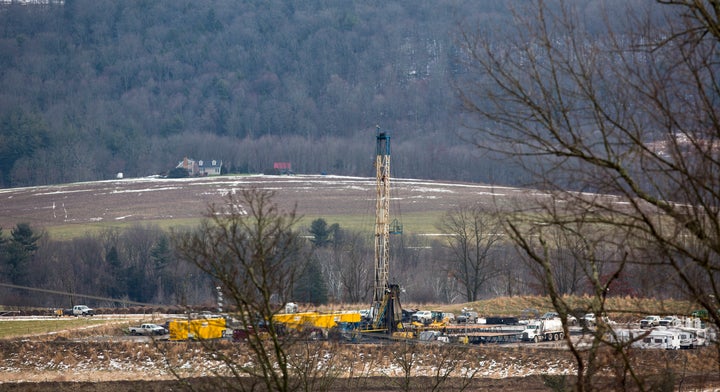 On the day that Pennsylvania's Department of Environmental Protection announced it had approved two injection wells for disposing of fracking waste, Maryland made history by becoming the first state with shale gas reserves to enact a ban on fracking. Governor Larry Hogan will make it official when he signs into law the bill he announced his support of at a press conference earlier this month.
The wells that were approved are the same kind of wells that have been linked to the earthquakes that have recentered the Ring of Fire right over Oklahoma. Green-lighting the wells is just the latest in a series of actions that indicate that the Wolf administration has become completely disconnected from the reality that did not escape the Republican governor of Maryland nor the state's legislature.
Governor Hogan told the press, "Because of Maryland's unique position in the country, and our wealth of natural resources, our administration has concluded risks of fracking simply outweigh any potential benefits." It's a position a majority of Americans had already come to nearly a year ago, according to a Gallup poll conducted last March. In fact, other states and entire countries have banned the practice or are considering doing it. Many of those countries have sent delegations of public officials, media teams, researchers, students, and others to Pennsylvania to see fracking's negative role model firsthand. Legislators from both Maryland and New York, a state that banned fracking by executive order, visited hard hit parts of the state, something that informed their respective decisions to impose the moratoria that led to the bans. No sitting Pennsylvania governor has ever visited an impacted community. It's not that they haven't been invited.
Pennsylvanians Against Fracking is among the many organizations, networks, and coalitions that have invited Governor Wolf to travel to impacted areas of the state. We asked him during a meeting we organized with him, several of his cabinet members, impacted constituents, and members of the scientific community. He demurred to the invitation, insisting that fracking could be done safely, but offering no proof to back up his claim.
Since that meeting, the Wolf administration has demonstrated that it is not only not particularly concerned with making fracking safer, but that it's doing everything it can to expand the customer base for natural gas and ensure that fracking continues for decades to come. Days after Governor Hogan's press conference, Governor Wolf issued a report that concluded that the state could support four more ethane crackers, petrochemical plants that 'crack' ethane molecules to produce ethylene used in plastics manufacturing. Royal Dutch Shell is receiving the biggest tax break in the state's history ― $1.65 billion – to build its already-approved cracker in Beaver County.
Last November, Governor Wolf announced his PIPE program that moved $24 million from an alternative energy program to pay for building natural gas distribution lines that would make customers of schools, hospitals, and business parks. The program is just one of the ways in which alternative energy incentives have been pushed to the side to make way for more shale gas drilling.
Prior to that, Wolf's Department of Environmental Protection was approving the vast majority of an avalanche of natural gas power plant applications that had been submitted in anticipation of the late Clean Power Plan's implementation. The plan's terrible legacy is that a loophole contained within it gave states the discretion to exempt from the plan new natural gas power plants built after January 8, 2014, something a state like Pennsylvania, a state existing in another dimension where climate change is not a crisis and where people are not losing their health, their property value, even their lives to fracking, welcomed. The Department of Environmental Protection, responding to Right-to-Know requests submitted by Pennsylvanians Against Fracking, reported that it had approved 47 new natural gas power plants since the beginning of 2014. Still others were approved prior to 2014, but not built until that year or later. We also asked how many the Department of Environmental Protection had considered. 47. They hadn't rejected one application.
Power plants, cracker plants, and more distribution lines mean more pipelines, more compressor stations, and, ultimately, more fracking. Given the cutbacks to environmental protections threatened by the Trump administration, any reasonable governor with an iota of concern for his or her constituents and the environment recognizes that it is now incumbent upon the states to do for its people what the federal government will not. Maryland is lucky to have a reasonable governor. We're not all so lucky.
REAL LIFE. REAL NEWS. REAL VOICES.
Help us tell more of the stories that matter from voices that too often remain unheard.
BEFORE YOU GO