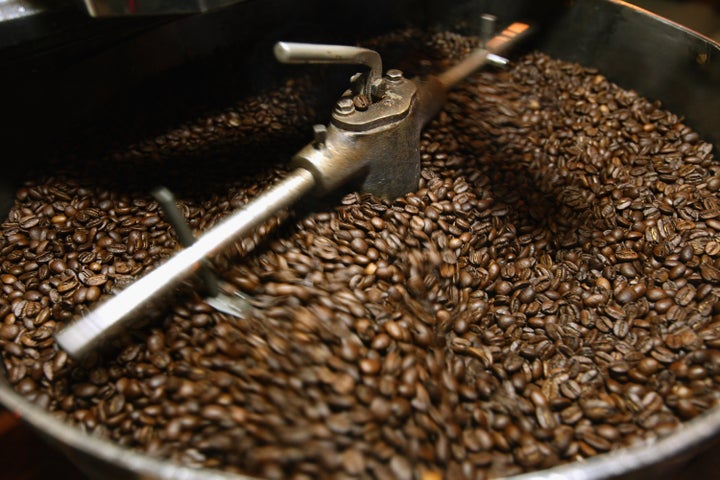 When you lose the use of one sense, the others become heightened. That's certainly true for Gerry Leary of Boulder, Colorado. Leary has been blind since birth, yet he operates a successful coffee roasting business and a café near Boulder's main pedestrian mall, Pearl Street. Leary learned to roast coffee by gauging the sound and smell of the beans, and his sense of coffee taste is second to none. He's honed his sensibility to a fine point, and has become a supreme connoisseur and master craftsman. "There are other ways to take in your world beyond sight," he says. "You have to be open, and you have to adapt."
The mechanics of operating a coffee roaster are hardly beyond Gerry's abilities. He operated a car-repair shop in Boulder for nearly 20 years after learning the trade from his father. "Basically you'd hear people say, 'a blind mechanic?' Sometimes people would just show up to watch," he told an advocacy newsletter for the blind in 2006. "In all my time of working on cars, I may have had a handful of unhappy customers." But the coming of computerized car systems meant that Leary needed a new profession. He couldn't interpret the diagnostic codes in the guidebook.
Leary had started looking for a coffee roasting mentor years earlier, during a vacation to San Francisco. "Everyone I talked to said, 'Boy, you really have to see to do this. I don't know how to teach you.' One person said I'd never be able to roast coffee." But despite those long odds, he got his certification as a master coffee roaster and started experimenting in a backyard shed at his house. It was frustrating at first, but he had a breakthrough when he found a talking thermometer that could allow him to take temperature measurements. Things moved quickly after that, and Leary's coffee became so popular that he needed an industrial space. His business, "The Unseen Bean," which offered "Blind Roasted Coffee," was born, with a logo featuring Leary's guide Labrador, Midnight, wearing sunglasses while he sniffs a cup of coffee.
A decade later, the business is still going strong. Leary hand-roasts coffee from more than a dozen countries, including rare locales like Malawi and Zambia, listening for "audible cues" as the beans release water during the roasting process. He tries to buy organic, fair-trade beans, and has created many custom blends for his loyal patrons. "People hate spending money repairing their cars," he says, "but with coffee, they come in and leave with a smile. It's a much happier work environment."
Since Leary started his business, there's been a worldwide explosion in artisanal coffee. You can't throw a bean without hitting a trendy barista. But a nearly 60-year-old guy, blind since birth, is still out-roasting and out-brewing the best of them. "The competition's fun," he says, "because I think I can make better coffee than they can."
Leary has turned an apparent disadvantage into an edge up. The proof is in the smell, the sound, and the taste of his blind-roasted coffee.
This video from Dark Rye was produced by Ira Chute and edited by Jason De La Rosa.
Related