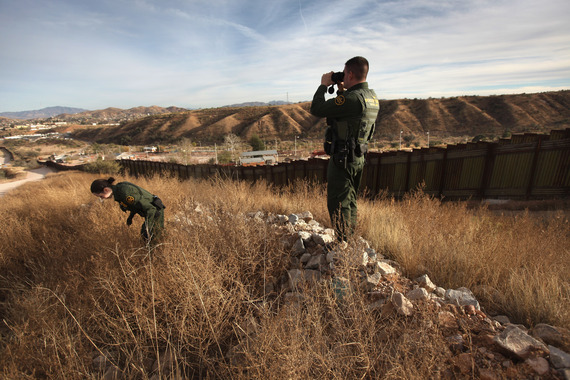 The wave of unaccompanied children from Central America flooding the U.S. border is a regrettable situation that is taxing many federal government agencies - none more severely than the U.S. Border Patrol.
Allegations that some minors have been mistreated while in Border Patrol custody are troubling and deserve to be investigated fully. But I can state with certainty that the vast majority of Border Patrol agents are doing a remarkable job under the most stressful circumstances imaginable. They are true American heroes, and no one should allow allegations against a few to sully the reputation of the entire workforce.
In April, I met with Border Patrol agents at several stations along the U.S./Mexico border, including the McAllen Station in the heart of the Rio Grande Valley.
Anyone who doubts the compassion, empathy and bravery of our federal employees along the border only needs to spend a few hours with them to have those concerns erased. We as a nation should be doing everything we can to support them in their work.
Border Patrol agents are apprehending, processing and caring for tens of thousands of immigrants who have entered the U.S. illegally along the Rio Grande Valley. The apprehensions are severely straining the border enforcement system and diverting agents' attention from traditional law enforcement duties, such as preventing terrorists and weapons of mass destruction from entering the United States.
Nearly 40 percent of the force has been pulled from the field to process and care for these immigrants. Our agents are feeding, clothing and watching after children who are alone and defenseless in a new country. Many of them are taking money out of their own pockets to buy formula, diapers and other items.
These Border Patrol agents aren't to blame for this situation. The real fault lies with powerful drug cartels that have exploited a well-intentioned law signed before President Obama took office that forbids the U.S. from deporting minors who enter the country from non-contiguous nations until their immigration cases are decided.
Drug cartels are forcing children and additional immigrants to cross the border between the ports of entry, effectively using them as a human shield to divert resources that would otherwise be spent interrupting trafficking operations. As agents deal with the influx of immigrants, cartels are smuggling drugs, gang members and people from countries with terrorist ties across the border unfettered.
This wave of immigrants could not be coming at a worse time for the Border Patrol, which lost about 1,100 agents - or 5 percent of the workforce - due to budget cuts required under sequestration. Customs and Border Protection also has curtailed the use of administratively uncontrollable overtime, effectively cutting the number of hours Border Patrol agents are able to work and leaving areas unstaffed during shift changes.
Enacting the Border Patrol Pay Reform Act would guarantee that agents are paid for the hours they work and that the border is protected around the clock. Additionally, for the safety of these children and the security of the nation, the Border Patrol needs more resources to hire additional agents and ensure that the humanitarian needs of the immigrants are being met.
If Congress fails to act on either pay reform or the provision of additional resources, the crisis we're facing now will pale in comparison to what lies ahead.
J. David Cox Sr. is national president of the American Federation of Government Employees, which represents more than 670,000 federal and D.C. government employees nationwide, including nearly 17,000 Border Patrol agents and support staff across the country
Calling all HuffPost superfans!
Sign up for membership to become a founding member and help shape HuffPost's next chapter