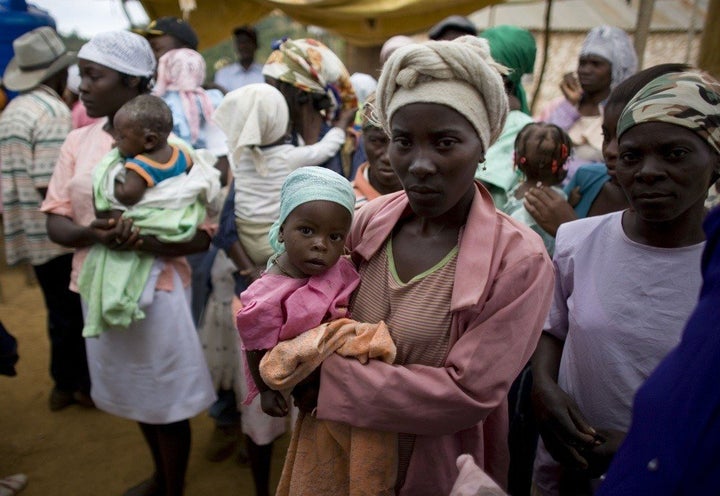 This piece is part of a series of blogs by leading NGOs to call attention to a range of issues that should be raised at the G8 summit at Camp David in rural Maryland from May 18-19.
One of the barriers to people accessing quality health services in Kenya, and across Africa, is that there are too few health workers. Many of those few work in remote, hard to reach health centers far from local communities. These health workers are overworked, don't receive much supervision or support from superiors, and often don't have the right equipment or a steady supply of drugs to distribute to their patients.
This enormous lack of global healthcare workers has been recognized by the G8 and squarely placed on the world agenda. Africa alone needs one million more health workers to even begin to think about reaching the MDG goals by 2015. Recently though, we have seen some really encouraging results. A number of global health organizations, including AMREF, have formed the Frontline Health Workers Coalition advocating the U.S. government to train an additional 110,000 frontline health workers bringing the US's original objective of 140,000 to 250,000 newly trained workers by 2015.
Frontline health workers are really the backbone of effective health systems in developing countries. These workers are members of the community who live in the communities they serve and understand the needs as well as the barriers to achieving optimal health. They are midwives, community health workers, clinical officers and doctors and nurses who work in remote areas, far from hospitals, and who are often the only link to health care for people living in such isolated regions. They are tireless volunteers (though they may receive small stipends and tools like bicycles to reach households, t-shirts and the like) who are trained to recognize basic signs and symptoms of illnesses and to refer patients to the health facility if more comprehensive treatment is required.
At AMREF, we believe in transforming communities from within to achieve lasting health change. For us, working within the community and training health workers is one of our top priorities, as we know they are the key to better health for Africans.
On my most recent trip to Africa, I was privileged to visit some of the community health workers in Gilgil, a town in Nakuru, part of Kenya's Rift Valley, who are involved in a USAID funded project, APHIA plus Nuru ya Bonde. Meaning "light of the valley" in Swahili, this project began in 2011 as an integrated health program to help the Kenyan Ministry of Health effectively coordinate all the health services in the Rift Valley Province. Its objective is to enable communities to play a bigger role in identifying and solving their own health problems.
Ann Mwihia is a community health worker in Gilgil. She is also a subsistence farmer -- but her passion is advocating on behalf of her community to prevent illness. Ann's smile and confidence belie the struggles she encounters every day. As a mother of three children, she faces her own challenges, including taking care of two AIDS orphans, one of whom is herself HIV positive. Ann ensures the girl takes her medication.
Ann's work involves visiting members of her community several times each week to talk with them about family planning, preventing HIV, malaria and TB, and water catchment. She encourages women to attend antenatal visits and deliver their babies at health facilities, a particular challenge because of traditional beliefs and the low education level among women.
Ann is most proud of her work in empowering women. She discusses how rape is not acceptable and how women must report such incidents to the authorities. She encourages them to seek emergency treatment and get counseling for sexually transmitted infections. One of her most difficult tasks, convincing her community not to practice female genital cutting, resulted recently in two families being taken to court for indulging in the time honored tradition. For Ann, it was a sweet victory.
An integral part of Ann Mwihia and her fellow community health workers' role is to collect data in registers such as the number of children vaccinated; the number of children born at health facilities; the number of women attending antenatal care; the number of families with malaria bed nets. To engage, encourage and motivate members of the community, the data is publically displayed on a chalkboard at the health facility -- which further serves as a formal link between the community structure and the health center. Every month the data is given to the Ministry of Health and becomes official health data that feeds into government health plans and strategies.
An unsung heroine for AMREF in Gilgil, Kenya, Ann Mwihia continues to be a real life change agent with enormous impact in her community and a model for health care workers in Africa and around the world.
Calling all HuffPost superfans!
Sign up for membership to become a founding member and help shape HuffPost's next chapter