This post is part of the Relay for Kids in partnership with SOS Children's Villages. Each time you share this post, Johnson & Johnson will donate $1 (per action) to support children worldwide affected by crisis. Scroll to the bottom to find out more.
Whenever I'm in Ghana, I love traveling with Kwame Agyire Tettey, the director of the Medical and Surgical Skills Institute in Accra. A sociologist by training, Kwame has a wealth of insights into West African culture and I learn so much from his observations.
A decade ago, Kwame joined me on a visit to the SOS Children's Village in nearby Tema. We went with Kojo Mattah, then Country Director of SOS Ghana. At the village, the dwellings were simple and efficient with nearly identical layouts. Children's clothing, ranging in size from infant to teen, hung on every washing line, and many of the village's house mothers were tending beautiful vegetable gardens. House mothers are part of the SOS mission, and supported by the organization. Their main duty is to form an SOS family, which is a difficult and arduous task.
In one house, pictures of a handsome young couple who were lovingly cradling a baby piqued our curiosity. After speaking with the house mother, Kojo informed us that the couple in the photo was one of the woman's sons and his wife, who recently came back to visit with a new granddaughter.
Kojo helped us see how these women, who commit to a minimum of ten years as a house mother, are dedicated to creating new families for the children they care for. That bond does not end when the child becomes an adult. It's a sense of family that the house mother strives to create forever.
That lifelong bond defines SOS Children's Villages at its core. For a child in need, SOS builds a family and a holistic environment to grow and thrive. When it comes time for marriage, the village director stands in as parent during the wedding ceremony.
As Kwame and I drove back to Accra, he tried to impress on me the importance of Kojo's words. In Ghana, weddings are not entered into lightly. It is a matrilineal society, and the bride's family does a great deal of background investigation to assure the respectability of the suitor's family. Even today, when young people may have the wherewithal to disregard the wishes of their parents, few marry without family consent and support. In the end, the life success of the couple is seen as a family matter.
This made me reflect on the idea of family. I thought of how our family members protect us, encourage us, guide us, and annoy us. Who else but family can speak the bitter truth even when it hurts them as much to say it as it hurts us to hear it? And who but family knows just when we really need a comforting lie in order to face a necessary truth? I couldn't imagine facing the trials of young adulthood without the caring, sympathetic, demanding people around me who equated my success with their success.
This is why the partnership between Johnson & Johnson and SOS Children's Villages is such a special one. Our company has worked with SOS Children's Villages in ten African nations to provide nurturing families for orphaned children, and we are supporting nursing education in three others to help young people achieve productive adult lives. The resources we help provide become many times more powerful when offered within the framework of a loving and permanent family.
When you can create a family for children brought together by unfortunate circumstance, it is truly magical. SOS house mothers are the magicians who make that happen.
By sharing, you make a difference for kids in crisis: From March 23 until April 24, each time you 'like' or share this post via the social media icons above or comment in the section below, Johnson & Johnson will trigger a $1 donation (per social action) to SOS Children's Villages, the world's largest organization dedicated to orphaned or abandoned children, up to $30,000*. $1 provides food, shelter and medical care to a child in crisis. In addition, you can also Donate A Photo** and Johnson & Johnson will donate $1 when you upload a photo for SOS Children's Villages -- you can help raise up to $20,000 in seconds with the click of your mouse or snap of your smart phone.
Johnson & Johnson, SOS Children's Villages and The Huffington Post created the Relay for Kids to support children around the world who have been affected by poverty, conflict, disease and natural disasters. Visit www.sos-usa.org/relayforkids to learn more.
*Blogs must be shared between March 23 to April 24, via Facebook, Twitter, StumbleUpon, reddit, Tumblr and Google+ from The Huffington Post. Each share will trigger a $1 donation up to $30,000. There are no limits on how many times you can share a post.
** via the Donate A Photo app for iOS and Android. Johnson & Johnson has curated a list of trusted causes, and you can donate a photo to one cause, once a day. Each cause will appear in the app until it reaches its goal, or the donation period ends. If the goal isn't reached, the cause will still get a minimum donation.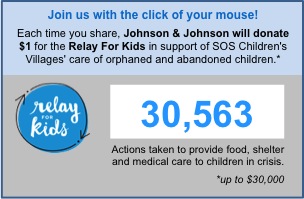 REAL LIFE. REAL NEWS. REAL VOICES.
Help us tell more of the stories that matter from voices that too often remain unheard.