Did you ever wonder what would happen if your ex wrote a book about you, and your relationship? Maybe it would be intriguing, or a little weird, or better yet a full on shit storm that changes your life forever. Well you don't have to wonder any longer, all you have to do is watch The Untitled Work of Paul Shepard, written and directed by Jeremy LaLonde, to find out -- and well it's a wild ride you don't want to miss. One that's just a little bit like the Breaking Bad of romantic comedies, minus the crystal meth and violence, but with all the dramatic action and breathtaking moments that come along with making choices that take you in unexpected directions, whether you're a drug lord or a filmmaker.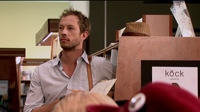 For Paul Shepard, a documentary filmmaker stuck in a creative rut, life definitely becomes pretty bad ass, when his ex-girlfriend Sadie, beautifully played by Christine Horne, writes a book of poetry about their relationship, which in turn becomes the catalyst for his new documentary -- on modern relationships. At first Paul doesn't realize the book is all about him, or that it's called Poems & Thoughts for the Man I Love to Hate. Nevertheless, by the time he does it's too late, and Shepard, right along with the audience, had better hold on tight because they are in for an amazing, and at times hilarious roller coaster ride.
One where you watch him go from being absolutely sure he's great boyfriend material, to actually "seeing" for himself what an absolute asshole he's been in relationships, after going in search of all the women he's "loved" - and actually filming it. And in another really amazingly dangerous twist for any filmmaker, rather than being the director of his movie, he quickly becomes its lead character - making this movie oh so much more fun.
Kris Holden-Ried, who you may already know from his wolf man role in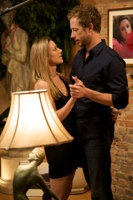 Syfy's hit series Lost Girl is phenomenal as Paul Shepard.Bringing a boyish charm and energy to this role, which when combined with his innate sexiness and killer acting skill, ensures that instead of disliking Shepard you may actually find yourself liking him, and if not, at least understanding why the really amazing women in his life love him.
Yet, while this is definitely a guys coming of age story, it's one that is clearly driven by the women in the movie. Women who are as emotionally rich and complex as the men, which is something I really love about LaLonde's work. Yet it's not all that surprising since he's clearly fascinated by women. "I spend more time with women than men, because they are a great mystery to me" he says. Plus, he's not opposed to a little social thievery "I'm a really good listener and steal a lot", he laughs. All of which resulted in a film loaded with captivating women and breakout performances.
Lost Girl's Zoie Palmer is brilliant as Hayley, one of Paul's crazier ex-girlfriends, who goes from being a starlet to a fluffer on a porn set -- yes a fluffer -- and it's definitely something you really do need to see for yourself, because it's full on hilarious. Yet it's not all fun and games on the porn set with Hayley, things do turn drop dead serious as she becomes totally undone after reconnecting with Shepard. In a pivotal moment uttering one of my favorite lines in the film "You made me a whore" -- and with that rains down a whole lot of passion, rage, and brokenness on Shepard, all of which is absolutely stunning to watch Palmer deliver.
If Palmer provides the crazy heat for this movie, Mary Krohnert brings the heart of the movie to life, in her portrayal of Sam, Paul Shepard's lost love, in a performance that literally, and completely took my breath away.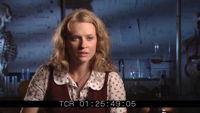 Sam, a woman learning to ask for what she wants, and not take less, even if her heart is breaking, provides the heart fire that is in essence the key to many of the film's emotional secrets. Shepard opens up this Pandora's box when he calls Sam, meets with her, films her on the down low, and sets an emotionally charged series of events in motion. All of which result in a rain soaked Sam on his doorstep in a scene that was simply extraordinary.
With Krohnert wrapping these moments in layers of pure unadulterated emotion -- love, disappointment, courage, need, frustration, and, yes hope -- as she crawls inside Sam's skin, delivering a performance that is as refreshingly beautiful, as it is raw and powerful. Leaving you no choice but to give in and be drawn into her world. But be warned you may fall just a little bit in love with Sam, and be left wondering how Paul Shepard could throw her away -- and what he will ultimately do about it.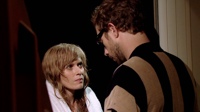 "Everyone needs a Sam in their life" says LaLonde, and once you see the film you'll know just how true that is, and you may actually start looking for a Sam of your own. Interestingly enough, for Lalonde life imitated art. "Sam is the girl I wanted to marry" he says, and as it turns out, after writing this script he found his own real life Sam, married her and now they have two gorgeous kids together. She also weighed in on the casting, suggesting Krohnert for the role, simply saying "Mary is Sam", and she was so very right.
Krohnert, and Holden-Ried, were both on board from the very beginning -- and excited about the project. "Making it was a labor of love" says Krohnert, who fell in love with the script the first time she read it.
All that love and excitement, a killer script, and amazing performances make The Untitled Work of Paul Shepard a creative force to be reckoned with, and one you really need to experience for yourself. Luckily its out on Vimeo so check it out...
Special Thanks to Jeremy Lalonde for the pictures.
Popular in the Community