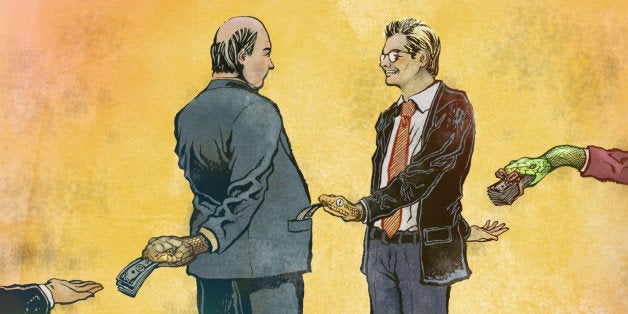 Camden, New Jersey maintains a reputation as a violent morass that swallows economic opportunity. Decades of failed economic programs had led many people to conclude Camden is the quintessential unsolvable quagmire of urban plight. Then, in a sweeping series of legislation and press releases, the world learned that New Jersey was going to send hundreds of millions to the struggling city in order to - once again - rebuild. A newly formed economic agency would give sellable tax credits to companies that promised to hire in the city. National and statewide observers offered a tired cheer. With the satisfaction that Camden was once again being taken care of, we shifted our crusade to other neglected towns like Flint, Michigan. Yet we turned our heads too soon. Behind the cascade of taxpayer money purportedly ameliorating Camden's woes is a far more insidious strategy, undertaken by a political faction that has organized a network of operatives to work backroom deals in order to profit from the state and federal purse, and prevent any other person, organization, or movement from stymieing their cause. It is the Norcross machine.
A trio of brothers heads the machine: George, Phil, and Donald Norcross. George Norcross, the oldest, is the undisputed leader of the gang. George owns or sits on the board of a few major companies in New Jersey and is the de facto dictator of the South Jersey Democratic Party. Phil Norcross, the middle brother, is the lawyer and lobbyist that apply the grease to make the political machine run. Donald Norcross, the youngest, is the United States Congressman from New Jersey's 1st District and acts as the conciliatory public relations piece that assures the public that Norcross interests are, in fact, your interests. Other powerful figures such as State Senate President and soon-to-be Governor candidate Steve Sweeney and Camden County Freeholder Director Louis Cappelli Jr. are the officers that marshal the operation. Through constant pressure, control of donors, and good-old-fashioned bullying, nearly every elected Democratic official south of Trenton is in some way connected to George Norcross's empire. This empire is one based on a very old, simple concept: Pay-to-Play. If you want to do business on Norcross turf, you are expected to donate to their politicians, PACs, and charities. Depending on how much you give and how little you resist their wishes, you can earn yourself lucrative government contracts and partnerships. Business gets done, the Norcross machine gets their cut, democracy is rampantly stifled, and any complaints or resistance are crushed with employment threats or other bullying. Welcome to life in South Jersey.
Over the last 30 years, George Norcross has shown an adept ability to buy, evade, or bully any enemy or impediment to his political machine's growth. Somehow, even when caught red-handed doing this in the Palmyra Tapes, it never led to any prosecution under then Attorney General Chris Christie. In return for Christie's partnership, George withheld substantial Democratic support from Christie's gubernatorial opponent Barbara Buono (she publically blasted Norcross in her concession speech). Moreover, the Philadelphia Inquirer investigated George in the early and mid 2000's. Once journalists got close, George bought the paper, fired the editor, and required journalists to investigate other stories (in 2014, a lawsuit took the paper away from George).
This article, however, is an examination of how the Norcross Machine has beset Camden with a host of new economic, education and governmental problems, while sharing huge profits with themselves and major corporations.
After years of solidifying his political machine, George finally pushed for the kind of major economic legislation that could be plainly rife with graft but impossible to stop because of his legion of underlings. Through Donald's position as a State Senator before he was a Congressman, coupled with support from State Senate President Steve Sweeney, George was able to pass the Economic Opportunity Act (EOA) in 2013. The bill spent billions of tax dollars to stimulate economic opportunity in at risk areas. Camden was given a near blank check for development, just so long as corporations were willing to create some jobs. On the surface, the bill sounds harmless. However, among the fine print the EOA has funneled hundreds of millions of our tax-dollars into the Norcross family's companies and other organizations that donate to their campaign.
Of the $1.1 Billion sent to Camden, over half has gone to companies that the Norcross family has a financial interest in or have donated heavily to their campaigns. The relief did not address some of the main problems that plague Camden. None of it has gone towards addressing the fact that the city is a food desert. None of it went to small, Camden resident owned businesses. Most of the money actually given out to companies resulted in jobs being moved from their current suburban locations into the new Camden location. Of the very little actual job creation that happened, the cost per new job to tax payers has been exorbitant. Below is a brief overview of the nepotism associated with the Norcross tax credits:
1. Holtec International
Holtec received $260 million from EOA legislation to move their headquarters from nearby suburb Marlton to Camden. George Norcross leads their board of directors. On top of that, company executives have contributed tens of thousands of dollars to Norcross campaigns.

Estimated cost per new job created: $215,000

2. Cooper Health System
Cooper received $40 million from EOA legislation to expand operations in Camden. George Norcross leads their board of directors. Company executives contributed tens of thousands to Norcross companies.

Estimated cost per new job created: $250,00

3. Philadelphia 76ers
The Sixers received $82 million from EOA legislation to build their practice facility in Camden. Phil Norcross was the broker on the deal between the Sixers and the state. Most jobs are just being moved from the current facility staff in Philadelphia.

Estimated cost per new job created: $328,00

4. Lockheed Martin
Lockheed Martin received $107 million from EOA legislation to move a facility to Camden. Lockheed has been one of the biggest supporters of Norcross campaigns in recent years, support that has been reciprocated by votes by Donald Norcross to expand their defense contracts with the federal government.
Estimated cost per new job created: $300,000

5. American Water Works
American Water Works received $164 million from EOA legislation to move from their already state of the art facility in Voorhees to a new facility in Camden. The company has donated thousands to Donald Norcross' congressional campaign. Many of the jobs will just be moved from the Voorhees plant.

Estimated cost per new job created: $500,000
One of the more pernicious effects of the EOA has been to cause a dramatic rise in land prices in Camden. Since the State gave exorbitant sums of money to corporations to develop the city, a vacant lot in Camden that might have been worth $20,000 five years ago is now worth millions. Because of this rise in land value, property taxes and also rising. But, the property taxes aren't going up for the corporations. At the direction of the State, the corporations that bought land through the EOA Act all use the Cooper's Ferry Partnership to avoid full property taxes for 20 years. The Cooper's Ferry Partnership acts as a real estate holding company. The corporations that buy the land give it to Cooper's Ferry and pay them a management fee, with an agreement in place to buy it back from them after 20 years for $1. Because of Cooper's Ferry's non-profit status, if it holds onto the real estate for the corporations, a special piece of the EOA Act is activated which keeps the landholder from paying property taxes for 20 years.
Meanwhile, Camden's education system has also undergone a series of major changes that benefit the Norcross family. Through Donald, Phil, and Steve Sweeny legislation, some state aid for Camden public schools has been reallocated to charter/Renaissance schools. Unsurprisingly, most of the new charter/Renaissance schools are either directly owned by or partnered with the Norcross Foundation. These charter schools have been accused of expelling underperforming kids back to the public schools. Because of this process, the Norcross charter schools reap the statistical benefit of improving test scores by removing the students who bring down the average. To the unaware, it seems as though the charter schools are performing well. This statistical trick provides false evidence to policymakers that the Norcross charter school experiment is succeeding and should receive more money for their schools. Meanwhile, the public schools are faced with educating more students with less and less funding.
Finally, Camden's problems delve into the police force created to maintain law and order. Camden's reputation has always included violence. Prior to 2012, the Camden City Police was a struggling under-funded and under-staffed unit. Funding pressure caused the police force to disband, leaving the city virtually unprotected aside from a contingent of State Troopers. In 2012, crime spiked to all time highs. Since then, the Metro police - controlled by a Norcross led Freeholder Board - police Camden. The Board praises its success by pointing to improved crime rates. But similar to the success of charter schools in the city, it is merely a statistical trick. Not only does the Metro compare their current crime rates to 2012 when the Camden City police disbanded, it also lumps in statistics from some suburbs even though they have nothing to do with Camden. So, of course crime is down from the year where there was essentially no police in America's most violent city. However, crime is not noticeably lower from pre-2012 levels, even with heavy investment in equipment and manpower.
In every single facet of governing, the Norcross family has taken advantage of Camden for their own economic and political gain. Jobs have been created, but at a cost of over a billion in taxpayer dollars. With upcoming vacancies expected in the US Senate in New Jersey, Donald Norcross has his eye on moving up. State Senate President Sweeney is a favorite for the 2017 Governor's race. Both of these races could result in an expansion of this horrific political machine. The untold story of Camden should be a cautionary and alarming tale for unchecked power in America.
Popular in the Community