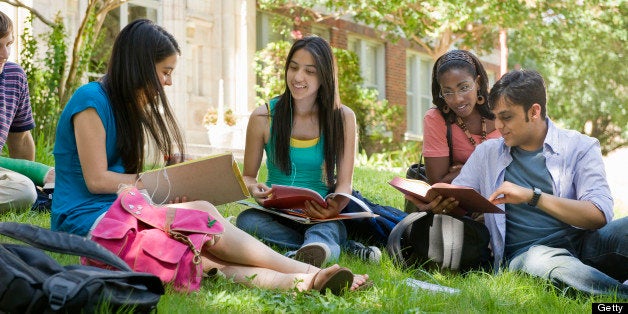 Last month's U.S. Supreme Court decision in Fisher v. University of Texas at Austin is generating a lot of heat about the topic of higher education admissions and racial inequity. In the short-term, the decision will do little to address the massive gaps in educational achievement in this country linked to race and class ... persistent and pernicious inequities that have plagued us since the Brown v. Board of Education decision was handed down almost 60 years ago.
The Fisher decision revives a longstanding debate about the tradeoffs between equity and excellence. In truth, American society can ill afford to make a choice between the two. We must insist on both, and we must strive to reach a new standard of educational achievement that matches the nation's current and future needs.
A new report from the Georgetown Center on Education and the Workforce shows that of the 55 million jobs that will be created by the end of this decade, 40 million will require a postsecondary education -- a certificate or degree that is beyond the high school degree. With two-thirds of all jobs being created requiring postsecondary credential, it's clear that our national goal must be to ensure that at least 60 percent of all Americans obtain a high-quality postsecondary degree, certificate or other credential. Unfortunately, Lumina Foundation's data shows that less than 40 percent of Americans currently hold at least an associate degree, with probably less than 5 percent more holding a certificate or other non-degree credential.
The 60 percent goal can't be reached unless American higher education is both equitable and excellent. On the equity side, the data show that, despite substantial increases in postsecondary enrollment among African American, Hispanic and first-generation students (those whose parents did not attend college), the degree attainment gap with whites remains wide.
While 49 percent of working-age non-Hispanic whites (ages 25-64) hold at least a two-year degree, the rate is just 32 percent among African Americans in that age group, 29 percent among Native Americans - and only 22 percent among Hispanics. Enrollment and completion rates show similar gaps at the most selective four-year institutions, such as UT-Austin. These gaps in higher education attainment -- known to be negative predictors of income, health, and employment -- must be addressed if our society is to thrive.
A system where low-income students and students of color are concentrated in institutions with less academic rigor multiplies inequity and the likelihood for long-term success. The Georgetown Center recently reported that, between 1994 and 2008, 68 percent of African American enrollment and 72 percent of new Hispanic enrollment was at open-admission four-year colleges and two-year colleges. Over the same period, 82 percent of new white enrollment was at the 464 most selective four-year colleges. While admissions selectivity and high quality are not synonymous, there is a strong connection that cannot be ignored.
These separate postsecondary pathways have consequences. They lead to unequal educational opportunities and economic outcomes. For example, African American and Hispanics are more likely to drop out of college, while whites are more likely to complete bachelor's degrees and attend graduate school. In fact, 76 percent of the nation's professional degree holders are white -- and workers with advanced degrees earn more, contribute more in taxes, are more involved civically and socially, and consume fewer public resources compared to college dropouts.
The evidence is compelling that, decades after Brown v. Board, race and class still matter -- and the rejected notion of "separate but equal" remains a part of higher education's landscape. As the Century Foundation recently reported, the increasing economic and racial stratification of colleges and universities is troubling because largely separate educational systems for mostly rich and white students, and for mostly poor and minority students, are rarely equal.
That's why it continues to be important to recognize the importance of, and support, the use of race as one factor as it is applied in the undergraduate admissions policies of schools like UT-Austin. But it's also true that there needs to be as much, if not more, energy focused on creating a higher education system that is student centered -- one where excellence and equity are the co-driving forces of success. The focus should be on multiple pathways for many more of today's 21st century students to succeed at all different types of postsecondary institutions.
So what are the characteristics of such a system? There are at least three that are essential. First, it must deliver high-quality education to the growing numbers of low-income, first-generation, minority and adult students who represent our future as a nation. Equity would have to be an integral part of institutional history, values and priorities. In short, we need a truly student-centered system -- one committed to both access and success -- and one that provides the support that all students need to succeed.
Second, postsecondary degrees and credentials must be defined by learning and competencies -- not by time spent in classrooms and on campuses. For many, credentials must also be linked to skills that are genuinely valued in the workplace and can be linked to future economic opportunities.
Third, higher education must be affordable. Costs must be more predictable, transparent and aligned with federal and state aid programs. And students and institutions must be given incentives to increase completion rates and close achievement gaps.

Increasing high education attainment to 60 percent is achievable, and it is urgent. But we cannot reach the goal by conducting business as usual. The time for action is now ... as we move beyond the Fisher case to the important work of redesigning our system of higher education to meet the needs of our 21st century economy and society.
Related
Popular in the Community