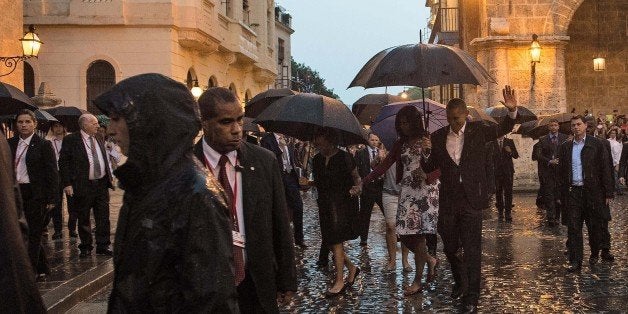 Images of the Obama family touring Old Havana yesterday as part of the first trip by a sitting U.S. President since 1928 are the most iconic images thus far of the new normal in U.S.-Cuba relations. Prior to the President's trip, his senior advisor spearheading the rapprochement stated that: "We very much want to make the process of normalization irreversible." When Presidents Obama and Castro sit down in private to discuss further normalizing relations, the burden of making real headway will weigh heavily on them. Ironically, while they work to make real progress, policies in both countries continue to undercut the very process they have expended so much political capital to advance.
In the U.S. the obvious hindrance is the embargo, which is codified into law and can only be changed by the Congress, which just recently found the courage to begin to act. In Cuba, the slow pace and limited reach of reforms have a similar undermining effect. Leadership on both sides should consider how these policies practically impede progress. For example:
While the U.S. is trying to normalize diplomatic relations with Cuba, the U.S. Congress continues to appropriate over $40 million annually to force the collapse of the Cuban government. This reality impairs President Obama's credibility and effectiveness to advance U.S. interests in conversations with Cuban leaders, who have made it illegal for Cubans to receive these funds. With approximately $3.5 billion annually remitted by private individuals to help their families and friends in Cuba, and new general licenses authorizing unlimited remittances to assist civil society, the controversial and ineffective $40 million in taxpayer dollars is now as unnecessary as it is counterproductive.
Similarly, while the new U.S. policy toward Cuba aims to strengthen civil society and empower entrepreneurs, U.S. immigration laws continue to incentivize emigration and brain drain from Cuba. And while some defenders of U.S. sanctions in Congress advocate for eliminating immigration privileges afforded to Cubans, they do so while turning a blind eye to the effects of sanctions on the civilian population.
Most importantly perhaps, while the new policy attempts to facilitate the types of reforms we would all like to see in Cuba, the U.S. embargo makes it more difficult for the Cuban people to benefit from those reforms, if implemented. By denying Cuba access to international financial institutions as well as to its most natural market, the embargo actually makes it more difficult for Cuba to change in a way that would ultimately benefit the Cuban people. It's true that Cuba could go ahead and make these reforms without the corresponding changes in U.S. policy. However, its ability to practically implement reforms and for the Cuban people to benefit from them are significantly diminished by current U.S. law.
Meanwhile, Cuban leaders continue to prioritize foreign investment as a way to jumpstart their struggling economy while failing to address some of the issues that disincentivize that very investment. Cuba's foreign investment and labor laws continue to be at odds with international labor conventions it has ratified, which undermines managerial control, employee incentives and labor practices multinational corporations are held to by increasingly socially-aware and globally-minded consumers.
At the same time, while Cuba's minister of trade and foreign investment travels to DC to meet with U.S. business leaders and encourage investment in Cuba, his government's response to existing U.S. corporate interest has been frustratingly slow.
The Cuban government has also failed to implement the necessary reforms to take advantage of many changes in U.S. regulations that would help Cuba reach some of its economic goals including increasing exports, raising salaries and productivity, reducing state payrolls and increasing efficiency. In 2015, the Obama Administration authorized U.S. companies to import products and services from Cuba's 500,000 private entrepreneurs, a change that could result in significant hard currency flows to Cuba, helping narrow the country's trade imbalance. However, Cuba has yet to authorize non-cooperative entrepreneurs to export their goods and services nor has it developed the mechanism that would facilitate that trade.
Both Presidents have taken unprecedented steps toward normalization and invested significant political capital in this process. This week's historic visit to Cuba by President Obama is the clearest example of this, and one that will certainly fuel criticism by the dwindling supporters of U.S. sanctions. No doubt some within the Cuban government will use the trip to highlight the risks of rapprochement with the U.S. With so much at stake in this normalization both the U.S. and Cuba should take steps to do away with unnecessary policies that continue to undermine the very process that they have worked so hard to advance. The Cuban Communist Party Congress next month and the U.S. Congressional elections in November could offer opportunities to remove these obstacles to full normalization.
Popular in the Community