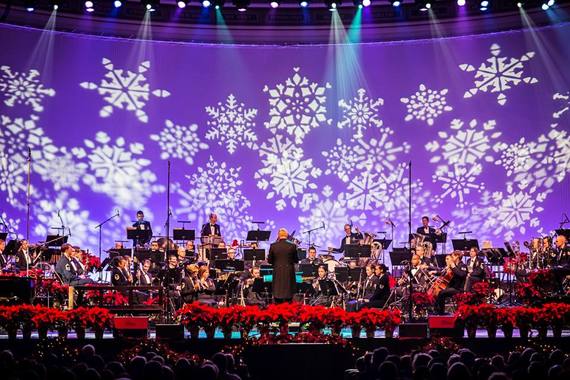 My wife tells me that flash mobs are not in style so much anymore.
Fortunately for us, the U.S. Air Force Band has not gotten the word yet as they have, for the fourth year in a row, kicked off the holiday season with one of their surprising and delightful holiday-themed "flash mobs."
As they have done for the past three years -- here, here and here -- members of the U.S. Air Force Band and Honor Guard surprised and delighted unsuspecting visitors at the Smithsonian's National Air and Space Museum on November 29 when, according to Jim Varhegyi, Air Force District of Washington Public Affairs:

Senior Master Sgt. Joe Reynolds, a band percussionist, began the event in the museum's atrium by hand drumming on a traditional West African instrument called the jembe. He was joined by Master Sgt. Matthew Irish, a vocalist; more vocalists and instrumentalists quickly joined in, and in a flash the area was filled with 125 band members on five stages, including a chorus from the Singing Sergeants, instrumentalists from the Concert Band, and for the first time a choir of handbells was featured.
Varhegyi has more to tell us about the event and the members of this fabulous band, but it is time to start your holiday cheer by watching and listening first:
This year's event featured two Christmas carols: "Patapan," which the vocalists sang in French and English, and "Ding Dong Merrily on High," which is based on a French dance tune originally by Jehan Tabourot, with the text being written by English composer George Ratcliffe Woodward.

::

Col. Larry H. Lang, the commander and conductor of the U.S. Air Force Band, also commented on the impact the annual event has had. "When we started this event we had no idea how far reaching it would be. To date we've reached over 50 million viewers from the first three events."

::

He also spoke to the hard work that members of the band's sister unit, the U.S. Air Force Honor Guard, put in to help make the event a success every year. "We couldn't do this without their help," he said.

"They are a critical part of pulling off the holiday flash mob every year."

The Air Force is fueled by innovation every year the band try to add new elements to what they do. This year they will be releasing their first dynamic and engaging 360-degree panoramic view of the holiday flash mob.

One of the flash mob participants happens to be none other than the Secretary of the Air Force,the Honorable Deborah Lee James, who, according to Varhegyi, was very excited to be able to participate again in this year's event, this time as a handbell player. James says, "I'm looking forward to helping spread holiday cheer to all the dedicated service members, past and present, who have sacrificed so much in service to this great nation."
Lead photo: U.S. Air Force Band file photo. Courtesy U.S. Air Force Band
Calling all HuffPost superfans!
Sign up for membership to become a founding member and help shape HuffPost's next chapter