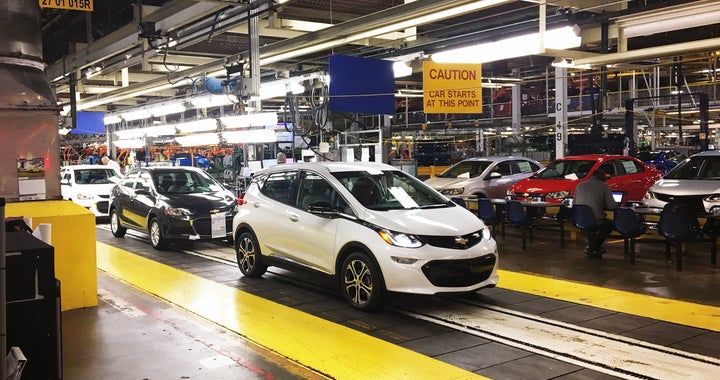 Last month, President Donald Trump signed an Executive Order that directed his administration to bury its head in the sand when it comes to climate science and clean electricity. He tried to sell this plan as a way to increase energy independence. But when it comes to electricity, America is already essentially independent. It's our transportation demands that require imports of five million barrels of oil per day, including three million from Organization of the Petroleum Exporting Countries (OPEC) nations. If President Trump wants to increase America's energy independence, he needs to put fuel efficiency first.
Instead, at the bidding of the auto industry, Environmental Protection Agency (EPA) Administrator Scott Pruitt announced that the EPA would withdraw its determination that the fuel economy emissions standards for the years 2022 through 2025 were economically feasible and technologically achievable for the auto industry.
The experts from the EPA, the Department of Transportation and the California Air Resources Board (CARB) had spent years collecting data and conducting the analysis that Administrator Pruitt—after less than one month on the job—decided was inadequate. Their analysis, which is available on the EPA's website for anyone to review, took into account data provided by auto manufacturers and suppliers. It was informed by more than 100,000 public comments received by the agency.
After conducting this thorough, inclusive, transparent and robust multi-year analysis, the federal and state experts determined that the technologies required to meet the standards for model year 2025 cars and light trucks already exist and that the benefits for consumers far outweigh the costs, even in scenarios where the price of fuel remains low. These are largely the same conclusions that the National Academy of Sciences reached in 2015 and which CARB recently reaffirmed.
The automakers may think that avoiding any innovation to meet the model year 2022-2025 standards will mean more certain profits. But if history is any indication, dodging innovation today will cut into the industry's profits tomorrow. Rolling back or weakening the fuel economy emissions standards will not only cost American consumers—who will have to pay an extra nearly $100 billion at the pump—but it will cost the auto industry itself in the form of lost market share to more innovative competitors. The U.S. auto industry has tried this route before and it leads to a dead end.
In 1985, when I was Chairman of the House Energy and Commerce Subcommittee on Energy Conservation and Power, I held a hearing to examine the auto industry's compliance with the fuel economy standards. At the time, General Motors and Ford were threatening to shut down plants and throw people out of work instead of meeting the standards. Their complaints then were eerily similar to the ones we have been hearing from the industry recently. They claimed that it was impossible to turn a profit building fuel-efficient vehicles; that the needed technology didn't exist; and that consumers wouldn't buy fuel-efficient cars.
The truth was that in 1985 the technology existed to meet the standards despite the industry's complaints. As I pointed out in my opening statement, the most fuel-efficient car in the world at that time was made in America. It achieved 55 miles per gallon in city driving and 60 on the highway. The other ten most fuel-efficient cars were all rated at between 40 and 50 miles per gallon. As for profitability, Chrysler, the most innovative automaker among the Big Three back then, was having no trouble meeting both its profit and its fuel economy targets.
Unfortunately, the auto industry did not take the lesson that innovation could be good for its bottom line to heart. Indeed, because of industry opposition, it would be 32 years from when we first put a fuel economy law on the books before we were able to strengthen it. In that period, after peaking in 1987, the fuel efficiency of our vehicle fleet started falling because of loopholes that the industry exploited—and it got worse for almost 20 years. As a result, domestic automakers began to lose market share to foreign automakers who were innovating, creating fuel-efficient alternatives to American gas guzzlers.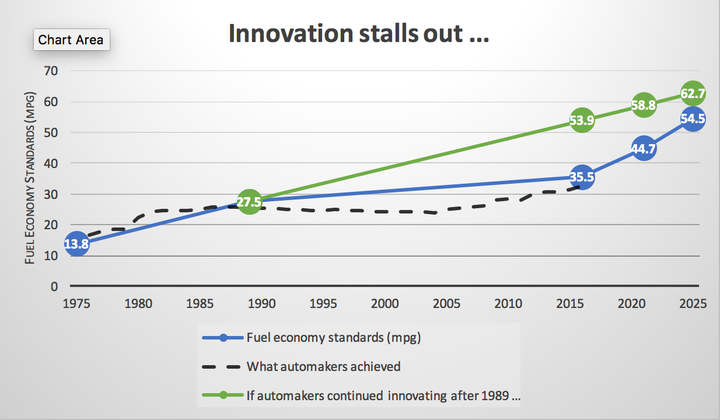 In 2007, we finally overcame the automakers' opposition to innovation and a provision that I authored increasing the fuel economy standards to at least 35 mpg by 2020 became law. Unfortunately, after years of resistance to innovation, the auto industry had already sown the seeds for problems. In the face of the recession and spiking gas prices, the few Americans who could afford new vehicles were opting for those that limited their pain at the pump rather than the gas guzzlers the American auto industry had been pushing on them for years.
In the years since 2009, when American taxpayers rescued the U.S. auto industry from bankruptcy under President Obama's leadership, our automakers have innovated, achieving fleet-wide fuel economy gains of about five miles per gallon. As a result of this innovation, both American auto companies and American auto workers have benefited. In the last two years, U.S. automakers have recorded record sales of nearly 18 million vehicles per year. And since 2009, we have created more than 700,000 U.S. jobs in the American auto industry.
But now, incredibly, less than a decade after American taxpayers rescued the domestic auto industry, these companies seem to once again be returning to their old habits of lobbying to weaken fuel economy standards instead of innovating to achieve them. Increasing fuel economy is the largest step we have taken to reduce our carbon pollution. Abandoning fuel economy innovation is certainly not in the interests of American consumers, our energy independence, or our national security, and it is inconsistent with our moral obligation to combat climate change. From the standpoint of the long-term health of the U.S. auto industry, slowing down technological innovation on fuel economy is no more in its long-term interests today than it was in 1985. American automakers should rethink this shortsighted strategy.
U.S. automakers need to keep in mind that the United States is far from the world's largest market for new cars, and the fuel economy standards they will have to meet to sell into those larger markets are even more stringent than ours.
Last year, there were about 69.5 million new passenger cars sold globally. About 59 million (85 percent) of those sales were made into countries or regions where vehicles have to meet fuel economy requirements. The largest market was China, which was the destination for 35 percent of the new cars sold in 2016. The European Union was the second largest buyer of new cars, representing 22 percent of global sales. The United States came in a distant third place, representing the destination for only ten percent of the new cars sold globally last year.
The table below shows the numbers of cars sold into markets with fuel economy standards, along with the share that the sales in each of those regions represents of total new cars sold last year into all markets (both those with and without fuel efficiency requirements). These sales statistics are drawn from data publicly available on the International Organization of Motor Vehicle Manufacturers website.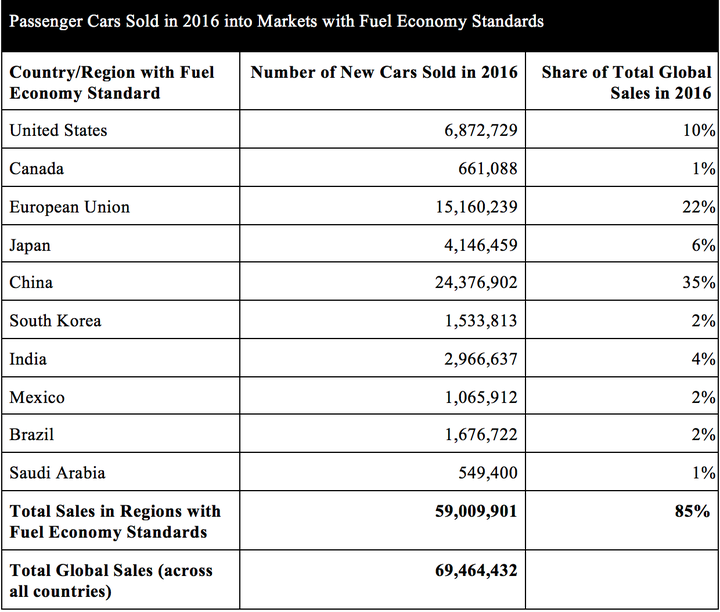 Based on this data, there should be no question that the future health of the U.S. auto industry will depend on its ability to sell cars both at home and abroad, but those who remain unconvinced should keep in mind that China is already General Motors' largest market. Last year, GM sold more than 3.8 million vehicles in China, compared to 3 million in the United States.
The following graph shows that if U.S. automakers want to be able to sell into global markets, they'll need to meet standards that are even more stringent than the ones we have in place here at home.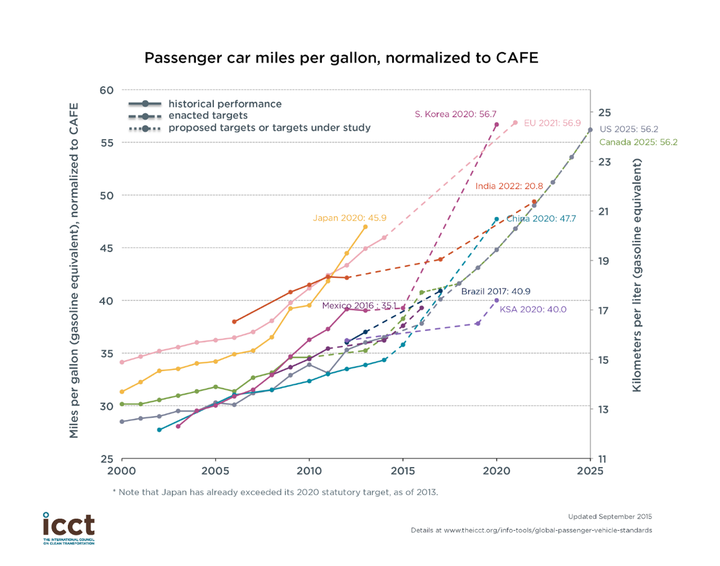 While China only has standards up to the 2020 model year, the European Union—in which there are more than twice as many cars sold as in the United States—will require more stringent standards in 2021 than the 2022-2025 standards currently under threat from the U.S. auto industry's lobbyists.
To quote a recently released study, the automakers' misguided lobbying effort, "could well ensure that the U.S. market lags behind Europe and China in technology innovation and adoption." If U.S. automakers fail to innovate to meet the stronger fuel economy standards required in other countries, abandoning the global market to more innovative foreign competitors, they will not only lose out abroad, they may lose out at home too.
What we have seen over the last seven years is that innovation, record sales and creating American jobs go hand in hand for the auto industry. Yet, the American auto industry seems poised to want to repeat the same mistakes that led them to the brink of disaster. We must not let them.
Popular in the Community