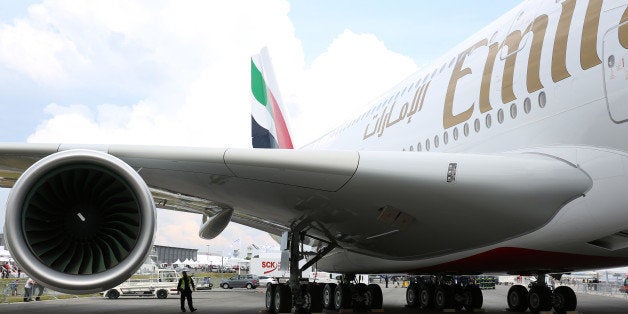 For the second time in less than a year, the U.S. government has hired Emirates, a massively subsidized, state-owned airline, to fly federal employees, this time between New York and Milan, Italy. This is not just an odd choice, but violates a federal law, the Fly America Act. The act requires federal travelers to use U.S. air carrier service for all air travel and cargo transportation services funded by the U.S. government.
To enable this ruse, Emirates has signed a "codesharing" agreement with JetBlue, and technically JetBlue, a U.S. air carrier, is the government contractor. JetBlue operates no international long-haul service whatsoever, and has no aircraft capable of operating a 4,000-mile flight across the Atlantic. Codesharing means that JetBlue will sell seats under its "B6" JetBlue code - directly and via intermediaries like travel agencies and Expedia - on Emirates-operated New York-Milan flights. This partnership allowed JetBlue to bid for the U.S. government's business, even though Emirates will do 100 percent of the flying and get virtually all the revenue. Thus, JetBlue essentially serves as the bag man, collecting revenues and remitting them to government coffers in Dubai. Prior to this award, American Airlines held the Milan contract with the General Services Administration (GSA, the procurement arm of the U.S.).
In late 2015, GSA awarded JetBlue the contract to fly federal employees (including military personnel and intelligence officials) from Washington to Dubai. United previously held the Washington-Dubai GSA contract, and the loss of 15,000 government passengers per year was one factor in United's decision to discontinue its Washington-Dubai route.
Although American Airlines, Delta Air Lines, and United also use codeshare relationships for some of their government-contract flying, all three are global carriers with extensive international networks, and each is capable of operating any of those contract routes on its own, without codesharing. That is not the case with JetBlue, which must rely 100 percent on Emirates to meet its obligations to the U.S. government.
Decades ago, Congress passed the Fly America Act to ensure all air travel ultimate paid for by U.S. taxpayers would take place on U.S. air carriers and flights operated by American workers, "to help improve the economic and competitive position of U.S.-flag carriers against foreign air carriers." The Emirates-JetBlue contract is a cynical manipulation of the law.

Emirates and the other two state-owned Gulf airlines, Etihad Airways and Qatar Airways, have received more than $50 billion in subsidies and other unfair benefits from UAE and Qatari government sponsors. This massive support contravenes official U.S policy, and violates the Open Skies agreements which grant airlines from these two countries unlimited, unrestricted access to the U.S., the largest aviation market in the world (in return, U.S. airlines can fly to two countries with a combined population about the size of Ohio.
For the past 18 months, American, Delta, and United have urged the U.S. government to address these violations. And in July, the Department of State took a big step and held meetings with the UAE and Qatar to discuss the issue. While these conversations continue, the GSA contract for travel to Milan is a disappointing development. It's also a big poke in the eye to Congress, which made it clear quite some time ago that government travel must take place on U.S. airlines.
The U.S. airlines and their workers can compete in the global market, but not when the playing field is dramatically tilted. Congress and the White House need to tell GSA to follow the law and award government-paid travel to American carriers.
Calling all HuffPost superfans!
Sign up for membership to become a founding member and help shape HuffPost's next chapter