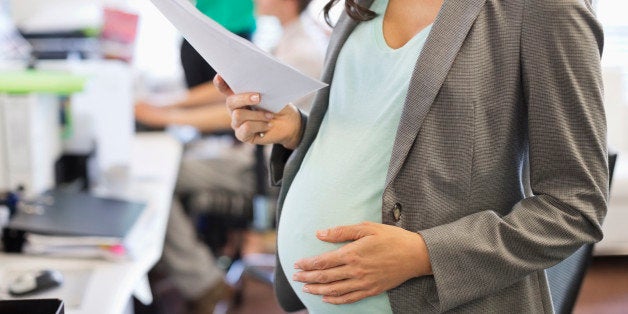 The disturbing consequences of inadequate paid leave are all too familiar to families in countries where affordable leave is insufficient, and especially in the United States, which lacks a government policy altogether. A factory worker back at work just three weeks after giving birth had to pump milk in the parking lot on breaks. A hotel worker lost her job because no positions were available to accommodate two to three unpaid 15-minute breaks to pump milk over the course of an eight-hour shift.
We can do better as a nation.
When taking time off after giving birth means risking a paycheck, everything becomes arduous -- healing, bonding with the baby, breastfeeding. Clearly breastfeeding should not be a luxury afforded only to those fortunate enough to have jobs with generous paid leave policies or wealthy enough not to miss one parent's income. Governments need to invest in guaranteed paid family and medical leave and other policies so that families don't have to win the job lottery to give their children the healthiest start to life.
Ensuring paid family leave and other supports to breastfeeding parents is not at odds with the interests of employers; it's actually good for business. Breastfeeding contributes to a smarter, more productive workforce through better brain development, greater educational achievement, and stronger immune systems. And when women have access to paid leave, private areas to breastfeed or express milk, and other workplace accommodations such as child care, they are more likely to stay with a company, advance in their careers, and have fewer absences, benefitting companies' bottom lines and their family finances.
It's been almost 20 years since the International Labour Organization issued a mandate that guarantees women 14 weeks of paid maternity leave and breaks to accommodate breastfeeding on the job, and prohibits job loss or a reduction in pay for reasons relating to maternity. Other countries have risen to this standard or exceeded it, going even further to provide parental leave to both mothers and fathers - whose involvement boosts infant well-being and successful breastfeeding. So why is the United States so quick to deny families these proven benefits? Why do we insist women move mountains to breastfeed their babies, overcoming all the barriers thrown in their way?
It doesn't have to be like this. While the United States leaves working mothers to fend for themselves, other high income countries like Canada and Sweden and middle-income countries like Vietnam, Kenya and the Philippines have all expanded paid leave and taken steps to help facilitate breastfeeding at work. This in turn leads to lower healthcare costs and parents who actually report higher levels of happiness compared with parents in the United States. The United States is only one of two industrialized nations in the world that doesn't offer paid leave and ranks last among countries in the industrialized world with supportive policies for women who want to breastfeed.
There has been progress in promoting paid family and medical leave in the United States, through strong public interest, paid leave programs in a handful of states and a federal proposal, the FAMILY Act. Numerous private companies--including Deloitte, Virgin Airlines, Spotify, Netflix, Google, and Facebook, all successful global leaders--have announced generous policies in an effort to attract and retain talented workers, steps that should be motivational to government leaders.
We need governments in every country to demonstrate leadership in this area. We can't just tout the benefits of breastfeeding - we need to make it possible by investing in concrete policies: lactation counseling in health centers; paid leave; private spaces to breastfeed or express milk in offices, retailers and airports; and flexible schedules at work.
It's time to meet the standards set by the ILO and the progress of other nations as we improve the United States' workplace policies and societal norms when it comes to breastfeeding. It's time to make sure no mother has to pump milk in a factory parking lot three weeks after giving birth. It's time to do better.
France Bégin is Senior Nutrition Adviser for Infant & Young Child Nutrition at UNICEF Headquarters in New York and has more than 25 years of experience in international nutrition.
Ellen Bravo directs Family Values @ Work, a network of coalitions in 24 states working for policies such as paid family and medical leave
Calling all HuffPost superfans!
Sign up for membership to become a founding member and help shape HuffPost's next chapter