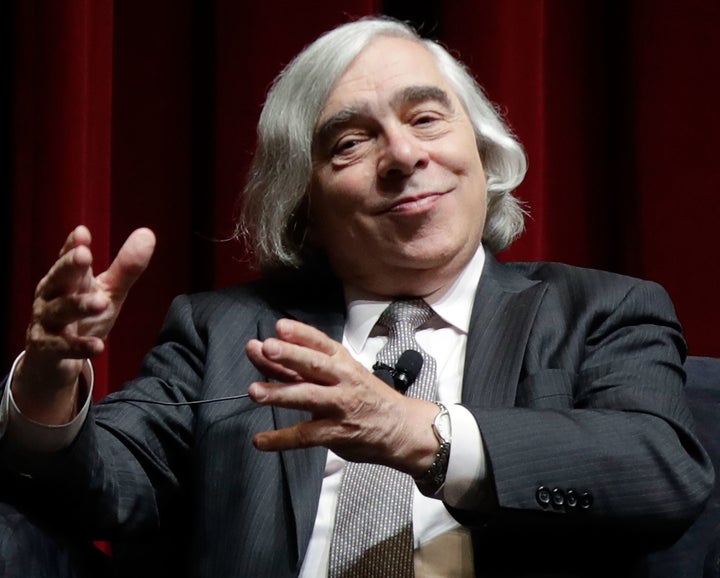 Solutions to the climate crisis are possible, asserts former U.S. Energy Secretary Dr. Ernest Moniz, but the nation needs to make greater investments in energy innovation to implement those solutions and capture the economic payoffs.
"The innovation prize is enormous," Dr. Moniz said recently in a "Fireside Chat" at the October National Clean Energy Summit in Las Vegas, NV. "We're clearly talking about multitrillion dollar markets in this technology space."
While he was energy secretary under President Obama from 2013-2017, Dr. Moniz was a big supporter of domestic and international energy innovation. He launched Mission Innovation, an initiative that led more than 20 countries to pledge to double their investments in energy research and development.
R&D: Penny Wise, Pound Foolish
During his tenure, Dr. Moniz also proposed a doubling of the Energy Department's energy R&D budget over a five-year period. Congress responded in its fiscal year 2017 budget by raising the energy R&D budget by five percent.
By contrast, the Trump Administration's Office of Management and Budget has proposed halving the R&D budget in fiscal year 2018. Moniz calls that proposal "very unsatisfactory," but says wryly that he finds himself in the unusual position of betting that Congress will do the right thing. In this case, that means providing "some stability" for the department's R&D efforts.
In the Secretary's wide-ranging fireside chat with journalist Amy Harder of Axios, Moniz touched on many energy policy, climate, trade, and nuclear weapons issues. Perhaps best known for his critical role in negotiating the Iran nuclear agreement, the former Secretary today is continuing his efforts to reduce global threats and find solutions to global challenges. Looming large on his current agenda are climate change and nuclear and biological weapons.
Since leaving office, the scientist who conceived President Obama's "all of the above" energy policy has recently launched the nonprofit Energy Futures Initiative (EFI) to provide solutions to a range of energy policy issues. An important part of EFI's agenda is to advance innovation in energy technology, policy, and business.
The Realities of Global Trade—And Carbon Fees
Dr. Moniz pointed out in his Las Vegas appearance that China has deployed twice the renewable energy capacity of the U.S. They are advancing rapidly, he said, both to address domestic pollution and to seize clean energy manufacturing opportunities. "We better try to keep our innovation edge and capture a lot of that market even as we address our climate needs," he urged.
Regarding the Trump Administration's climate policy, the former Secretary said he regrets the Administration's decision to withdraw from the Paris climate accords. However, he opined, there's "no going back" on that decision.
Moniz also takes exception to the way in which the Administration has defined America's global trade challenges. The Administration's statements do not reflect the reality of international supply chain integration, according to Moniz. That's the process by which cars, trains, planes, and other equipment today are built with parts from all over the world.
"If you take NAFTA as an example," he said, "there is tremendous supply chain integration among North American companies." Thus the key question is, "How do you capture the high value parts of the supply chain?" Furthering this strategic goal, he said, "has to be worked out on a case-by-case basis."
Dr. Moniz sees carbon fees as an inevitable part of our future and believes large businesses recognize this. "If you're making long-term capital allocations, you'd be crazy to base it on a high carbon future," he said.
Asked whether he was optimistic about solving the climate crisis, Moniz jokingly replied, "I am a physicist, so I am by definition optimistic." He then went on to distinguish between short, medium, and long-range climate solutions and the relative difficulties of decarbonizing different sectors of the economy.
Decarbonization Pathways and Costs
Given the ready availability of plentiful clean and economical renewable power sources today, Moniz believes that the electricity generating sector is the easiest sector to decarbonize. The optimism created by the relative ease with which that sector is now being transformed, however, needs to be tempered, he said, when it comes to the industrial, transportation, and building heating sectors. They present more complex challenges.
Step one, Moniz said, is electrifying what can be electrified. The electrification of light duty vehicles (cars and light trucks) is relatively easy and is already underway. Aviation would be the hardest sector to electrify, Moniz asserted. Shipping will also present big challenges. To get to deep decarbonization by 2050 to meet the long-term goals of the Paris climate accords (holding global temperature increases to less than 2℃ and 1.5 ℃, if possible), Moniz is convinced that "we need other breakthroughs," and that innovation will be key.
"I have a hard time seeing how we'll get [there] without continuing deep innovation." That effort, he said, will have to be part of a large-scale carbon management effort. In the long-term, the main elements of carbon management will be carbon capture and sequestration; carbon dioxide utilization to create new fuels (carbon dioxide plus sunlight plus water equal hydrocarbon fuel); and some new method of "vacuum cleaning" the atmosphere to remove excess carbon dioxide, the principal greenhouse gas.
Conquering Complexities and Scaling Up
"There are many significant sources of carbon dioxide in industrial plants that are amenable to rather cheap carbon capture," Moniz said. "Then we've got to figure out very large-scale sequestration. But that's not going to handle industry broadly." He also mentioned the possibility that "reviving, if you like, the whole idea of a major hydrogen economy" may be part of the climate solution for the industrial and transportation sectors.
"Everything I've mentioned is possible," Moniz asserted, "but nowhere close to being possible at a cost point and scale that looks reasonable." Finding economical solutions is precisely the hoped for payoff of the energy innovation that Moniz staunchly advocates.
Despite his guarded assessment of the costs of deep decarbonization, Moniz acknowledged that in addition to costly and potentially dangerous geoengineering approaches for lowering global temperatures, like spraying droplets of sulfur into the sky ("We know that it'll lead to further acidification of the oceans, which I consider to be a very, very big danger"), there are biological solutions for removing atmospheric carbon. However, Moniz noted, "We've only scratched the surface of biological solutions' potential."
"All of these [processes] raise big issues, like that the biological solutions may involve engineered plants ... Big question to manage these," he added.
In the long term, these solutions must be done at large scale, Moniz pointed out. In the relatively near-term, however, "we can do a lot through stimulating deployment and frankly, I think that the DOE loan program did a lot of good stuff, including in this [southwestern] region."
Underinvesting in Innovation
For the intermediate term, "I think we're going to need the fruits of programs like ARPAe," he said, referring to the DOE's Advanced Research Projects Agency—Energy. To achieve the big revolutionary breakthroughs needed in 25-30 years, however, Moniz advised that a well-funded innovation agenda is required today.
"We are underinvesting in innovation today," he emphasized. "That was the whole point in Mission Innovation [and] the American Energy Innovation Council. The CEOs were saying this 10 years ago: that's where we have to go."
To learn more about his views on what the nation ought to be doing to advance energy research and development in a world increasingly fraught by accelerating climate change, I spoke directly with Secretary Moniz recently at the October National Clean Energy Summit in Las Vegas, NV. An edited version of that conversation appears on HuffPost.

Popular in the Community