Arawak, Taino, Carib and Ciboney tribes inhabited the three main U.S. Virgin Islands--St. Thomas, St. John and St. Croix. Then in 1493, Christopher Columbus explored the isles and named them for Saint Ursula and her virgins. Spain, the U.K, Netherlands, France and Denmark ruled the archipelago for 400 years until the U.S. purchased it for $25 million in 1917. Today this unincorporated U.S. territory, 50 miles east of Puerto Rico, is home to people of African, European and American ancestry and countless vacationers.
St. Thomas - A Lively Cruise Ship Mecca
The busiest isle was formed by a volcano, and is extremely hilly. Charlotte Amalie, its harbor city, is backdropped by steep green hills. Once a bastion for pirates like Blackbeard, and then a West Indies slave-trading center, it became a haven for free blacks who found jobs as clerks, shopkeepers and artisans. It was a coaling station for vessels in the 1800s, and now it's the most popular Caribbean cruise-ship port.
Thousands of tourists inundate duty free shops along Main Street in search of steeply discounted Rolex Watches and Gucci bags. Away from shoppers and traffic, to the north, you'll find peaceful Magen's Bay Beach's soft white sands and still, waist-high waters; Sapphire and Coki beaches are worth a visit too. Adventurers take the Ecotour excursion to Hassel Island, or sample the nightlife in Red Hook (East End Cafe or XO Wine Bar).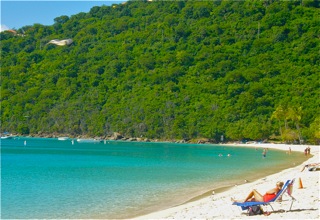 294 guestrooms at Wyndham Sugar Bay Resort & Spa, the USVI's only totally all-inclusive resort, overlook Emerald Bay. Here, families go wild: All you can eat and drink. Non-stop pool volleyball. Bumper boats (bumper cars on water) and mini golf; kayaking, snorkeling and windsurfing. Get there early for the popular New York strip steak dinner at Manor House restaurant. Five tennis courts surround Journey's Spa and Fitness Center. Stick the heirs in the Kid's Klub activity program and enjoy a relaxing "Beach" Stone Massage ($120, 50 minutes).
St. John - A Serene Escape
Ferries ($12 RT) leave Red Hook hourly for the 20-minute ride to the harbor town of Cruz Bay on the smallest USVI, St. John. Mountainous terrain mimics St. Thomas', but that's almost where the similarity ends; two/thirds of this isle is national parkland with near-empty beaches, perfect for exploring by jeep or hiking.
Trunk Bay (fee: $4), the most popular beach, features snorkeling, a water-sports kiosk and a concession stand. Hawknest Bay has secluded beaches perfect for snorkeling. Cinnamon, Maho and Coral Bays offer campsites with tents and bungalows. Hikers love the Reef Bay Trail, which includes a stop at the petroglyphs.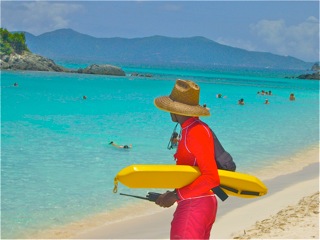 Laurance S. Rockefeller discovered wondrous Caneel Bay, two miles north of Cruz Bay, in 1952. He bought the 170-acre peninsula, which has seven beaches and is within the borders of the Virgin Islands National Park. Today 166 villa suites (private balconies, no TVs, no telephones) at the sublime, secluded Caneel Bay, A Rosewood Resort are spread around lush golf-course-like lawns dotted with flamboyant and frangipani. Walk to the Self Centre for yoga or the tennis courts (resident pro Donald Becker organizes round robins), and you'll encounter donkey and grazing deer. Caneel's Equator restaurant's serves Caribbean flair cuisine. Try the fried red snapper with okra fungi, fried plantain and mild Creole sauce.
St. Croix - The Largest Island Has the Most Personality
When Columbus' crew disembarked at Salt River Bay they dodged Carib arrows. These days, visitors are more welcomed on this friendly isle that is less hilly than its sisters and possesses a San Francisco-like bohemian charm, especially during annual events like the St. Croix Food & Wine Experience or Ironman 70.3 Triathlon.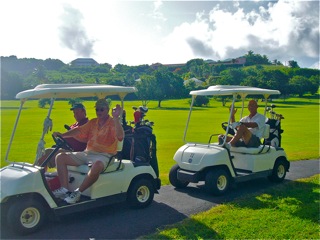 Drive from Frederiksted, through the rainforest and up to North Shore Road, where the view of the sea is as dramatic as that along California's Pacific Coast Highway. Cruise along South Shore Road on the southern end of the island, pass Divi Carina Beach Resort and Casino (its slot machines inhale quarters) and you'll reach Point Udall, the easternmost part of the U.S. At Buck Island (an underwater museum) you snorkel from exhibit to exhibit. Savant restaurant dishes out tasty pan-fried Wahoo with creamy truffle cauliflower risotto in a tomato confit sauce; dine here and you'll meet the local gentry. Hang out at Club Comanche Hotel in Christiansted, where DJs spin till the wee hours, and you'll see how Cruzans get their groove on.
Golfers flock to The Buccaneer, just east of Christiansted. An 18-hole course surrounds this 138-room, 63-year-old Grand Dame hotel that sits regally on 340 acres with dramatic panoramas of the Caribbean Sea. Accommodations range from rooms with antique furniture in the main, 17th century building, to the newest, seaside Doubloons Villas, with their expansive rooms and marbled floors. Lauren Bacall and Michael Jackson have sought quiet refuge at The Buccaneer.
3 unique USVI islands. 3 unique experiences.
Popular in the Community