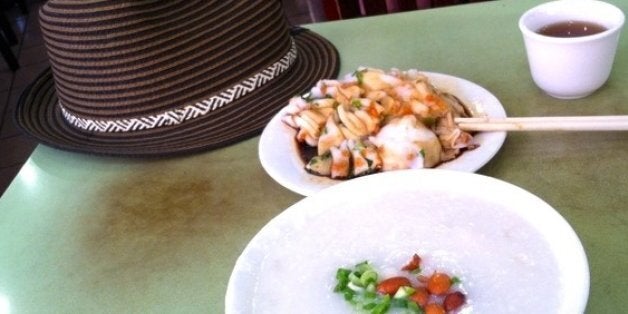 It left me bereft. After 35 years, my favorite Chinatown breakfast spot closed. East Corner Wonton faced a grimy New York side street, literally in the shadow of the Manhattan Bridge. Denizens of the methadone clinic around the corner sometimes engaged in casually furtive drug transactions under the faded and tattered orange, partly collapsed, awning. For a few minutes when morning sunlight managed to pierce the windows like a lightning bolt, a waiter would close the funky vertical blinds so patrons wouldn't be blind to their roast duck and soup noodles. But the window proudly boasted an "A" rating from the Health Department. I would have eaten there even if it had gotten a "Z."
If you've eaten around as long as I have, you're bound to be wounded by the sudden and unexpected loss of a favorite restaurant. It's never a good feeling -- sort of like waking up and finding a padlock on your kitchen. Much more than knowing we'll never taste their food again, it's a shock and insult to our routine. That's troublesome to those of us who have lived long enough to form ironclad opinions about, say, the best wonton noodle soup in New York. Our opinions are, of course, based on hard won knowledge formed by vast experience. That's why advertisers don't care about those of us who have aged out of the treasured 25-54 year old demographic. We know the truth about what is good and bad and what is worth our attention because, unlike those demographically valuable, impressionable youngsters, it's hard to tell us anything anymore that we don't already know. I knew that East Corner Wonton had the best sliced fish congee and the best freshly made dried shrimp cheung fun rice noodle, so now what would I do for breakfast in Chinatown?
For years, I'd been greeted by the same three young waiters. "Hello my friend, the usual?" they asked, with big smiles as soon as I walked in. Indeed. The usual. I wanted the usual. I needed the usual. I really miss the usual.
We all enjoy the thrill of discovering something new. But one of the best things about being one of us who've been around many blocks already is the deep satisfaction of the tried and true. We have cultivated our favorites based on years of experience - good and bad. We know ourselves better after all these years, so we know what we need and like. We've earned our routines the hard way.
My partner, Ann, is a sleek Southern California blonde almost exactly my age, with the stamina of someone about half that, who insists I find ways to add a fitness component to fun stuff like breakfast in Chinatown. So, in my case the usual usually began with a bike ride or brisk walk an hour or so before a steaming bowl of rice gruel was placed in front of me by one of my "friends." Famished, I felt better as soon as I walked in. I'd take a seat at one of the dozen or so Formica tables and drop my hat or bike helmet. No need for a menu. I propped up my iPhone to read the news, and soon enough tucked in to my usual. No need for a check, mine remained the same all the years I ate there: $6.25. The food, the place, and the people were utterly predictable, satisfying and calming. This was my terraferma, an ideal way for me to start my day, prepare to do my work, and face the tasks ahead.
So now what will my usual be? I don't know, it's going to be a challenge, I guess. But another thing that people our age have wrung from our vast experience is resilience. I've still got Big Wong on Mott St. I've still got Yee Li on Bayard. I hope to have at least another couple of decades of Chinatown meals in me. It's going to be all right. Really. I'll be fine.
Calling all HuffPost superfans!
Sign up for membership to become a founding member and help shape HuffPost's next chapter