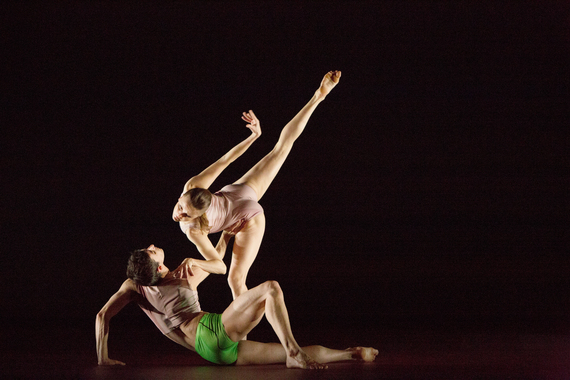 Alvaro Dule and Anna Nowak in Wayne McGregor's Atomos at San Francisco Performances (Photo: Ravi Deepres)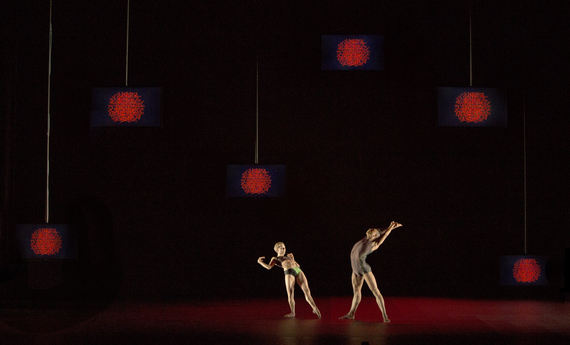 Jessica Wright and Louis McMiller in Wayne McGregor's Atomos at San Francisco Performances (Photo: Ravi Deepres)

San Franciscans are partial to art that advertises itself as high-tech, and Wayne McGregor's Atomos fits that bill -- with its film clips designed to be viewed with 3D glasses, and costumes by a fashion house that "creates digital skins and body architectures" using data from sensors that take physiological readings from the dancers' bodies. At its San Francisco Performances première on Thursday night, the technological stuff proved largely a bust, but did nothing to dampen the impact of the astonishing movement.
The 70-minute piece opens with the nine-member ensemble confined to a small square patch of stage illuminated by Lucy Carter. They rise and sink and appear to shed their skins in the eerie light, like bathers in the holy Ganges, to the elegiac sounds of a synthesized church organ from A Winged Victory for the Sullen.
The ensemble drifts offstage, only to return two at a time in a more urgent mood. They toss off bravura classical ballet jumps and turns like an after-thought, always integrated into the glorious movement aesthetic, which is unselfconscious, superhuman and yet deeply human. Twists on classical steps appear organic, unforced, and phrases finish in unexpected and exhilarating ways. In Atomos, unlike some of McGregor's more angst-ridden work, the dancers reconnoiter the space around their own bodies, and exhibit a curiosity about other bodies with no hint of aggression or sexual desire - reflecting, as the Greek title suggests, the 'indivisible' nature of biological cells as they seek to replicate and, failing that, undergo the highly controlled process of apoptosis, or cell death.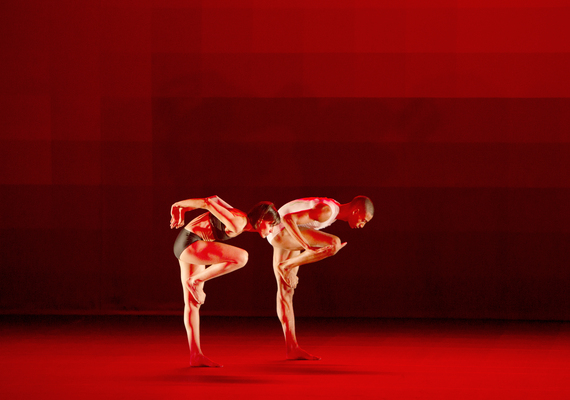 Catarina Carvalho and Louis McMiller in Wayne McGregor's Atomos at San Francisco Performances (Photo: Ravi Deepres)
The highly individual physiques of Company Wayne McGregor unite in the plasticity of their movement and their superb muscular control. They deploy their legs like lethal weapons, their arms like whips, their torsos like undulating pythons; they dive perilously into each other's arms, and spiral over each other's shoulders -- yet we never hear a footfall or thud, never witness a shudder or rebound, even when the choreography turns ferocious.
The choreography is like a dramatic, shifting weather system, enhanced by the moody, ambient score. McGregor does not travel light: he is famous for exploring movement in collaboration not only with his fearless dancers but also with cognitive scientists, computer wizards, biologists, anthropologists, and literary scholars; these weighty expeditions have uniquely enriched our dance world.
Those suspicious of abstract ballet need not fear. The narrative builds as seven television monitors descend from the rafters to the sound of static, which gives way to the sound of distant shelling and mortar fire. Though their movement becomes more frenetic in response, the dancers do not evince fear (after all, they are masses of cytoplasm, or some species of android, or Greek demigods, with an enigmatic Annie Lennox look on their faces.) Black dots gradually appear on the screens, as if fixing drone targets on a radar map.
The dancers disappear off stage and reappear on the television screens -- prisoners of technology. When they return to the stage, in the most powerful section of the piece, they dance under images of a giant fireball on the screens. In a diagonal line of three trios, moving in unison then in canon, they seek shelter from the attack, they build shelters with their powerful limbs, their bodies becoming the shelters.
The fireball dissipates to reveal an oil refinery -- or multiple oil refineries -- smoldering onscreen.
The dancers exit, then return to strap on imaginary ammo belts. The screens display a shifting series of images, from architectural diagrams, to mountains of data or computer code, then radioactive bugs that multiply and morph into bacteria-filled petri dishes. Our 3D glasses render these final images as shimmering red globes suspended around the darkened theatre (about the only time the glasses seem remotely called for.)
Overall, the film imagery, confined to smallish screens, is less ominous than perhaps intended. Rather it is Carter's intricate lighting schemes that appear to drive the dancers' movement, setting them spinning as if on a carousel, or propelling them toward the audience in sinister fashion with strobe effects. Toward the end, a bank of harsh red lights appears suspended in front of the cyc a few feet off the ground, and gradually inches skyward as the dancers execute their final variations, notably a searing solo by Alvaro Dule and a triumphant duet by Daniela Neugebauer and James Pett, ultimately joined by Travis Clausen-Knight. The final indelible image of Atomos is of this heroic trio along a Thin Red Line in the fading twilight. Whether McGregor actually had war on his mind, this evocation of the 1854 Battle of Balaklava -- in which the thinly stretched 93rd (Highland) Regiment routed a Russian cavalry charge -- and its significance as a symbol of British mettle, is gripping.
Artful as Carter's lighting may be, it can't work miracles on the lackluster costumes - variations on swimwear, whose tops cut the shoulders, collarbone and waist at the wrong places. That the dancers look stunning nonetheless is down to their innate physical gifts and their arduous training. Catarina Carvalho, Anna Nowak, Louis McMiller, Jessica Wright, and Dane Hurst completed the intrepid ensemble on opening night.
There is often an opacity and a grating self-consciousness to McGregor's work for other ballet companies, absent in his creations for his own company. Abroad, he spins classicism into anarchy, but at home he finds elegance in chaos.
Calling all HuffPost superfans!
Sign up for membership to become a founding member and help shape HuffPost's next chapter