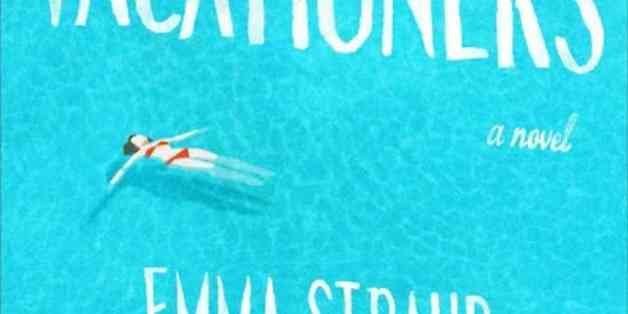 The Book We're Talking About is a weekly review combining plot description and analysis with fun tidbits about the book.
Emma Straub's first novel, Laura Lamont's Life in Pictures, burst onto the scene in 2012 with so much buzz, there was buzz about the buzz. It was an ambitious volume, encompassing nearly the entire life of the titular Laura Lamont, which was set in the now almost-mythical golden era of Hollywood, and though it received rave reviews, the massive scope of the novel sometimes seemed too much -- too many years trudged through; too many uninspired subplots. Straub's new release, The Vacationers, sharply narrows the focus, examining just two weeks in the life of one contemporary New York family, and it proves to be a wise choice. Engrossing, observant, and deeply sympathetic to its characters, the book showcases Straub's greatest strengths as a writer.
As The Vacationers opens, the Posts and their family friends, Charles and Lawrence, are, aptly enough, jetting off to Mallorca for a two-week vacation. Franny and Jim Post planned the trip prior to a personal scandal that cost Jim his job and wrecked their relationship, but they cling to hope that, with the rental now non-refundable, the time away will at least give them a chance to determine if their marriage can be salvaged. Teenaged Sylvia, about to head off to Brown, yearns to lose her virginity before freshman year. Older son Bobby and his still-older girlfriend Carmen are fit and put-together on the surface, but fears about their financial stability and long-term compatibility roil underneath. Meanwhile, Franny's best friend Charles and his husband Lawrence hope to get their minds off the interminable wait for the adoption agency's call.
With each part of this unhappy family unhappy in a different way, the Post family vacation commences -- two weeks in balmy Mallorca to do little but eat extravagantly; ogle Sylvia's gorgeous pre-med Spanish tutor, Jo-ahhhn; and snipe at each other until long-simmering doubts and conflicts reach a rolling boil. When the family leaves the island, they've all had more than enough time to come to grips with the doubts and fears they've been hesitant to admit, even to themselves, and their fragile familial web has been shaken.
But Straub does not have the doleful, unforgiving gaze that marks so many literary domestic dramas. Each of the characters, grating or repugnant as they may seem at times, seems to glow at times with the warmth of her sympathy. Speaking from each character's vantage point, she worms into their experiences -- the burn of their private humiliations, the sharpness of their righteous anger, the confusion of finding their lives changing -- and exposes the humanity below the tropes they embody. Straub does not flinch at offering her characters gentleness, or even hope that something as simple as a vacation might alter the course of their lives.
At times Straub's sunny cast on such issues as midlife crisis, infidelity, and financial disaster seems unrealistic, redolent of the aspirational, bubblegum plots of so-called "chick lit." This is emphasized by occasional stabs at telling detail or wordplay that fall flat. "Waiting for a baby," she writes at one point, "is like waiting for a heart attack--at a certain point, you had to just surrender and make other plans, not knowing if you'd have to cancel." This conjures a perplexing image, as people rarely wait for heart attacks, or worry about having to cancel plans due to having one. These strains for poignancy threaten to reveal the machinery beneath the otherwise elegant story.
These flaws, however, will likely make The Vacationers a no less appealing beach read for the literary-fiction crowd than anticipated. Straub's novel, despite lapses into triteness, mostly succeeds at her focused objective of close-reading two pivotal weeks of a family's life. With smooth, clear prose, carefully interwoven narratives, and a dash of comedic flavor, Straub brings the Post family vacation, and all the drama therein, vividly to life.
What other reviewers think:
NPR: "Straub plays [the set-up] for its cinematic screwball potential, a slightly forced effervescent sensibility infused with nice touches of wisdom and warmth. It's more charming than her first novel, Laura Lamont's Life in Pictures, though it features a similarly predictable narrative arc-–in this case, beginning and ending with a plane flight."
The New Republic: "It's rare to find a novel that seeks joy for its protagonists but doesn't tack a saccharine bow on every interaction. The Vacationers is that rare novel."
Who wrote it?
The Vacationers is Emma Straub's second novel. Prior to publishing her first novel, Laura Lamont's Life in Pictures, Straub published a book of short stories entitled Other People We Married. A staff writer for Rookie, Straub has also been published in publications such as Tin House and The New York Times.
Who will read it?
Readers who gravitate to literary fiction written in spare, clean prose. Also, those who enjoy reading about New York denizens and their domestic upheavals.
Opening lines:
"Leaving always came as a surprise, no matter how long the dates had been looming on the calendar. Jim had packed his suitcase the night before, but now, moments before their scheduled departure, he was wavering."
Notable passage:
"The house was exactly what Franny liked: beautiful and in the middle of nowhere. It was the sort of quirk that used to be charming--they'd go to some exotic foreign land, or to a boundless state like Wyoming, but without fail, the rental Franny had chosen would always be just far enough away from everything else that it was exactly like being at home, only with a different backdrop strung behind them."
Rating, out of ten:
8. Despite a sometimes overly-affirming narrative, the novel offers humorous, thoughtful, and well-delivered insights into the complications of family life.
Read an excerpt of The Vacationers:
Related
Popular in the Community