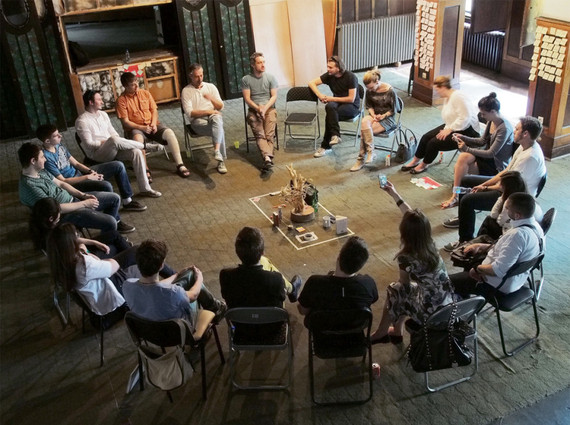 Studio Tilt - Codesign Workshop
Attracting the best and brightest staff to your business and fostering a happy and healthy workforce can be significantly impacted by the quality of the working environment. The workplace can affect the physiological and psychological performance of people, so it is necessary to work with the users to codesign places that energize, encourage social interaction and collaboration, enhance personal control and provide services and events to manage the blurring of work and home to improve quality of life.
These are very different characteristics to conventional measures of building quality. They place the focus on people rather than the building, on understanding the social and dynamic nature of work and not just the workplace and on demonstrating value and not just lower cost.
To get the balance right and deliver value, we need to look at the places people choose to go to work and socialize and learn how they can inform and change the workplace.
Coffee and work have always gone together. Coffee shops were the original coworking spaces. Since, the early 18th century, when coffee houses were the birthplace of businesses such as, Lloyds insurance in the City of London, right up to the 21st-century barista led operations, coffee is the preferred way for people to socialize and collaborate. The boundaries between the place people enjoy their morning latte and work is blurring fast and redefining both office accommodation and our work/ life experience.

Successful coworking environments curate authentic experiences; ubiquitous wi-fi, great coffee, healthy food and services, alongside networking/community events and their demand is exploding. In 2011 there were only 1000 coworking spaces worldwide, with a dominant presence in Europe and the US. Four years later, in 2015, there are almost 7,800 coworking spaces. The forecasts suggest that the growth is unstoppable: by 2018 there will be 37,000 coworking spaces spread across all continents and there will be over 2.5 million professionals who buy membership at a coworking space.
Gone are the days that coworking was an unfamiliar concept, we are now hearing the term more commonly used in everyday language. The expansion of networks such as WeWork, made the headlines by their market value of $10 billion and put the term coworking in the media's spotlight. WeWork are the largest shared space provider in the US and state their mission: 'To help people create their life's work. Provide space, community and services to create a world where people make a life, not just a living.'
Making a life is the central theme of many coworking environments. Alex Hillman, founder of Indy Hall, a successful coworking space based in Philadelphia, focuses on growing the innovation ecosystem through connectivity, serendipity and knowledge. "Living and working the good life and actively working towards it together." Coworkers become part of a community, share ideas, network and have authentic and meaningful experiences. Besides the shared physical space, the best coworking spaces also offer online collaboration for their members by providing a private social network, discussion forum, or a full-fledged collaboration platform like Bisner turning a coworking space into a smart environment.
In the future, coworking will become mainstream. At the inaugural Social Workplace Conference in London, the general feedback from most participants was focused on better developing the relationship between corporations and the coworking world.
The nature of corporations is changing to be more agile and reliant on dispersed talent networks and open source innovation and as such, the nature of employment is changing and less likely to provide lifelong careers and job security. The Intuit 2020 Report, reckons that more than 80 percent of corporations are planning to increase their use of flexible workforce in coming years. This aligns with the desire of new workers not to work for a company, but instead to be a part of a community -- 33 percent of the workforce is currently independent or freelance and this number is projected to be 40 percent by 2020. Corporations are also increasingly using coworking spaces to cut down commute times, access innovative talent through the coworking ecosystem, whilst reducing costs by benefiting from 'spaceless growth'.
Some corporations are creating coworking spaces within their own buildings or partnering with experienced providers to co-create them. Verizon just announced a new development in partnership with Grind, which they cite as a "center for new innovation and collaboration." The space will provide flexible workspaces for startups and entrepreneurs seeking access to a networked community of diverse talent and expertise.
Coke has implemented their own coworking space and one of their objectives is to bring outside people in, so it is open to the public. The National Australia Bank(NAB) Village, is a coworking space in the NAB Melbourne HQ, that provides a destination for users and customers to meet, collaborate, share ideas and connect in a relaxed and informal space. An integral part of its success is the opportunity to access the experience, knowledge and talent of community members and business specialists.
For small businesses, joining a coworking space can bring some game-changing benefits. Working in the same environment as like-minded businesses and ambitious entrepreneurs, networking, finding potential clients and partners could be just what your business needs to grow. Statistics from the Federation of Small Business (FSB) in the UK indicate that as of the start of 2014, 99.3 percent of companies in the UK were small businesses. They also typically want a different kind of flexible workspace to boost efficiencies with shorter, less restrictive leases to give them the freedom to move around if they need to.
Coworking facilities are also bridging the gap between creators and consumers, as the active participation of customers in product development is becoming the norm. Bespoke, inside the Westfield Mall in San Francisco, recently opened as a coworking and event space converging retail with tech. This allows brands to work, learn and grow with exposure to 20 million annual shoppers.
The key to successful environments is to figure out how to facilitate serendipitous interaction and community cohesion. Edu Forte, founder of Betahaus in Barcelona, focuses on the process of co- creation, which allows room for the community to develop the physical space as well as the programs that meet their members needs. Betahaus, describes itself as a place that is "more than a community - it is a family," and you can indeed find baby boomer parents, working alongside their millennial children, sharing knowledge and experience in ways that are sure to reinforce both their community and family values.
The disconnection from community and limited time with family are common stress factors in many large cities that currently rely on commuting, forcing people to travel to the center every day to work. In London, the "average" commute time is 74.2 minutes and the London city population multiplies by 56 percent during a normal work day. Leveraging work delocalization, changes to transport methods and business structures to generate diversified multi-centres, in which coworking spaces become neighborhood services, thus reducing commute times and car usage will improve both the work-life balance of millions of people but also improve local communities and the growth of local economies.

Connectivity and access to knowledge are the defining features of contemporary business and society and are helping to redefine how and where work is accomplished. By embracing the sociability of where work happens, we can enable people to connect with other like-minded people at inspiring spaces and events - to collide, collaborate and co-create value for themselves, their business and their community.
Calling all HuffPost superfans!
Sign up for membership to become a founding member and help shape HuffPost's next chapter