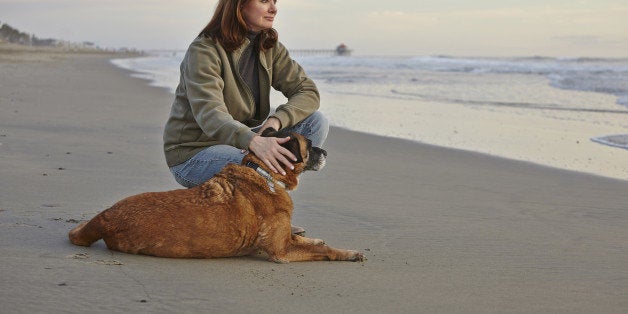 I stood in the cold exam room, tightly hugging the vagabond little soul I had rescued from the animal shelter 14 years prior. Skyler was the college graduation gift I had given myself, and my fellow traveler in life from my days as an ambitious yet naive small market television reporter, to big city happy hour-hopper and red carpet-reveler to in-bed-by-9 married mom.
I was set to travel out of the country on business the next morning, and her health was fading fast. I wasn't ready to say goodbye, and I felt she could make it until I returned a week later so I could say goodbye on my terms. Then, I realized I had two choices. I could either let her go a day too early or a day too late.
The difficulty of the decision lifted from my shoulders.
This choice can manifest in many different ways, from old dogs to love and friendship to personal goals and daily habits. This choice often confronts us in entrenched areas of our lives, and we mistakenly confuse having the acumen to walk away at the right moment with quitting ... and no one wants to be a quitter. However, letting go a day too late can equal the difference between whether or not a person or an experience leaves your life as a fond memory or painful regret.
It's always been part of my nature to hang on. As a teen, I clung to sports I wasn't good at instead of pursuing the artsy stuff that came naturally. Later, there were opinions I kept just because they had always been mine. There were wonderful boyfriends I should have been unselfish enough to let go of when I knew they weren't "it," as well as rotten ones I should have kicked to the curb months earlier.
There are relationships that are meant to be part of your daily life and ones that can always be picked up exactly where they left off, no matter how much time has passed. But some people or passions have their time and place, and hanging on can only work to painfully point out you have nothing left to offer one another. When you let go a day too early rather than a day too late, it affords just enough time to pack up the laughter and love and drive quietly away before you begin to forget or dismiss what made you friends in the first place.
When you've made something part of your life, but now find that it brings feelings of negativity (I am talking to you, Facebook) or a previous goal needs to be reset rather than wallowing in your inability to reach the original pie in the sky, it's time to make like Elsa and LET. IT. GO. If the "goal dress" you've had hanging on your closet door for ages no longer inspires but instead makes you feel like a failure, give yourself a break and exchange it for a realistic size. Don't spend one more dollar or minute to acquire things or experiences in the name of "The Joneses." Take your money and energy (while you still have both) and put them elsewhere.
I won't pretend I've mastered all of this, and fully acknowledge I am a member of the choir to which I am preaching. However, I try to always remember that because I didn't wait a day too late, my best pal never struggled to breathe. We should be our own best pal, and do the same for ourselves.
REAL LIFE. REAL NEWS. REAL VOICES.
Help us tell more of the stories that matter from voices that too often remain unheard.