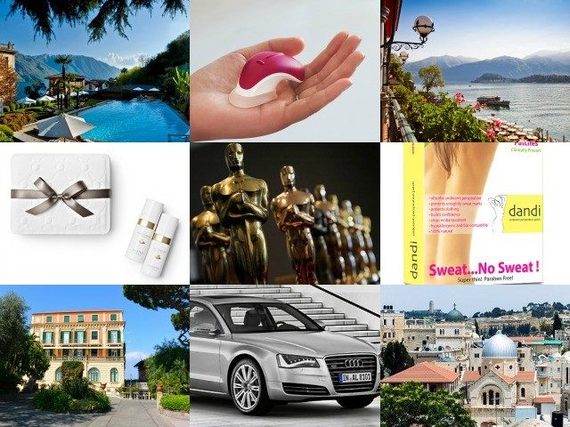 Some hideous gowns and too much make up, that is my own overall skin-deep reaction of the 2016 Academy Awards ceremony. Of course, there were exceptions and awesome sights, but some celebrities seriously need a better fashion stylist and/or a better hair/make up artist; maybe they should just fire them all, and do it themselves, that way, the subsequent regrets will only be blamed on selves.
Sofia Vergara's blue Marchesa gown was a revelation in itself, and was hard at work trying to control her pop ups before they jump out. The origami-style white dress with wings of Olivia Wilde from Valentino never really took off for me, style-wise.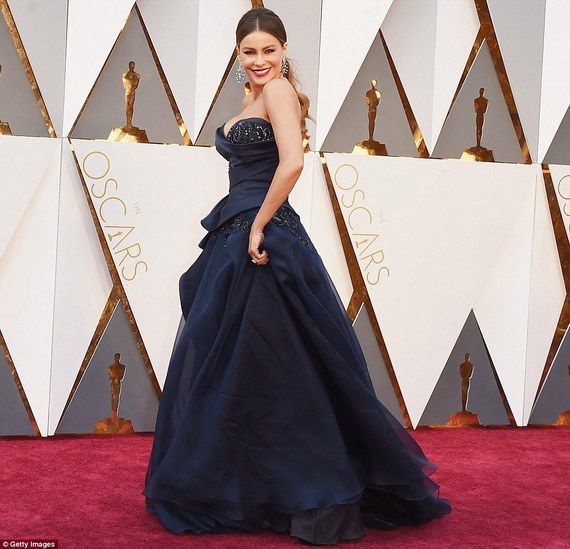 Whoopi Goldberg had something very scary crawling on her hand -- oh wait, was that a ring? Orlando Jones wore his metallic Vegas jacket, unless it was his car seat upholstery...Kerry Washington in a Versace dominatrix outfit was slightly off target, even if she is a fierce woman, Olivia would have never worn that dress.
Jared Leto forgot his shoes and wore slippers and he had a poppy as a tie -- was this a message? Is darling Emily Blunt having another girl? She wore baby pink. It's not even Spring yet, but Cate Blanchet was all a-bloomin' in pastel blue Easter flowers.
I think Reese Witherspoon recycled one of her old dresses -- nothing wrong with that. Lady Gaga surprised me with a demure white ... pant/gown, as I was just waiting for her to morph into a raw steak or a fried egg. Margot Robbie tried to look as much like Oscar as possible in her gold Diane von Fürstenberg.
The Best Costume Design winner Jenny Beavan (for Mad Max Fury Road) did not wear her best costume; I would say she needs help with a new stylist.
And even though I am a big fan of Canadian actress Rachel McAdams (have you seen Red Eye?) -- she was great in Spotlight as an investigative journalist, and she was also great in State of Play a few years back, as an investigative journalist -- one must wonder how many times will she have to be an investigative journalist before Sherlock rescues her...
Eerily introduced by Vice President Joe Biden, Lady Gaga clearly showed off her incredible voice, and Sam Smith (congrats!) deserved his win. Both were my idols tonight -- great singers, great songs, real entertainers.
The Funky Flamboyant Little Bag.
Did you know that each year some two dozens losing Awards nominees in the main categories take home a gift bag of epic proportion? Well, this time around, the over $200,000 goodies bag presents their highnesses with odds and ends bits of mixed relevance, the perfectly singular luxury items that have no heads nor tails.
A partial list here: A year of unlimited Audi car rentals (don't they already have cars?); a $900 toilet dispenser (is it gold?); personalized M&Ms (I got that for my kids a few years back); a controversial 10-day, first-class trip to Israel (but will they even go?); a so-called Vampire Breast Lift, apparently the new must have in Hollywood, a product using "blood-derived growth factors to revive rounder cleavage without implants."
What??? Does anyone but the Kardashians use that? And what do men winners do with that? Oops, sorry I asked. I think this gift is a little on the private side -- would we next advertise and offer penile enlargements at the Oscars?
I still question if the very well paid people showing up on the red carpet really treasure the presents, given the fact that most of them can afford to buy all that stuff anyways. Apparently, nobody ever left without it, and some even asked for it, when they became overlooked at the check-out counter. I wonder if the gifted (pun intended) movie people will in fact use their gifts, but that's another story.
Olivia Munn's orange drape from Stella McCartney was divine. I could not understand most of what Chris Rock had to say, but that's because, not only was I not seated in the audience, but also, I am French, so there's that.
I definitely thought that Mad Max Fury Road was a chick flick -- for its many diverse women roles, the finally futuristic make-up, and the fashion, oh the fashion! Although way too violent for my taste, I had to recognize the performances, especially that of Charlize Théron.
Even if I loved what Eddie Redmayne (weird lapels on that jacket Alexander) did in his last few films, I still wanted Leo to win this year -- since the half way of his career I have been routing for him to finally get an Oscar, and tonight he did! Bravo Leo! After six nominations, you clearly deserve to win, you are the best actor -- you are now the king of the world!
The Oscar statuette got a makeover for this year -- after having stayed in the same shape since 1929, based on the naked body of director, screenwriter and actor Emilio Fernandez -- the new Oscar has more defined and toned muscles, and a fine dusting of gold color, like a discreet bronzer. It follows the times.
I'm going to stop bashing the Oscars and going to bed -- my only wish of course would have been to be invited to the royal event of the U.S. of A. -- for all the goods, the bads, and the uglies. Maybe next year. Or maybe I should have gone to be one of the seat fillers who get paid $125 to sit where there are holes in the crowd at the Oscars. What a thrill that must be, but no gift bag!