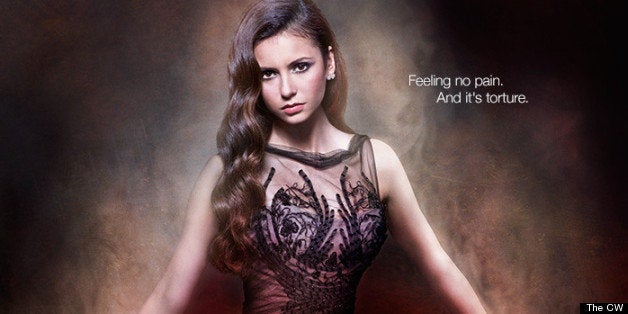 Last week, Damon (Ian Somerhalder) and Stefan's (Paul Wesley) efforts to bring some emotion back to the once overly-empathetic Elena failed miserably, but if The CW's new ad for the May 16th finale is any indication, she's not feeling anything any time soon.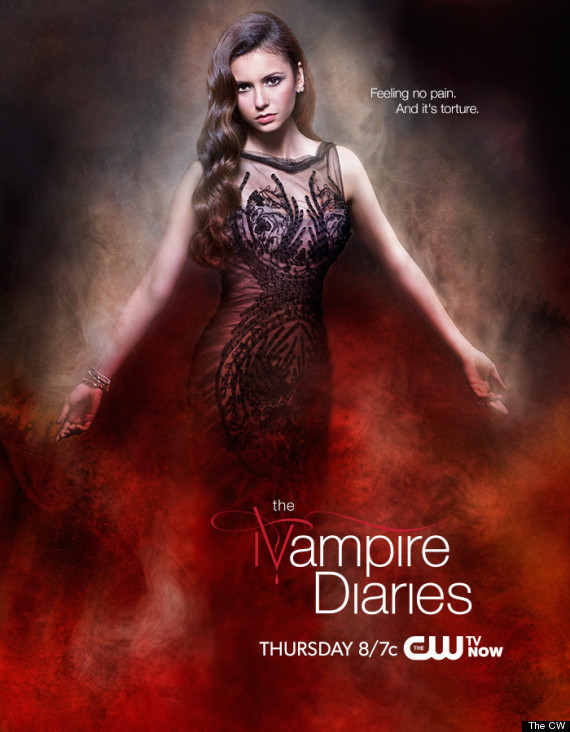 After this week's episode, "The Originals," which serves as the backdoor pilot for "The Vampire Diaries" spinoff, there are only three episodes left in Season 4. Though there's no episode description for the finale, titled "Graduation," yet, showrunner Julie Plec teased to TVLine, "There's going to be a lot of questions about, 'Who am I? What am I going to do with my life? What am I meant to be? Where am I meant to go?' ... All of our characters will be faced with that question as they make decisions about whether to stay or go, go to college, travel the world, break up, stay together. A lot of big, important life decisions as we say goodbye to the high school chapter of the show."
Plec also told TV Guide that all the seniors might not graduate. "Definitely not all of our wayward, delinquent students will be present when it comes time to collect their diplomas ... I'm not saying they won't be alive -- they just won't be able to extricate themselves, as graduation falls right in the middle of a crucial supernatural time."
Check out the episode descriptions for next week's episode and the penultimate episode below:
"She's Come Undone" (Thursday, May 2 at 8 p.m. ET)
LET'S MAKE A DEAL - Damon (Ian Somerhalder) and Stefan (Paul Wesley) try a brutal new approach to provoke Elena (Nina Dobrev) into turning her humanity back on, and Caroline (Candice Accola) is frustrated when her attempt to intervene backfires. When Elena figures out a way to call the Salvatore brothers' bluff, they call for backup from a surprising source. Matt (Zach Roerig) gives Rebekah (Claire Holt) some unsolicited advice on her life choices, and she tries to help him in return. Caroline has a confusing and dangerous encounter with Klaus (Joseph Morgan), and Katherine (Nina Dobrev) is suspicious when Bonnie (Kat Graham) makes her an offer that she promises will benefit them both.
"The Walking Dead" (Thursday, May 9 at 8 p.m. ET)
SOMETHING WICKED - As Graduation Day approaches, Caroline (Candice Accola) tries to distract Elena (Elena Dobrev) by focusing on simple tasks like sending out announcements, but Elena won't be swayed from her new obsession. Sheriff Forbes (Marguerite MacIntyre) calls Damon (Ian Somerhalder) and Stefan (Paul Wesley) to the hospital, where someone has been attacking patients. Still trying to force Katherine (Elena Dobrev) to help her, Bonnie (Kat Graham) refuses to give up on her plan to defeat Silas. As a violent wind storm causes a power outage in Mystic Falls, ghosts suddenly appear - some with good intentions and some bent on revenge. Zach Roerig and Claire Holt also star.
"The Vampire Diaries" airs Thursdays at 8 p.m. ET on The CW.
PHOTO GALLERY
"The Vampire Diaries" Spinoff: "The Originals"
REAL LIFE. REAL NEWS. REAL VOICES.
Help us tell more of the stories that matter from voices that too often remain unheard.
BEFORE YOU GO