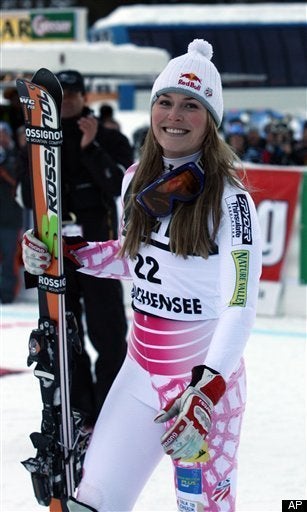 I heard the joyful cheers and the honking horns in the streets of Vancouver that morning in July 2003 when IOC President Jacques Rogge soberly announced that the 21st Winter Olympic Games would be held in my home city.
I watched the light-blue numbers tick down on the Olympic clock on the lawn in front of the Art Gallery, the closest thing Vancouver has to a town square.
I complained with everyone else when it felt like the entire city was under construction, but watched with pride as the venues and athlete's village took shape.
And now that the Olympics are finally about to begin, I'm 2,500 miles away. Having moved to New York last summer, I will be among the 200 million people who will watch NBC's Olympic coverage.
Sure, I'll be envious of my friends and family at home, many of whom are already smugly boasting about their hard-won tickets to the Opening Ceremonies, to hockey semifinals or to that short-track speed skating that looks like roller derby. But I'm lucky too. I'm in a unique position to see how others - particularly the American media - view my hometown.
Aside from the usual athlete profiles, the American media have covered the build-up to the Vancouver Games from a variety of angles. The New York Times juxtaposed the poverty, drug abuse and homelessness in Vancouver's Downtown Eastside with Olympic development. The Associated Press chronicled the failure of a plan to house visitors on a cruise ship docked in North Vancouver. And, back in November, Stephen Colbert called Canadians cheats for limiting American team access to the Richmond Olympic Oval. His comedic outrage netted him an offer to be "an official ombudsman to monitor the treatment of Americans during the Games."
However, the dominant story (at least in the last few weeks) has been the lack of snow on Cypress Mountain, which is scheduled to host the snowboarding and freestyle skiing events. Many of the reports make it sound as though Vancouver is usually a winter wonderland and this year's poor snowfall is a shocking anomaly. Yes, there has been a particular dearth of snow this year, but spotty snow cover on local mountains like Cypress, only a half-hour outside the city, is nothing new in temperate Vancouver. In mid-February a few years ago, I gazed up at nearly bare mountains while running on the beach in shorts and a t-shirt.
And yet, on NBC's Olympics website, the slideshows and videos all show snow-capped peaks. The rumor around Vancouver is that television networks have been taking footage every winter since 2007 for those requisite Olympic wintry-landscape shots. It seems as though Vancouver is being recast into some notion of what a Host City ought to be: an Arctic Canadian village instead of a real-life city.
But it's too early to tell. For most of the next three weeks, I'll be on my couch, wearing the red knitted Olympic mittens my mother mailed me last week, and watching and blogging about how Vancouver is portrayed to the American public.
It will, no doubt, be grueling. NBC and its outlets are airing a record 835 hours of the Vancouver Games.
But aren't the Olympics about pushing yourself beyond your limits?
Popular in the Community