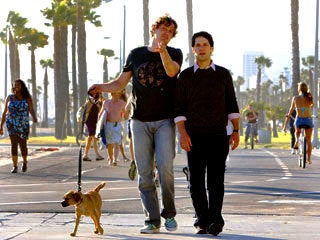 A friend in New York calls to say that I MUST see the new movie "I Love You, Man," not because of the hilarity (brief but present), but for the scenes of Venice. He says he imagines me settled in a bungalow "just like that" and living the life of Jason Segel's character, Sydney. Well, I don't live in a Man Cave, my bungalow does not have a "jerk-off station" like Sydney's, and it's not outfitted with Koo Koo Roo chicken, a bass guitar or a bong. It is now filled with John Robshaw pillows and quilts, a bamboo dining set from Patio Culture and Agaves and Banana plants from The Sculpture Garden on Abbot Kinney. That sounds so prissy and defensive, but my bungalow is starting to work for me.
Décor aside, my friend is partly right about Sydney and I sharing a life. Time is completely unstructured here, which I'm getting used to (and could still use suggestions on that front). My former New York daily routine of Gym at 6 am, Shower at 8, Work at 9 (ok, 9:30) is out the window. And by the looks of my fellow Chai latte drinkers at Abbot's Habit, the morning shower really hasn't caught on with anyone else here. I'm not a beer drinker but I can see that anytime is Heineken time in Venice. Whereas New York is often characterized by its "night life", Venice seems to have a "day life" that is busy, friendly, and active even if it's not productive. In New York, working at home feels like a sick day; in Venice, every day is Saturday, whether working or not.
So many New Yorkers told me I would feel isolated and lonely in L.A. that I put off the move till I realized that New York wasn't actually any better. I am relieved to find this was just one more East Coast urban myth; especially when it comes to living in Venice. In fact, my neighbors disturbingly know my every move and keep track of my dating life. That's for another post. As I write this, three of my street-mates are speaking across the lawn, their dogs barking along (loudly).
The Venice stereotype in the movie--mismatched patterns on every piece of clothing, the omnipresent scarf, alternative transportation vehicles, great tacos, sketchy financial status, and indiscernible employment--seems true enough on the outside, though I'm not expert enough to judge. (The only thing they missed was the knit cap.) What I did relate to was Sydney's emancipated spirit. He's earnest without being sappy, unapologetic (though he could have picked up the dog poop) and unembarrassed about his girly Uggs or anything else. And not that that those attributes are strictly Venetian, but overall the people I've met here are pretty open and honest. I like that.
Unlike Sydney though, I'm not "good at investments." I'm still wondering how he actually supports himself here. In New York, you get a job, go to your office, and arrange for direct deposit. Believe me, I miss the check. Here, I drive in my car, go to meetings, email from my iPhone, and talk about ideas. When does the money part come in? Please advise.
I went to see "I Love You, Man" with two friends who have a business in Venice. When scenes of Abbot Kinney and Venice Beach first appeared, we chuckled. I wonder why everyone gets such a kick out of seeing his or her own little town up on the screen? After all, we're living here every day. Is it seeing caricatures of ourselves that gets the laugh? I can't call it my town yet, but I have to say I was smiling inside as if it were.
Popular in the Community