This year's Venice Biennale might unintentionally bring the answers we have been waiting for when trying to understand the role of art in a world where genocide and human extermination appear as something to be aware of but not to get involved with. The decision of the Biennale's chief curator to pay homage to Karl Marx' Das Kapital is incompatible with the fact that the Ukrainian Pavilion has been privately funded by the billionaire businessman Victor Pinchuk, who also decided, in what I believe is an act of censorship, that no comment against Russia would be included or tolerated. A similar paradox emerged when the floating bridge bringing a dozen VIP guests broke, throwing all of them, Miuccia Prada included, into the lagoon. I am saying this because these days Europe cannot seem to find a way to prevent thousands of African refugees from drowning nearby, off the coast of Lampedusa, not very far from where the Venice Biennale takes place.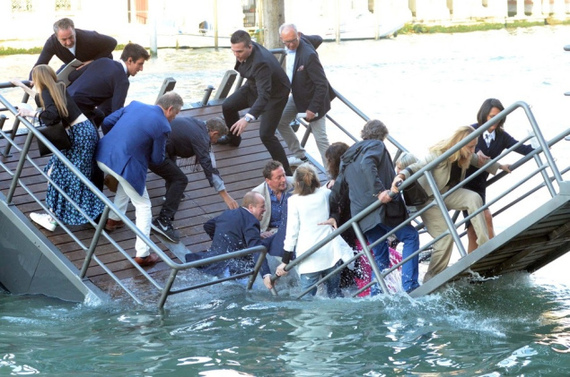 The New York Times recently published an article written by Farah Nayer ('Venice Biennale Pavilions for Iraq, Ukraine and Syria Reflect Strife at Home') where she shares with the world her satisfaction at the fact that those three countries managed to have their pavilions. So, business as usual?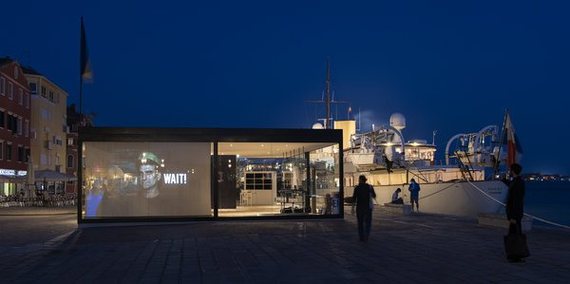 Of course not. According to Nayer: 'Art often reflects the horrors at home: Artists and curators, who view portraying reality as a duty, illustrate it in a range of media, and Venice becomes a platform for geopolitical frictions'. But is portraying conflict really what artists and curators should worry about? Should art have a message? Should art reflect a state of affairs? If so, are we finding artistic value in the 'seriousness' of the message?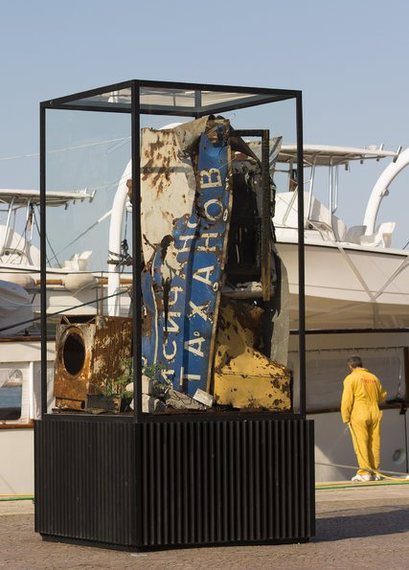 'Conflict is certainly visible this year in the pavilions of Iraq, Ukraine and Syria. Iraq and Ukraine tackle the hostilities directly: Iraq evokes the brutalities of the Islamic State (also known as ISIS or ISIL) in drawings, watercolors and photographs, while Ukraine illustrates its ordeal through painting, sculpture and an installation with artists who are on a hunger strike. Syria's exhibition is more apolitical, but elsewhere at the Biennale, the underground filmmakers' collective Abounaddara -- which received a special mention from the Biennale jury on Saturday -- offers glimpses of life in Syria' says Nayer.
A major focus of the Iraqi pavilion this year (held at Ca' Dandolo, a palazzo on the Grand Canal) is a set of drawings by adult Iraqi refugees who fled the Islamic State's onslaught. These depictions -- a hooded militant shooting a mother and child, a bandaged man whose bleeding heart is shaped like Iraq -- were produced when the Ruya Foundation took paper, pencils and crayons to refugees in three camps in northern Iraq. All 546 submissions were then flown to Beijing and shown to the Chinese artist Ai Weiwei, who made a selection for a book published by the foundation. (That book is on sale at the exhibition and proceeds will go to the refugees.)
But what does Ai Wei Wei have to do with all this? In other words, do I need the Venice Biennale (a place where the conspicuous consumption of art happens) to tell me that ISIS are murderers or do they need me to listen to justify other things? Might it be possible that the horrors of war are being manipulated not to really have to deal with the problem while at the same time shouting in all directions that we are so very worried?
Artists from Ukraine have been very vocal about this in Venice. On Friday, activist Ukrainian artists (who were not associated with the national pavilion) occupied the Russian pavilion in camouflage and invited visitors to wear uniforms bearing slogans. All of the works in the Ukrainian pavilion itself, a glass box parked along the Grand Canal, represent the strife in Ukraine in one way or another. Inside, the Open Group collective is presenting a young artist on hunger strike, sitting at a table with a water jug and a glass and staring at nine live video feeds showing the homes of Ukrainian soldiers who have been drafted. Whenever a soldier returns from the front, the artist ends his hunger strike and another takes over. Color photographs of tables in the soldiers' homes, covered with their paraphernalia, are on the back of the grid of video screens. Are they really on hunger strike? I am saying this because if they are not they are banalising a very extreme (and sometimes needed) means of expression.
The Belgian curator Björn Geldhof, who was appointed by Ukraine's ministry of culture, said that for him, not referring to the military situation was "not possible." He added, "I think it would be a form of escapism." It is true but 'mentioning the military situation' is not in itself a source of artistic value.
Related
Popular in the Community