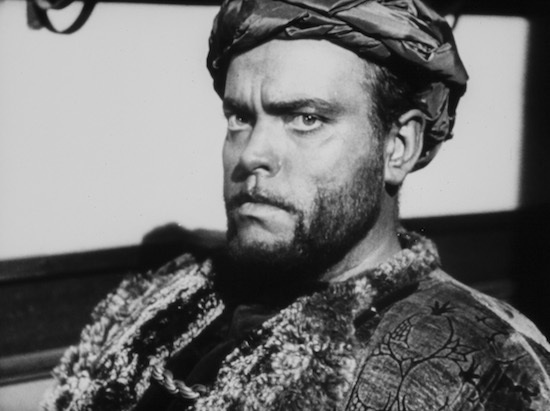 A good 30 years after his death, the genius that was, is and always will be Orson Welles is finally enjoying the recognition he deserves.
At the Festival de Cannes this year, he was the celebrated festival personality along with Ingrid Bergman -- though only the latter was featured on the official poster -- and The Third Man, in which Welles acted, was shown as part of the Cannes Classics line-up, in all its 4K restoration glory, ahead of its US re-release in June. Then I got to interview Filip Jan Rymzsa, the producer who was there to pitch his crowdfunding campaign on Indiegogo to finish The Other Side of the Wind, Welles much talked about swan song, and the film-slash-labor-of-love he worked on for more than 10 years and died without finishing. Well, one of the film's original financiers was Mehdi Bushehri, the brother-in-law of the Shah of Iran after all, so no wonder it may have been a bit arduous for it to see the light of day with US audiences back in the early 1980s. But I digress.
Now the folks at La Biennale di Venezia (the Venice Film Festival) not to be outdone, have kicked off its own ten-days long cinematic celebration with their own tribute to Orson Welles. A pre-opening duet on September 1st of Othello, in its original Italian version re-mastered by the CSC Cineteca Nazionale, introduced by another previously unfinished work of Welles, The Merchant of Venice. The story behind Othello, or rather Otello as it is called in the Venice program, is an interesting one. When Welles film was stuck in a carnival of red tape, ahead of its premiere, the festival on the Lido avoided an empty stage for one of the most anticipated titles in its line-up by showing the dubbing master, hastily put together by the Scalera Studios, the Italian co-producers of the film and where some of it was shot. It is this version that we'll all be watching tonight. I'm as excited as the original audiences must have been in 1951 to view a classic that almost didn't get to see the light of projection.
The Biennale is also featuring a beautiful exhibition titled "Shakespeare & Cigars," curated by Bianca Lavagnino and Sergio Toffetti. It consists of 12 wooden boxes of Welles favorite smokes that he hand-painted in oil in the 1960s, each with a favorite Shakespearean character, like Macbeth, Othello, Falstaff and Shylock. I'm running to see that, just as soon as I figure out where it is on the Lido...
OK, so why so much Welles and why now? Well, for one, he is what Richard Linklater calls "the Patron Saint of indie filmmakers." He represents that wonderful side of the seventh art full of imagination, passion and hope. His way of making films, from his well-known masterpiece Citizen Kane to his lesser known The Trial, to his unfinished The Deep and the critics-panned The Lady from Shanghai, was nothing that had ever been seen before, and perhaps since. I mean, who is today's Orson Welles, a Wes Anderson perhaps? Or Tim Burton? But they can be shtick-y in all their genius, while Welles always walked above that line. This is my very humble opinion of course! Feel free to disagree.
I'll admit I have a very personal reason for celebrating Orson Welles. He's a woman's man, and someone who always referred to himself as "the Stranger." I think if I had been born after 1985 I would have liked to believe I was Welles reincarnated, but no such luck. I still find in him a twin soul of sorts. His self-deprecating statements, like "I'm ashamed of 'Rosebud', a rather tawdry device which doesn't stand up," and -- after his "War of the Worlds" disaster -- the classic, "I didn't go to jail, I went to Hollywood," tell the story of a man with much more talent that ego. A welcomed respite from a world of cocky young wannabe filmmakers today who think holding up an iPhone and shooting a short of their meal makes them geniuses. Yes, I deal with those on a daily basis.
But perhaps, more deeply, I admire Welles as a type of man who may no longer exist. A man who loved women, many women, but mainly one at a time. A man who once said that the "first sex is women, the essentialsex is woman," and let his love and passion bleed into his work, by declaring that "the duty of a director is to carry out a continual courtship," with his cast and crew. I have been laughed at when I say that I fall in love with all my subjects, be they man, woman or film. I wish I had Welles to back me up. Any of us who do our work, any work in any profession, with care, devotion and enthusiasm owe a lot to Welles, and he is our guardian angel in return, I'm sure.
So I raise a pre-opening Venice Film Festival glass to man full of gusto and joie-de-vivre who no longer lives among us, and one who lived his life "never quite unpacked," yet whose work always feels at home in some of the most beautiful "houses." Last but not least, the quote Welles utters as Harry Lime in The Third Man is always there to give us the courage to go on: " In Italy for 30 years under the Borgias they had warfare, terror, murder, and bloodshed, but they produced Michelangelo, Leonardo da Vinci, and the Renaissance. In Switzerland they had brotherly love -- they had 500 years of democracy and peace, and what did that produce? The cuckoo clock."
Photo courtesy of the CSC Cineteca Nazionale, used with permission