This year's Venice Film Festival has drawn to a close. Among its winners are Golden Lion Lorenzo Vigas' From Afar, based on a story by Guillermo Arriaga, Silver Lion The Clan by Pablo Trapero, Valeria Golino for Best Actress and Fabrice Luchini for Best Actor. Best Young Performer went to Abraham Attah from Beasts of No Nation, with the Orizzonti prizes going to Jake Mahaffi for Free in Deed, Brady Corbet for Best Director for Childhood of a Leader and Belladonna by Dubravna Turic which won Best Short. In the Venice Days sidebar, Early Winter by Michael Rowe took the Best Film award, while Audience Choice -- always my favorite barometer of what movie-watching audiences really like and crave -- went to the SANAD supported Tunisian/UAE/French/Belgian co-production As I Open My Eyes by Leyla Bouzid. OK, I agree with some of the choices and respectfully disagree with the juries, which were headed by Alfonso Cuaron for the main Competition and Shirin Neshat for Orizzonti, on others.
While I didn't watch all the winning films, I did watch other movies that in my humble opinion, are more current and relevant in their subject matter and themes. There was a current thread of the power of one, even in evil and destruction, running through the films screening this year. I'm not totally sure the winning films reflect that.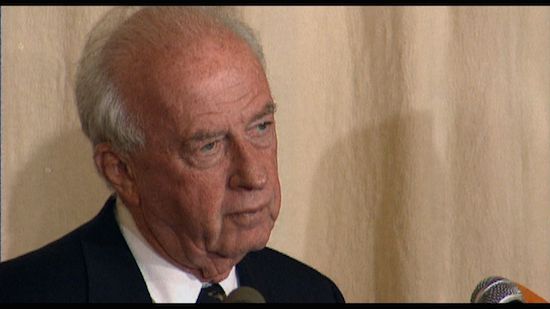 For me, the winner overall for best film, a flashing indicator of the day when the world began the descent into its current, and disastrous state of affairs, is Amos Gitai's Rabin, the Last Day. What a film, what a master of filmmaking, what a genius with his finger on the pulse of society, what a concept!
Gitai managed to hold at least four groups of audiences, including two press screenings and the evening gala -- which I attended and am glad I did, as it was truly magical -- totally spellbound, for two and a half hours of what is basically a re-enactment of the hearings of the Shamgar Commission. Not exactly what one thinks of as an action filled audience-pleaser. And yet, there we were, enthralled in a story that had me repeating in my head, like a tragic mantra, "Rabin's last day was the first day of the end of the world." Gitai's film on the murder of Israeli Prime Minister Yitzhak Rabin and its undercurrents of conspiracy is courageous, enlightening, fair and perfectly made. To me, with everything that is happening today, with the struggles we face in the Middle East, with the wave of religious extremisms all around us, Rabin, the Last Day should have won. It would have acknowledged that the jury understand current affairs and this idea that sometimes one person, with one evil destructive idea, can change the outcome of history -- especially for the worst.
Another film that seems to have been misunderstood is Luca Guadagnino's A Bigger Splash. Italian critics dismissed it and even argued with me on my piece for HuffPost Italia. I swear, sometimes I feel I must have been sitting in a different screening room, watching another film because the more I think about this visually pleasing, wonderfully entertaining, superbly acted film directed by a man who is clearly an artist with a vision ahead of his times, the more I love it. Mind you, I started out pretty high on it already, coming out of Venice with both A Bigger Splash and Gitai's film as personal favorites, but the visual and sound cues that Guadagnino inserted in his film continue to present insight into his vision. I loved A Bigger Splash, and I love that it has taught me a new way of looking at the world around me. Perhaps that's what I crave most in a film, and both Rabin, the Last Day and Guadagnino's film have done that. Opened up new horizons.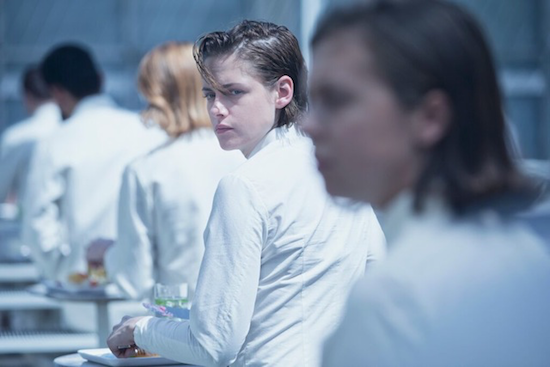 I also enjoyed a few other films like The Danish Girl and Equals from an entertainment point of view. I mean, Drake Doremus' oeuvre Equals, starring Kristen Stewart, Nicholas Hoult and Guy Pearce is not my usual kind of film, but there was something about it visually that really hit a chord. Perhaps as an emotional person, I too consider love and passion sometimes to be an uncomfortable side effect of feeling (in the film, feelings are considered a virus!) and the apartments featured reminded me of those new space-saver flats in Manchester that Yo Sushi founder Simon Woodroffe is planning to build. Plus, ever since Kristen Stewart became Karl Lagerfeld's muse, I've adored watching her simply be. Oh, and do not even get me started on how watchable and cool Guy Pearce is...
The Danish Girl is an undeniable Oscar contender. I mean Eddie Redmayne is delicious in the role of Danish artist Einar Wegener, and fills the screen during his film-long transformation into transgender Lily Elbe. This was one movie where I was glad not to know anything about it beforehand, because I discovered a story of courage and faith, one that unfolded graciously in front of my eyes and captured my heart. Alicia Vikander as Weneger's understanding wife and Matthias Schoenaerts (officially hottest man on earth at the moment) as an even more understanding childhood friend, filled out the story and the big screen.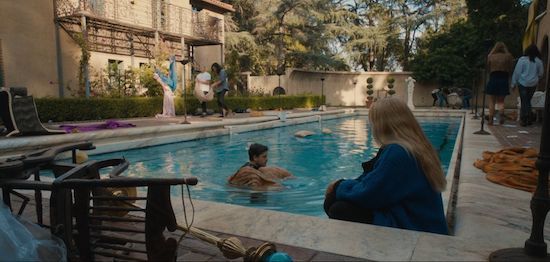 Finally, there is always a film for me that rounds it all up, perfectly. This time, at this festival, it was Oh Gallow Lay directed by Julian Wayser -- a wild, colorful, at times unhinged and at others unhinging short film in the Orizzonti section. Produced by Filip Jan Rymzsa, who is the power behind Orson Welles' swan song The Other Side of the Wind finally seeing the light of day, Oh Gallow Lay imagines what would happen if Muammar Gaddafi's home was found in the Hollywood Hills by a group of misfits and modern-day hippies. Inspired by the true story of Saadi Gaddafi's seized home in Hampstead, featured in The Guardian, think Sofia Coppola's The Bling Ring meets Charles Manson with a bit of Boogie Nights thrown in. Oh Gallow Lay, which features a cameo by the immediately recognizable Jason Ritter, may not be winning the award for best script anytime soon, but it wins the most imagination, dare and cinematic courage award from me, right here right now.
All images courtesy of La biennale di Venezia, used with permission.
Popular in the Community