With Tom Ford, chances are that if he throws a rock in the wind, he will hit gold.
When it comes to fashion, Ford has conquered it, he "shut it down" as fashionista Rachel Zoe would say. Fragrances, well as a Jasmin Rouge aficionado myself, I'll say he got that down. Sunglasses, check. Bespoke menswear, check. He's even got a song named after him, by Jay-Z. And film? Wow, yes, yes, oh yes. Nobody does haunting images on the big screen quite like Tom Ford.
In his latest oeuvre, well his second after a seven year hiatus from filmmaking, Ford puts together another stellar cast -- which includes Jake Gyllenhaal, Amy Adams and Michael Shannon -- and then mixes up the batch by throwing in a story within the story, a book that fills up the pages of the movie script. It's brilliant, of course we all knew that before going into the Venice Film Festival, where Nocturnal Animals world premiered. As proof of its magnificence, it was impossible to get a hold of any publicists for the movie and the press conference seemed more like a Justin Bieber public appearance than a film delegation meeting the press.
Lets face it, even if he's yet to make his first record, Tom Ford is a rockstar.
Nocturnal Animals does not disappoint, in any way, shape or form. From the first frame to the last it's haunting and can't-turn-your-eyes-away captivating. I'll admit, the first shots of the voluptuous burlesque women inspired by Fellini made me wonder, and I wrote it down, if Ford's genius had gotten so big for his shoes that people around him were too scared to say something was a bit heavy handed. But once the intent of those images, beautiful and grotesque at once, was known, I quickly crossed out that sentence from my notebook.
The story within the story has to do with a book Jake Gyllenhaal's character Edward has written. Edward is Susan's ex, a chronic insomniac played by Amy Adams. In his novel, he tells the tale of a family, Tony (again Gyllenhaal), his wife Laura (Isla Fisher) and their daughter India (Ellie Bamber), who are harassed and attacked on a desolate Texas road, by three rednecks -- including the chilling Aaron Taylor-Johnson -- one dark night. The outcome requires another phenomenal character, detective Bobby Andes, played by personal favorite Michael Shannon, to come in and help bring the story home.
Ford comfortably weaves three threads into Nocturnal Animals, the past of Susan and Edward, her present with new husband Armie Hammer, and the story of Tony and his family, with Andes. The result is spellbinding.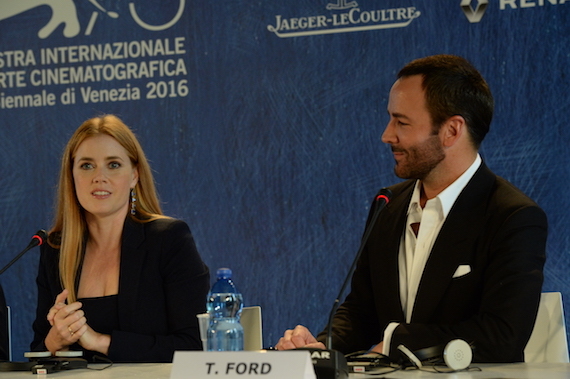 At the press conference, Ford confessed that what captured him in the book his film is based on, the 1993 novel Tony & Susan by Austin Wright, is "loyalty -- that's very important to me. When you find those people in your life, you hold on to them. [It's a] cautionary tale of what can happen when you let go of people."
Gyllenhaal instead confessed that what drew him to the script was "the color of paper the script was printed on, a particular hue of red I'd never seen." But of course, once opened, the pretty packaging held "one of the best scripts I'd ever read. Gripping and emotional and somehow went into a space where the metaphor of heartbreak stepped into real life."
For Adams, the pull was this "very personal story... I wanted to be a part of telling this story of loss and regret." But she admitted that, "when I first started preparing Susan, I didn't like her. And I can't play a character I don't like so I had to find my way into her." This is where the true talent of Ford's directing came in, she confessed "Tom's skilled hand was so patient. I really credit Tom for trusting that the stillness and the silence would be filled with the story."
As Ford added, about regrets, those we all have once we stop being 20 and 30, he shared that someone once said to him, "midlife is when you get to the top of the ladder and find out all along you've had it on the wrong wall." And he also disclosed his secret for picking stories that stay in our heart, long after his haunting images are gone, "I think I may be old fashioned but I believe there needs to be a moral to a story. If you leave a theater and it doesn't stay with you, it doesn't haunt you, it's not worth it." Nocturnal Animals releases in mid-November.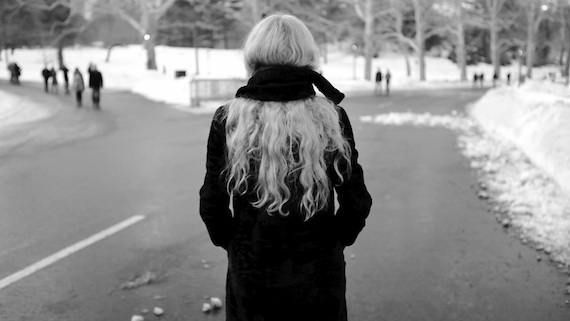 Franca Sozzani, to those of us who love fashion, is a legend. Her signature long, blond, wavy hair I've seen from NYC to Florence, from Dubai to Saudi Arabia and now Venice. She's a journalist, and has been the Editor in Chief of Vogue Italia since the late 80s. But she's also a mother, and her son Francesco Carrozzini has made a tribute film to his mother, titled Franca: Chaos and Creation. While I've yet to watch the film, it was interesting to burst in on the press conference for the documentary, since Sozzani and Carrozzini have an explosive dynamic. Hidden beneath the surface of her beauty, and his talent, there are crosscurrents these two feel, quite obviously, about each other's work.
As the daughter of a strong mother who claimed something similar to what Sozzani declared -- that "in the moment I leave work the magazine could burn down!" -- I know that's true, but to some extent. My mother was always the artist, and while I never lacked for anything, as I'm sure Carrozzini never did either, I felt mom's aloofness during her hard days of creation.
But creative women are forever struggling with that, the idea that they have to be mothers and wives and then also powerful work machines. I see that struggle even in Sozzani beautifully put together persona. I yearned to hear her secret for that ever blissed-out look that always completes her outfits. "I've never stopped dreaming," she admitted, and perhaps that's why film is so powerful. Because even when we have, stopped dreaming, or forget to, cinema reminds us to -- with a vision on the big screen. A technicolor dream.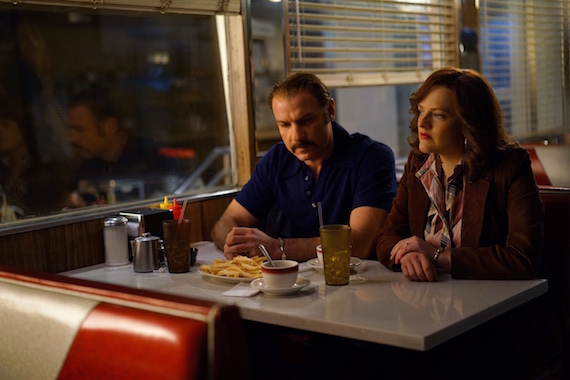 The Bleeder I knew I needed to watch in Venice because it stars Liev Schreiber and Naomi Watts. Those two could read the phone book, and as long as they do, together, I would listen to them from A to Z. Their chemistry in this film, though Watts is only on screen for about 15 minutes tops, is so powerful that it left me wanting for more.
The Bleeder is the story of real-life Rocky inspiration Chuck Wepner, the boxer most famous for having gone fifteen rounds with Mohammad Ali, before being defeated by Ali. Directed by Oscar nominated filmmaker Philippe Falardeau, The Bleeder is the kind of film that cannot be separated from its stars. I dare not think of it without Schreiber, who holds the audience's attention from the first shot to the last, and the real life chemistry that Watts brings to her role as Wepner's second wife and salvation, Linda.
When I asked Schreiber if Wepner is somehow Shakespearean, he enthusiastically answered, "he's absolutely Shakespearean! But you're talking to a guy who thinks everyone is Shakespearean." Then, pushing him further, I asked him what makes him so, and Schreiber continued, "the duality, the conflict, the human tragedy, also his vulnerability, his openness, his innocence, his naiveté; he doesn't hide his mistakes, he makes them beautifully out in the open, exquisitely clumsy. And that's Shakespearean." The Bleeder screens next at the Toronto International Film Festival.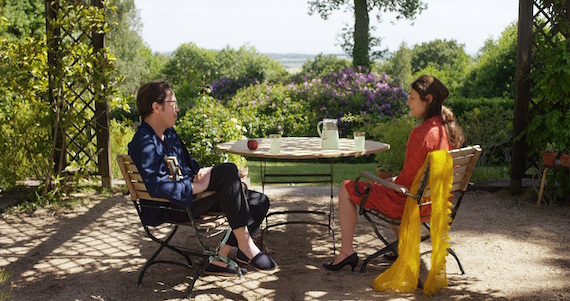 Finally, Wim Wenders latest, The Beautiful Days of Aranjuez in 3D. Why 3D? Wenders was quick to point out, because "3D is a very tender language and technology, it's a very kind technology, it corresponds to our two eyes if you use it naturally... I don't think I could have included you in any other way." And include us in he does, into an delicately intimate conversation between a man and a woman, sitting at a table somewhere in the countryside outside Paris, while a man with a typewriter, sitting inside, seems to write their dialogue. Is this God? Are the couple Adam and Eve, since there is an apple on the table? Could be, but they are also every day men and women, struggling to find a way to communicate even though words and thoughts are exchanged between them.
At first, I'll admit I felt slightly confused by The Beautiful Days of Aranjuez, but the more time passes after watching it, the stronger I appreciate Wenders genius to be. Apart from the great luxury of watching lavender on the big screen in full 3D wonder and the filmmaker's wonderful choice of music -- including a live performance by Nick Cave -- Wenders teaches us, his audience, a new way to breathe. He slows down our inner rhythm to match his art and it all somehow makes for an outer-worldly experience.
And that's what cinema is all about, after all, finding new eyes to help us view the world. Even if those eyes turn out to be bulky 3D glasses!
All images courtesy of La Biennale, used with permission.
Calling all HuffPost superfans!
Sign up for membership to become a founding member and help shape HuffPost's next chapter