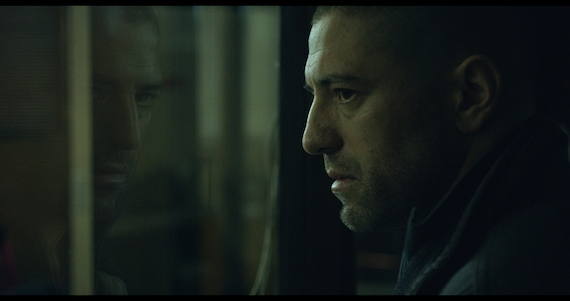 The Portuguese film São Jorge (Saint George) is one of two films I've watched at the Venice Film Festival that portray perfectly human boxers who make imperfect choices. Mind you, I usually don't watch boxing films and yet the stories of both these wondrous works of art drew me in without questions or hesitations.
Of course, there was The Bleeder, which was carried by the star power heavyweight that is Liev Schreiber. In The Bleeder, calling his Chuck Wepner bigger than life would be an understatement.
In São Jorge, which plays in the Orizzonti section in Venice, director Marco Martins portrays a quieter hero. Jorge is a man who is much more affected by the environment and social circumstances of the moment around him than by his own bad choices. Jorge is a lover, a father, an unemployed boxer who struggles to keep himself and those around him from drowning in the dire financial times of Portugal in the time of the European troika bailout measures. He wants desperately to provide, as great men do in his view, for those he loves but desperation is never an attractive -- nor productive quality.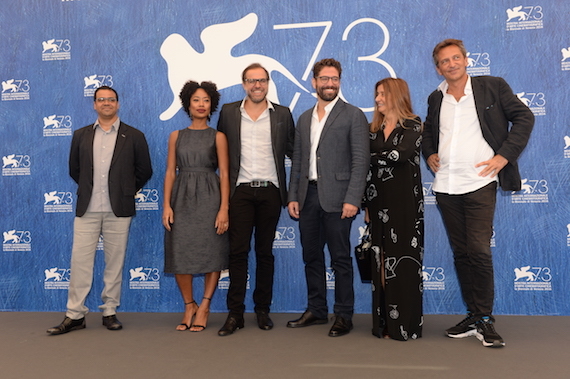 In fact, even when the broodingly handsome Jorge, played to quiet perfection by Nuno Lopes, tries to get his ex-wife Susana, played wonderfully by the real-life stunner Mariana Nunes, his desperate urgency is too much for her to bear, at first.
I got to meet all three of the mega talents that make up São Jorge, and a full interview with Lopes, Martins and Nunes is upcoming. But in the meanwhile, let me just say that when their publicist enticed me by saying that they were all "absolutely gorgeous" he was right. The eyes want their part, this is the cinematic art after all, and although the austerity of the times in Portugal comes through in Carlos Lopes magnificently solemn cinematography, Sao Jorge is a film that kept me entranced and enthralled from frame one to the ending credits.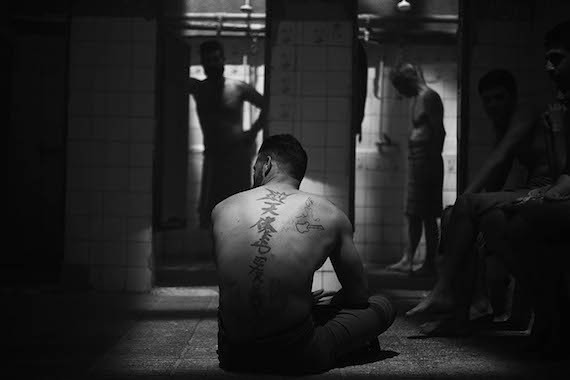 While it was the visual aspect of São Jorge that drew me to watch it, with Keywan Karimi's Tabl (Drum) screening in the Critics' Week sidebar, what appealed to me was the controversy surrounding the filmmaker.
Karimi has gone the way of so many beloved and respected filmmakers and intellectuals in Iran, symbolically gagged from speaking out and placed under house arrest. His crime? Discussing the un-discussible, talking about the un-talkable. In 2015, Karimi made a documentary called Writing on the City, about graffiti art in Tehran from the 1979 Islamic Revolution to Ahmadinejad's days. One would think that since those murals of rebellion -- as graffiti usually are -- were right there in open view, the filmmaker who simply captured them in a single cinematic essay would not have done anything wrong... But Karimi was accused of "offending Islamic sacredness," and sentenced to varying degrees of imprisonment and 223 lashes.
He's currently under house arrest but managed to get Tabl out by "DHL, no issues, it was quite easy" according to the film's producer François D'Artemare. D'Artemare has never met Karimi, but they "Skype, WhatsApp, talk on the phone, it's a strange way to work with a director you've never met, but we have a kind of intimate relationship today," admitted the producer.
Tabl is based on a book by Alimorad Fadaienia, an enigmatic Iranian intellectual who wrote the story in the 1960s at the time of the Shah's power. Today's Iran is quite different and yet this idea of a certain group of individuals who did things differently from the state's paid propagandists and the typical protesting intellectuals -- and thus shunned from both groups -- still rings true. That middle ground, the "reasonables" as I call them, they have always been the most attacked throughout history.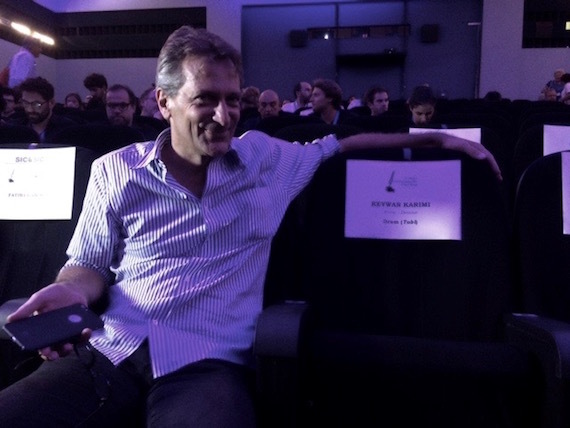 The cinematography of Tabl is divine, shot with an elegance beyond its story in black & white, while the surround sound, everything from drums at a funeral to house invaders, and even a cat meowing, jumping out from some trash on the right of the screen is deeply entertaining and unusual.
Most haunting perhaps were the empty chairs (see above, with D'Artemare) left in the Sala Perla of the Casinò, with Karimi's, Amirreza Naderi's, DoP Amin Jaferi's and co-editor Farahnaz Sharifi's names printed there, while D'Artemare gave a few choice interviews.
It made me wonder, how much are we willing to sacrifice for our art, as human beings?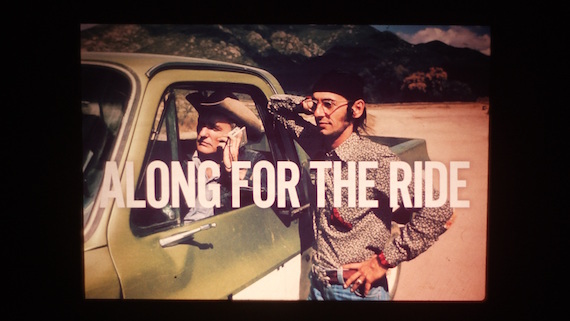 Finally, it was the turn of an American cinematic legend, one that I've always felt closer to than say, Orson Welles or Clark Gable. Dennis Hopper was the rebellious face of US movie stars, he belonged to all of us who were born after the 60s, a time that changed lives, politics and the human landscape of America. He was grand and outspoken to the point of being blacklisted from movies for a good, long while. What is it about great artists and revolution?
Well, part of that loaded question is answered in a new documentary, Along for the Ride by Nick Ebeling, making its world premiere in Venice in the Venezia Classici section. Along for the Ride takes the audience on a ride of course, a wondrous journey inside the mind and actions of Hopper, through the figure who was his right hand man for 47 years, Satya de la Manitou -- also a passenger on that passage. But the film goes one step further.
Ebeling himself is a film aficionado, a man who cites Hopper's follow up to Easy Rider, an obscure work to most titled The Last Movie, as the "film that changed my life, an obsession." His passion is infectious and I found myself oohing and aahning at each new celebrity input, each person who came on to talk about Hopper. From Julian Schnabel to Dean Stockwell, and all the usual suspects in between, Along for the Ride is definitely a tribute to Dennis Hopper, the man, the complicated genius.
But perhaps less apparent from the notes and synopsis of the film, but immediately visible to the audience, Ebeling's film is also an ode to the man behind the man, the wondrous, elegant, funny, fascinating and perfectly impenetrable de la Manitou -- a true icon of real American style.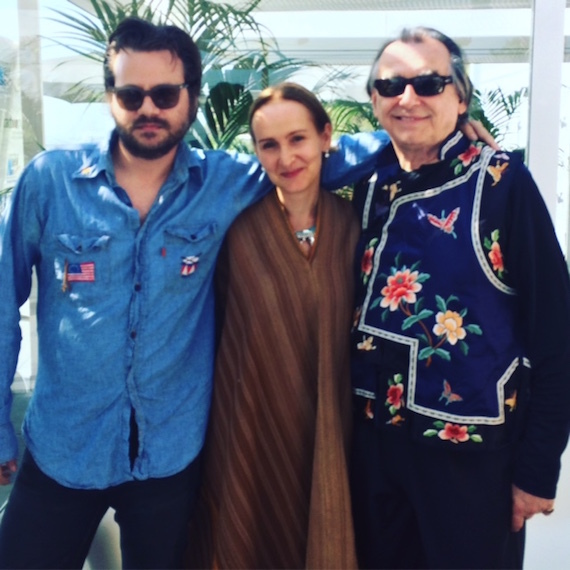 Oh, and by the way, I got to pose with both Ebeling and de la Manitou, wearing the original poncho worn by Hopper on The Last Movie, thanks to these wonderful gentlemen's lovely generosity. I felt like for a moment there, I was part of cinematic history. And I knew that somehow, somewhere, sitting in the grand movie theater in the sky surrounded by the likes of Kiarostami and Michael Cimino, Dennis Hopper approved.
Images courtesy of La Biennale, used with permission.
Popular in the Community