A small coastal Florida town with a seasonal population, Vero Beach doesn't seem like your typical wine or film hub, but look further, and you'll find this quietly elegant hamlet abounds with quality restaurants, theatres, galleries, and a passion for culture. And judging by the packed, sold out screenings of last year's inaugural festival, the town loves its annual Vero Beach Wine & Film Festival (VBWFF).
Now roaring into Year Two, the Vero Beach Wine & Film Festival (June 8 – 11, 2017) has rapidly gained a reputation as "the Summer Sundance." And at its heart, the festival serves a vital purpose beyond the fine wines and the silver screen, it's a sophisticated fundraiser for the area's non-profit Suncoast Mental Health Center. A charming seaside town, a worthy cause, and a lineup featuring 75 Florida premieres whose collective theme is "a life worth living," this is a festival worth attending.
Festival founder, Jerusha Stewart, says,
I wanted to do more than a fundraiser, I wanted to create something big. This festival was born as a doorway to which we could bring the widest array of people into the conversation about mental health in our country. Those suffering with mental illness have such a private struggle going on. They often think that they're alone and they're the only one. You contrast that with the whole film festival experience with thousands of people attending, and all the awareness we're raising, and the message changes to 'we're all in this together.'
This year, the "wine" portion of the festival will be taking center stage in the Wow! Tasting Lounge, a sprawling tent on the lush grounds under the oak trees that grow between two of the main screening venues in town: the Riverside Theatre and the Vero Beach Museum of Art. In the tent, culinary demos and wine seminars will be held every day. Stewart and co-founder Susan Horn make an annual pilgrimage to VBWFF's sister event, the Sonoma International Film Festival, to scout movies and vineyards.
All weekend long, people will be able to purchase the wines they taste throughout the festival. We also have a special set of film screenings called Sip! See! Savor! that will be multi-sensory taste experiences of wine and food with culinary-themed films. On Thursday, June 8th, we'll feature Vino Veritas Vintner four course dinners at the Quail Valley River Club and Gloria Estefan's Costa D'Este resort. Two wines will be paired with each course.
Sonoma isn't the only California locale with a presence at VBWFF, Hollywood takes a special spotlight in many ways. The Festival Chair this year is television and film director, Jeff Woolnough (Vikings, Taken). Two Academy Award winners, Molly Smith (La La Land) and Ari Sandel (West Bank Story) are included among this year's film jury. And none other than Oscar nominated actor, and legendary talent, Burt Reynolds, will also be in attendance with his new film, Dog Years, which opens the festival.
Exclusive clip of Dog Years with Burt Reynolds and Ariel Winter (Modern Family):
A universal story about growing old, in Dog Years, Reynolds plays an aging, former movie star who is forced to face the reality that his glory days are behind him. Many have already called it some of Reynolds' best work. The VBWFF will honor him with The Life Worth Living Award.
Co-Chairman Susan Horn notes,
'A life worth living' relates to our festival beneficiary, Suncoast Health. It doesn't mean that your life was all wonderful and perfect. It means you've really lived your life and made a difference in what you've done. You've overcome your problems and done the best that you can to a point where you can inspire others to live their life to the fullest.
The Opening Night ticket includes a screening of Dog Years, a panel discussion featuring Reynolds, the film's writer/director Adam Rifkin and producer, Neil Mandt, as well as the festival's awards ceremony, and a celebratory reception. A lot of bang for a thirty dollar ticket. Each full day festival pass is only forty dollars.
Another anticipated film coming to VBWFF is D-Love featuring the acting, scoring and film producing debut of rock musician Billy Howerdel of the chart-topping band, A Perfect Circle. He will be among the many filmmakers in attendance.
Vero Beach is a hidden gem, not overly-crowded, with all the wonderful things you'd hope for in a coastal Florida town. I'm looking forward to going. In the screenings of D-Love that I've seen, there's been a lot of laughs and a lot of tears. I think that's the goal of any good movie with heart. It was such a great experience that I hope to be doing more film work.
Other new features this year include the Very Vero Virtual Reality Lounge in the Riverside Theatre and the Theatre Guild. The festival will also showcase student films, short films, morning and late night screenings at local hot spot Grind & Grape, and an educational workshop on screenwriting.
In addition, Stewart reveals that they are about to take to the sea with Celebrity Cruises hosting the Vero Beach Wine and Film Festival from September 17 to 24, stopping in seven different wine ports from Vancouver to Los Angeles.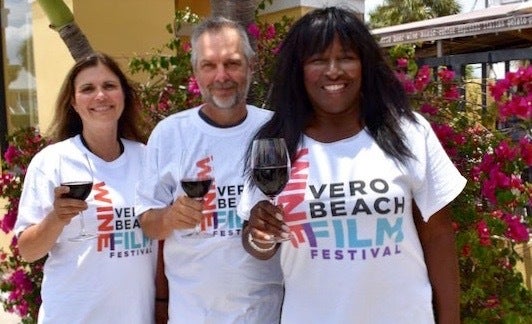 With 40% of film festivals not making it to their second year, the Vero Beach Wine and Film Festival has not only proven itself by returning bigger and better, but has created many opportunities and a boost to the local economy in the sleepier month of June.
We're rapidly growing, and hope to be here for years to come. We have about 230 volunteers helping throughout the festival, and we're so grateful for them. Vero Beach is known as a seasonal resort town whose population soars in the winter months. So I consider this festival 'the end of the season' party.
Support HuffPost
The Stakes Have Never Been Higher
Related
Popular in the Community