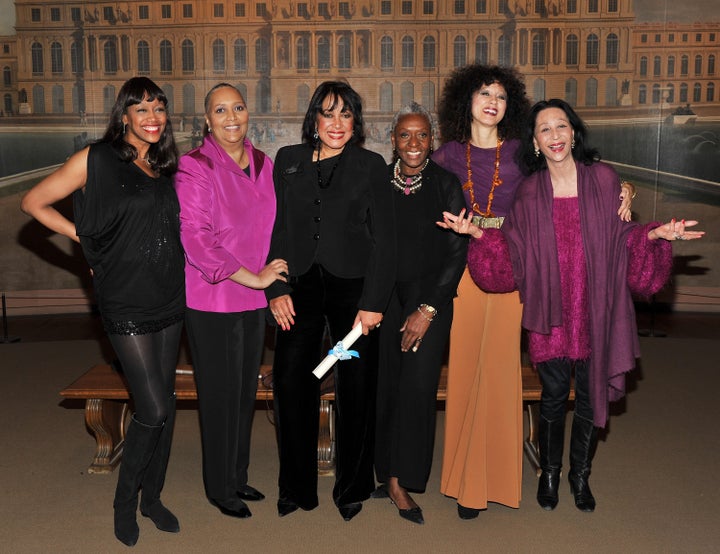 The 2011 Huffington Post Game Changers Awards were held last night at the Skylight Soho in New York. The evening honored those making an impact in the categories of: Politics, Media, Entertainment, Culture, Style, Green, Business and Technology, Sports, World, Food and Travel, Education and Impact, and Healthy Living. New York governor Andrew Cuomo was awarded "Game Changer of the Year."
Oprah's bestie Gayle King presented the ground-breaking group of models with their award.
Who are the Versailles models of 1973?
Pat Cleveland, Bethann Hardison, Billie Blair, Jennifer Brice, Alva Chinn, Norma Jean Darden, Charlene Dash, Barbara Jackson, China Machado, Ramona Saunders, and Amina Warsuma.
These eleven models took part in the legendary Grand Divertissement à Versailles fashion show held in 1973 at the Palace of Versailles. The show was organized to raise money for the restoration of the palace. It was designed as a true fashion throw-down between five American designers (Halston, Oscar de la Renta, Bill Blass, Anne Klein, and African-American designer Stephen Burrows) and five French designers (Yves Saint Laurent, Christian Dior's head designer Marc Bohan, Hubert de Givenchy, Emanuel Ungaro and Pierre Cardin).
Since American fashion wasn't the powerhouse it is today, this was the perfect opportunity for the American designers to make a big impression. And they did. By making a conscious decision to include black models in their presentation (while the French used none) the designers sent a clear message through their clothing and the diverse women modeling them that American fashion was a force and not going anywhere. In addition, the eleven African American models served as an example of the beauty of diversity and ultimately paved the way for black beauties such as Iman, Naomi Campbell and Tyra Banks to emerge as supermodels.
Here's a look at the ladies receiving their award last night and a few other familiar faces on the red carpet.