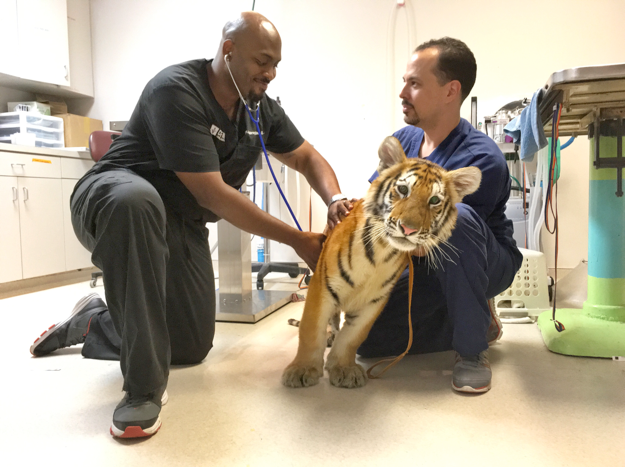 Bearded dragons, kinkajous, and tigers are all in the mix on Animal Planet's The Vet Life television series. The reality series features three Houston-area veterinarians bringing laughter, pet health care, and family back to silver screen for a third season that premieres Saturday, January 13 at 10:00 p.m. ET/PT. Despite the hilarity and medicine, the Tuskegee-trained trio has one pet peeve.
"So many people say, 'oh, I want to talk to a real doctor.' First of all, we are real doctors," fumes Cy-Fair Animal Hospital partner and animal physician Dr. Diarra Blue. "In the veterinarian community, we say, 'you aren't a real doctor unless you can treat more than one species.'"
His partner, Dr. Aubrey Ross II, asserts, "Veterinarians are just like human doctors. We have specialists like pediatricians, surgeons, general practitioners, and cardiologists, etc."
The third partner and show co-star Dr. Michael Lavigne III, assures, "We are regular people, we have families, we pay our taxes and work every day."
Each partner does his fair share of surgery and treating pet illnesses. Dr. Blue enjoys unveiling the surprises of his craft.
"Veterinary medicine is the thing I love the most," Blue reveals. "I am never bored when I come to work. Treating animals is like a game of Clue, a mystery of sorts."
Lavigne enjoys scrubbing up and using his scalpel.
"I love surgery. I like doing procedures and seeing animals get better after recovery," he shares.
Ross is fascinated by extraordinary creatures.
"I like the pathophysiology of exotics. They are just different. Many veterinarians don't like working with cold-blooded animals. But, it is very interesting," he observes.
THE VET LIFE is produced for Animal Planet by Glass Entertainment Group with Argle Bargle Films.
These multi-breed surgeons and varied-animal diagnosticians offer a three-part prescription for keeping your furry family members healthy.
Make Regular Visits: Lavigne notes, "Preventive care and regular checkups are very important. They can also help you with costs. Because if you find and catch something early, it is cheaper to treat."
Protect Your Pets' Oral Cavity: Ross advises, "Dentals are very important. Many times owners have not looked in their pet's mouth. There are a lot of things happening in their mouths. Sometimes, the only time that gets looked at is when the veterinarian does it."
Build a Rapport with the Doctor: Blue recommends you, "Develop a relationship with your veterinarians. They can keep you up to date on various diseases and things that are happening in your city. Sometimes, your pet could be vulnerable to a disease that is present where you live."
Calling all HuffPost superfans!
Sign up for membership to become a founding member and help shape HuffPost's next chapter
This post was published on the now-closed HuffPost Contributor platform. Contributors control their own work and posted freely to our site. If you need to flag this entry as abusive,
send us an email
.