In the aftermath of Veterans Day 2016, I have been left to reflect on the successes of the first year of our Veterans Education Challenge. For those unfamiliar, the Veterans Education Challenge (VEC) is a fundraising campaign aimed at creating scholarships for student veterans who cannot complete their education due to the shortcomings of the current G.I. Bill. Veterans at colleges across the country are struggling to finance the completion of their education despite having already attended their collegiate institution for several years. On November 12th, we started to see the impact of the VEC as the first round of scholarships were awarded to three University of Maryland scholars: Marine veteran Colton Treadway, and US Army veterans Jose Githens and Charles Turner.
I was compelled to initiate the VEC after witnessing how education can be an extreme financial burden for student veterans. Many veterans have families who depend on their success, with 15% being single parents, 46% having children and 47% being married. Education is a vital step towards the betterment of their lives through job opportunities. Currently, veterans make up approximately 4% of students enrolled in undergraduate education. That number is on the rise because of the opportunities afforded by programs such as the G.I. Bill, but ultimately, they are not enough. I have always been passionate about empowering women in the workforce which, with 27% of veterans being women, was an extra incentive for me to launch this campaign. The scholarships created from the VEC will be used to assist an extraordinary group of Americans in achieving the dream they bravely fought and served to protect.
The VEC has gained some exciting new partners recently who plan on supporting our cause in ways that are intrinsic to their business models. Diageo has offered to promote awareness of the VEC by placing our logo on their Smithwicks beers. Their vast network of distribution offers us access to a substantially larger audience than we have had previously. Diageo has a long history of contributing to philanthropic causes and we are proud to have their support moving forward.
Our other two new partners both work in different areas of the employment recruiting field. Jobtreks is an online platform that helps streamline an individual's job search with a variety of organizational tools. They are offering to collaborate with us to provide their resource to student veterans attempting to navigate the employment process after graduation. videoBio uses video analysis software to offer job seekers advice for improving their job interviews as well as the ability to create online video-based portfolios to send to their employers. They have offered to provide our veterans with a discounted subscription to their service. With virtual interviews and portfolios becoming a modern day standard, this service is more vital than ever for our student veterans. We are excited to add two partners that are versed in the post-graduation sphere of veteran life so that we can provide tools to veteran scholars that last beyond their time in college.
With the launch of our first round of scholarships and the addition of exciting new partners, there is plenty to be excited about regarding the future of the VEC. I was especially thrilled to spread further awareness of our cause this past week while marching in the Veterans Day Parade. It was an honor to walk in the presence of our brave veterans through streets brimming with patriotism. It was particularly humbling to march beside the Columbia, Drexel, and Pace University student veterans, who we have been collaborating with in advancing the VEC.
If you are passionate about funding the education of student veterans, visit our webpage and feel great knowing that 100% of your donation goes directly to a student veteran looking to finish their college degree.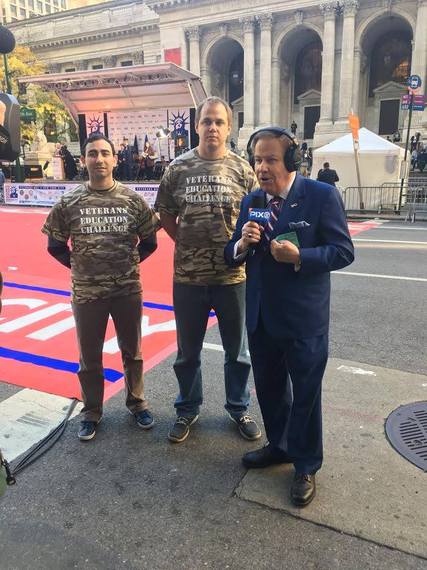 Calling all HuffPost superfans!
Sign up for membership to become a founding member and help shape HuffPost's next chapter