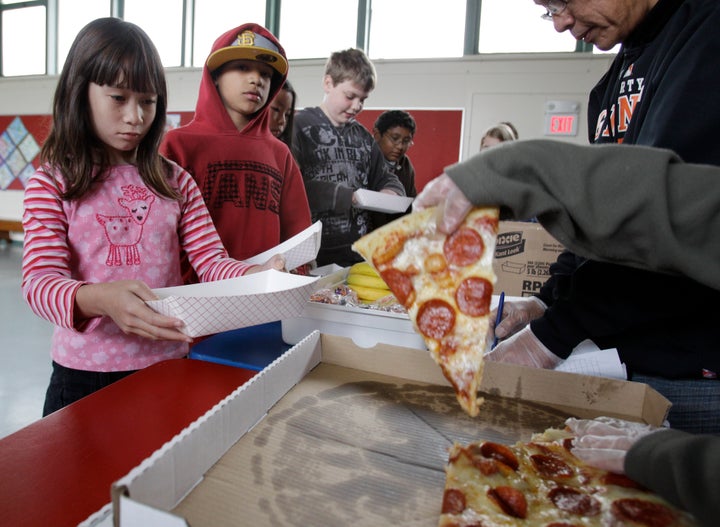 Sitting at a table close to the door of his popular Philadelphia restaurant Amis, a man whose name is synonymous with culinary excellence, leans forward and says;

"Food can empower...it can inspire change. It can build community."

Marc Vetri -- a Philly legend, an iron chef, the man believed by many to be the "best Italian chef in the country," has already changed the restaurant scene through his world renown eating establishments. Now he wants to change lives through his Vetri Foundation for Children.

This non-profit organization addresses a subject that does not often come up in every day conversation, food disparity. The experiences that our children have with food often depend on where they live and where they go to school. In more affluent school districts or in private/independent schools, visiting the cafeteria one may find an amazing amount of options that include a salad bar, fresh sandwiches made to order, healthy warm entrées that are different nearly every day of the month, soups, and vegetarian options. For other students, their daily lunchtime options are far more limited with the same rotation of fried junk food every week. After consuming nachos or chicken nuggets day in and day out, they leave school and go directly to a corner store or bodega (the only places to buy food and groceries in some neighborhoods) and buy sugar heavy snacks to tide them over until dinner at home.

The eating disparities in our country; not to mention the often forgotten reality that there are in fact children in our country who go hungry every night, are real. Marc Vetri wants to do something about it, but not in the way that you may think.

"Food is only a small percentage of it. Compare it to the restaurant industry -- owning a restaurant is only partially about making good food. (One has to take into account) the ambiance, service, interaction, wait staff, hostess, the budgets and everything else. There's so much more to it than just food. When you open up a restaurant and only worry about the food... it'll fail."
And failing is something Vetri does not do.

Vetri -- the man, the chef, the foundation

Marc Vetri, who has just released his second cook book Rustic Italian Food (which was recently featured at one of Huffington Post Food's Best Cookbooks of 2011), was raised in the Abington section of Philadelphia where he first learned to cook from his Sicilian grandmother, has become well known for his very popular restaurants that are foodie destinations in the City of Brotherly Love. The team behind the three (soon to be four!) Vetri owned restaurants has achieved a culinary genius that is only matched by their business acumen.

During the day of our interview, not knowing what to expect, I was waiting for someone to come out from the kitchen with a big white hat and large apron on, barking orders while waiving a butcher knife in one hand and sauce covered spoon in the other. Part Gordon Ramsay and part chef from the Muppets.

Instead I met a guy who is extremely genuine, disarmingly humble, and vintage Philly. Gritty but warm. Tough but deeply faithful.

Our conversation was not about his restaurants, but it was about this latest endeavor that he, Jeff Benjamin and the team have started. Founded in 2008, the foundation emerged from the annual "Great Chefs Event" that Marc and a group of other notable chefs hold to raise funds and awareness for Alex's Lemonade Stand -- another Philadelphia-based effort, which supports research to end pediatric cancer.

Since then, they have grown from a single evening of fundraising, into a full-fledged not-for-profit organization. If Vetri's prior success rate is any indication, this too will be a successful endeavor.

Eatiquette

The Vetri Foundation is a Philadelphia -based non-profit organization whose mission is "to help kids experience the connection between healthy eating and healthy living."

The foundation is part culinary consultant agency and part Extreme Makeover. Perhaps the best example of what they do is their Eatiquette program. This fall, the Foundation brought Eatiquette to a Philadelphia K-8 school. Rather than simply engage students on what they eat, they also challenge them around how they eat.

The cafeteria layout is first reconfigured. Rather than the long bench lined tables, round tables are introduced so as to encourage dialogue and conversation skills. Instead of having the students stand in line with a tray, the food is served family style to be shared at each table. And at the beginning of every meal, those who prepared it describe the food that the students are getting ready to eat (an act which can instill pride in food service workers.)

At the table, the students sit to formal table settings (fork on the left, knife and spoon on the right...) and then are engaged in conversation by the table leader. "How is your day going?"

The premise is simple, but potentially life changing. After working with the Vetri Foundation, the food at the school is much healthier, but like its namesake said when referring to his restaurants, food is only a part of it. Vetri brings a vision and imagination that has been sorely needed to the school dining experience of our youth. His goal is ultimately "to have every single school in America serving a fresh, family-style lunch."

The most important question, of course, is what effect does this have on children?

"It instills in them a sense of self, confidence in self. I was always a very confident guy" says Vetri reflecting on his experience of growing up in a family that shared meals together.

Director of Marketing Kelly Herrenkohl adds, "Whenever you ask a child, how was your day? You make that child feel valuable." And having an eating situation where conversation is possible, and the meal time is as much about fellowship as it is about the consumption of food, makes caring conversations like that possible.

Fortuitously, it also has a positive effect on the cafeteria workers. In describing his experience of visiting a camp this past summer that partnered with the Foundation, Vetri shares; "When we started at the camp I walked into the kitchen and they were so uninspired and miserable. Within a week we changed their vision."

He went on to describe his experience of making pasta (literally making the pasta from the dough) and then teaching cooking techniques. Having the opportunity to learn from and cook with Marc Vetri is a once in a lifetime experience, the kind of experience that can transform someone from a food worker into a chef.
"All the kids end up respecting who cooked for them." Says Herrenkohl.
How will I be remembered?

While sitting in Amis, Vetri and Benjamin answered the question "Why do this?" Why would two men who have found success in the restaurant business, begin a new not-for-profit initiative with the intent of changing the lives of children?

Benjamin answers; "Why do we have to do this? Because of opportunities offered us. Someone gave us an opportunity, someone created that road. It's incumbent upon us to do some good."

Vetri answers the question of "Why do this?" with a story.

"I was walking with my father" he begins, "And he said...'Sometimes I think, what are they going to write on my tombstone? Was I good person? What am I going to be remembered for?'" Vetri continues, "My dad was a good guy. He never just stood around. He pushed the limits. He was a good father and a good husband. I swear he never just sat around. He took action."

It was a striking moment in our conversation, watching one of the country's best chefs wonder about his own legacy -- as if founding some of the nation's best restaurants wasn't enough. To Vetri, it's not enough to be remembered as a great chef and a visionary businessman. Those are blessings, but secondary according to Vetri. He'd rather be remembered as a man of action -- a guy who used his success to help others.

Vetri's vision of having every school cafeteria serving family style lunches may be some years away, but at least he has a vision. That vision is slowly coming to fruition, one family meal and one school at a time.

REAL LIFE. REAL NEWS. REAL VOICES.
Help us tell more of the stories that matter from voices that too often remain unheard.