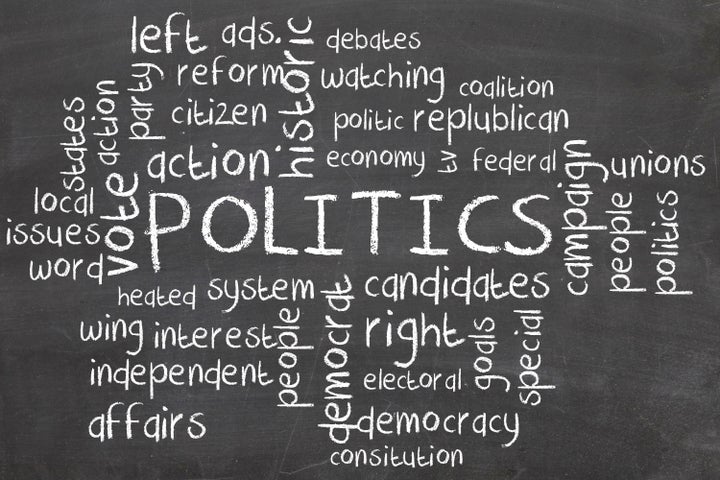 Yes, there certainly is a whole different political campaign happening via online video advertising for the 2016 presidential candidates. These video campaigns matter for the candidates because they yield rich data about demographics, viewership and engagement. Over 100M people watch at least one online video per day on their smart phones, laptops or desktops. Albeit many of these are the proverbial "baby" videos, but the sheer numbers are staggering for video delivered predominantly via YouTube, but also via Facebook, Twitter or Google+. Moreover, they are watched by one of the largest voting groups -- the Millennials; and one can actually see which candidates are really ahead -- rather than solely relying on often antiquated polling methodologies loved by the traditional media outlets and pundits.
What does this mean? It means that the media and pundits are really missing the boat by solely extolling the virtues of a petty billionaire demagogue named Donald Trump, and beating on Hillary because her name is Clinton -- instead of looking at the new trends available over social media. In fact, the polls that the media outlets rely upon are beginning to be skewed, or even inaccurate as evidenced in the recent poll from Quinnipiac University. Sadly, our dear friends in the broadcast media are not even paying attention to the new ways in which folks are getting their news which is increasingly through platforms like Facebook or even Twitter in text format, and more importantly video.
YouTube delivers the majority of video over the Internet; and the millennial generation according to the Youth Engagement Fund (roughly those born between 1980 and 2000) is the largest (80 million strong) and most diverse generation in history (40 percent identify as non-white and 20 percent report being an immigrant or the child of an immigrant). Millennials were one-fifth of the electorate in 2012, and will be one-third of the electorate by 2020. Every day, over 12,000 Americans turn 18, and become eligible to vote for the first time. As millennials all reach voting age, they will and are remaking American politics for decades to come.
Over this 2016 election cycle, we will be collaborating with Strike, a video advertising and analtics company, to analyze and report on the data and analytics that are coming out of the Presidential Campaigns via YouTube, and via the Facebook, Twitter, and Google+ APIs. The goal is to break down what's happening with the individual videos put up by the candidates before they hit the TV and cable airwaves; and to go beyond views and shares to examine engagement across social networks, and take a look at which candidates have the best organic traction with their content.
The best video is the one made by the Jeb Bush campaign attacking candidate Donald Trump. It is the first online video released simultaneously over the Internet and on broadcast networks. Remarkably, it shot to the top in terms of engagement and organic growth -- yet it reveals even more fascinating engagement metrics that may backlash on the Bush campaign because of a high number of dislikes.
The second best video is Trump's 51 minute campaign announcement that took much more time to reach maximum engagement.
Candidate Carly Fiorina did not release her television ad over YouTube, and this may have proven a missed opportunity in terms of targeting. YouTube would have provided Fiorina with granular targeting that probably cost her much more to reach over broadcast media.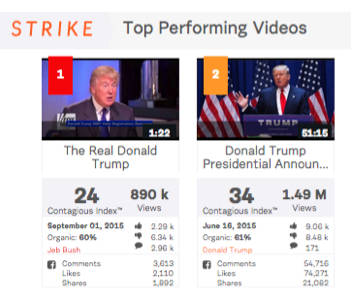 Note, the "Contagious Index" is a proprietary algorithm that scores every video on YouTube. The lower the score the higher level of engagement and organic growth. Following the debate, we will be working with Strike as they conduct a "post-mortem" analysis. Stay tuned to see if any of the candidates capitalize on their debate performance.