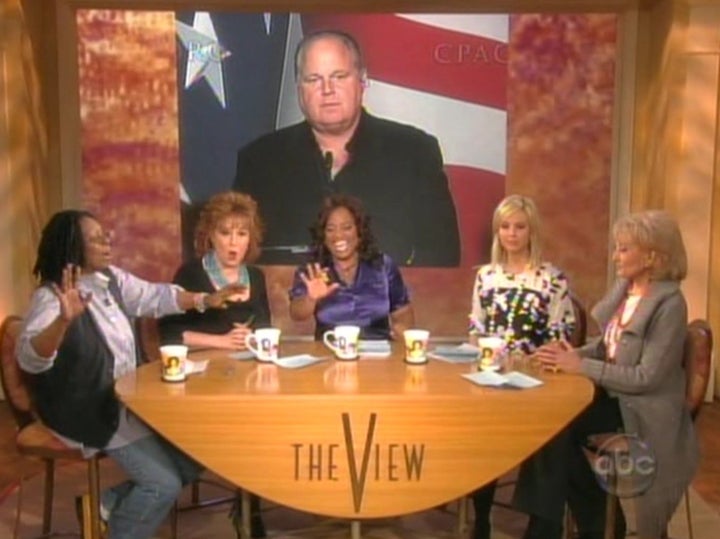 Rush Limbaugh's long and fiery speech at CPAC, which was filled with political insults against President Obama and Democrats and where he doubled down on wanting Obama to fail, has everybody talking. The ladies of "The View" waded into the thicket when Barbara introduced the topic by playing devil's advocate, saying that perhaps Limbaugh means he wants Obama to fail because his success would ruin our modern capitalist system.
Elisabeth asked if there was anything wrong with what Limbaugh said, and Sherri replied that there was. Sherri lamented that Limbaugh's comments are causing a lot of divisiveness and referred back to 9/11 when even though not everyone agreed with Bush's response, the country still came together to support him at the beginning. Shepherd said "the man has only been in office 31 days*; I don't think anyone is giving him a chance."
Elisabeth disputed this, at which point Walters broke in to say that if Republicans hoped Obama would fail they needed to offer up their own plan for success.
Elisabeth and Whoopi then got in on the action, with Elisabeth asking why is it wrong to hope that a system you believe is wrong will fail. Whoopi responded that Limbaugh's comments are a "crappy" thing to say after 31 days: "if in a year, you know, you feel this way, that's cool, but to say you want it to fail before we've even tried it seems crappy to me."
The ladies reminded Hasselbeck that comments like Limbaugh's could easily get one tagged as unpatriotic during the Bush years.
Watch the clip of the ladies getting heated below.
<0--492--hh>0--492--hh>
The segment ended on a lighter note when Joy snickered "did anyone think that black shirt made him look thin? I don't think so." Sherri disagreed: "I like a man with a black shirt and a black jacket. I think it looks kinda hot." An Incredulous Joy asked Sherri if she is a "chubby-chaser."
<0--493--hh>0--493--hh>
*Note: Obama's 31st day was February 19 or 20, depending on when you start counting.
Calling all HuffPost superfans!
Sign up for membership to become a founding member and help shape HuffPost's next chapter