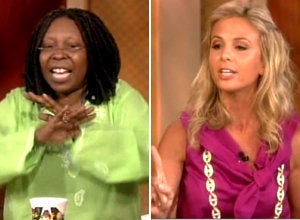 The discourse was civil enough, if juvenile, until Joy suggested that McCain's celebrity equivalent is Quaker Oats and diabetes commercial star Wilford Brimley — at which point a pig-tailed Elisabeth asked, "You wanna get into friends of candidates? Let's talk Rezko. Let's talk Reverend Wright. Let's talk Ludacris."
When Elisabeth got some pushback on that point ("This is about the ad," Whoopi reminded her), she cried out, "This is a free country!" at which point the fun started.
<2--1691257939--hh>2--1691257939--hh>
Elisabeth: It seems to be that you can only have one opinion in this country right now.
Whoopi: Oh really? After the last eight years you can say that? Don't go there, please. On one opinion, I know. I got eaten by what one opinion should be in this country.
Elisabeth: I'm saying, you experienced that.
Whoopi: Yes I did, so that's not what I'm doing. I'm trying to get this ad out, to talk about this ad, whether you think it's good or whether you don't think it's good. Not because he went here... What was wrong with that ad is, Is there no other way to do this? John McCain is a great guy. I like him. But this was beneath him. He is a much better guy than this. And that's what agitates me.
Joy: Well, he used to be. He used to be. He's not anymore.
REAL LIFE. REAL NEWS. REAL VOICES.
Help us tell more of the stories that matter from voices that too often remain unheard.