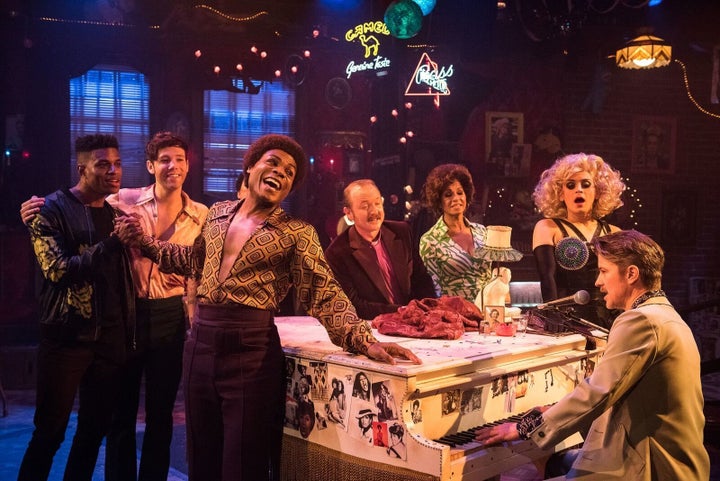 In February, playwright and composer Max Vernon brought one of the most profound moments in queer history to the New York stage with his rock musical, "The View UpStairs."
Starring Jeremy Pope, Taylor Frey, Frenchie Davis and Nathan Lee Graham, "The View UpStairs" was based on a 1973 arson that took place at a New Orleans gay bar, killing 32 people. The fire occurred just four years after the /www.thestonewallinnnyc.com/StonewallInnNYC/HISTORY.html"}}" data-beacon-parsed="true">1969 Stonewall riots, which are cited as the symbolic start of the modern LGBTQ rights movement. Nonetheless, it's often relegated to a historical footnote, despite being the largest and most deadly attack to target the queer community until the /www.huffingtonpost.com/entry/orlando-shooting-victims_us_575e0bebe4b0e39a28adf8cf"}}" data-beacon-parsed="true">Pulse massacre in Orlando, Florida last year. 
Vernon depicts the tragedy's events through the eyes of Wes (Pope), an aspiring designer who plans to turn the now-abandoned building which once housed the UpStairs Lounge into a clothing boutique. With the help of musical magic, Wes is transported to 1973, where he encounters the lounge's colorful patrons (Frey, Davis, Graham and more) in their free-swilling heyday. 
Fans of "The View UpStairs," as well as those who didn't get a chance to check out the show, can catch a first listen to the musical's "downtown, grungy and sexy" cast recording, which is being released by Broadway Records Friday and streaming exclusively on HuffPost, below. 
Citing Stevie Wonder and David Bowie as influences, Vernon told HuffPost that having "The View UpStairs" captured for posterity with a cast album ― which is still a rarity for an Off Broadway musical ― "means everything."
"I grew up listening to the songs from 'The Rocky Horror Picture Show,' 'Hedwig and the Angry Inch' and 'Hair' over and over and over," the 29-year-old told HuffPost. "Those scores opened me up to a more expansive and imaginative world that celebrated eccentricity, and oozed sexuality and freedom. My hope is some weird, queer, artsy kid coming up will discover this music and it will mean something similar to them."  
At present, Vernon is at work on a new immersive musical, "KPOP," slated to open in New York in September. Though he acknowledges that "The View UpStairs" may not be family-friendly enough for Broadway, he's hopeful the show's cult-like appeal will spark interest from regional theaters nationwide. 
"I would love nothing more than for 'The View UpStairs' to have magical gay bars cropping up around the country," he said, "especially in battleground states or places where the message of this show can actually be fighting to win some hearts and minds." 
REAL LIFE. REAL NEWS. REAL VOICES.
Help us tell more of the stories that matter from voices that too often remain unheard.
BEFORE YOU GO