On June 24, 1973, New Orleans's UpStairs Lounge was set ablaze in a deadly arson that claimed the lives of 32 people, many of whom identified as LGBTQ.
Until Orlando's Pulse massacre last year, the UpStairs attack was the largest in U.S. history to target the queer community. Though the fire took place just four years after the 1969 Stonewall riots ― which are considered the symbolic start of the modern LGBTQ rights movement ― the tragedy itself has become a bit of a historical footnote.
Enter Max Vernon. The New York playwright and composer learned about the UpStairs Lounge fire in college, and has written a new musical that brings the victims to life for a new generation of Off-Broadway theatergoers. But Vernon insists "The View UpStairs," which opens at Manhattan's Lynn Redgrave Theater at Culture Project on Feb. 28, is anything but a somber history lesson. "I wanted to write something that would use the fire to have a conversation about how our world has changed since 1973," he told The Huffington Post.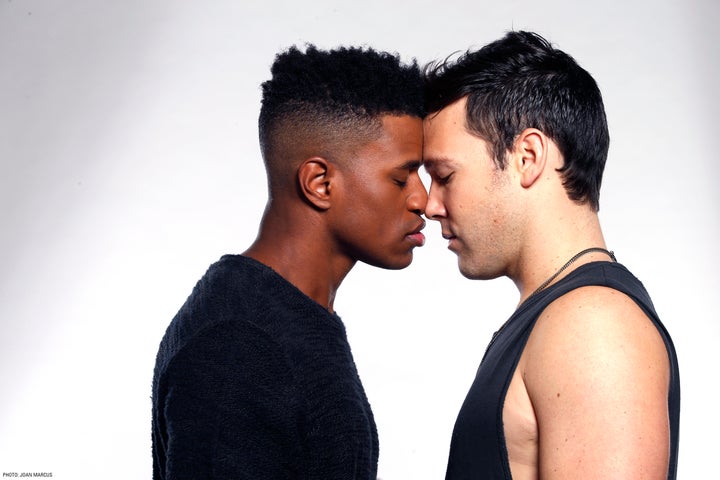 As such, the couple at the heart of "The View UpStairs" represent, as Vernon puts it, the conflict between "two different generations of queer history." The show follows contemporary fashion designer Wes (Jeremy Pope) as he is transported through time to the UpStairs Lounge in its free-swilling 1970s heyday. Along the way, he meets Patrick (Taylor Frey), who is coming to terms with his sexuality after his Christian family sent him to "conversion" therapy. "American Idol" veteran Frenchie Davis, stage and screen actor Nathan Lee Graham ("Zoolander 2") and Broadway favorite Michael Longoria add texture to the plot as lounge patrons of different backgrounds, while the musical as a whole doesn't skimp on the sex.
Frey, who was raised in the Mormon faith, told HuffPost he connected to the role of Patrick, who is "playing sexual and mental catch-up," in many ways. "I lived such a straight path, and I tried to do my best not to be gay or, as my church told me, not to act on it," the actor-singer, who has appeared on Broadway in "How To Succeed in Business Without Really Trying" and "Finian's Rainbow," said. "I'm not familiar with a musical where a leading character is gay and sings about [conversion therapy]... These stories aren't always told in our world of musical theater, especially when producers are trying to make a buck and trying to get something commercial on Broadway."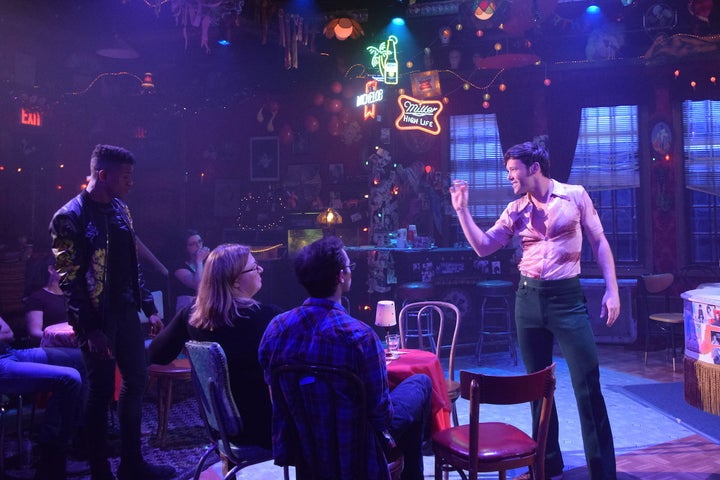 "The View UpStairs" struck an even deeper nerve for Pope, a Florida native who knew several Pulse victims personally. When the actor-singer first read the script last year, he said it felt "like therapy."
"It just felt necessary, right now, that we be able to share this piece of theater with the community," he said. "It's interesting to see where things nowadays are similar [to 1973] and where things are different. Yes, we have progressed and have made steps and strides, but there's still a long, long way ahead, I believe."
True to its setting, the show's score puts a fresh spin on a mélange of 1970s sounds. For Vernon, who cited Stevie Wonder and David Bowie as influences, the "badass rock score" was a no-brainer. The steamy vibe of the lounge itself, he added, was perfectly suited to a musical adaptation in the "downtown, grungy and sexy" vein of "Hair" and "Hedwig and the Angry Inch," although show tune traditionalists might be better served elsewhere. "[The lounge] had drag, it had cruising and glory holes, it had piano bar sing-a-longs... it even had church services," he said. "When you put that in context in the South in 1973, it makes it all the more inspiring."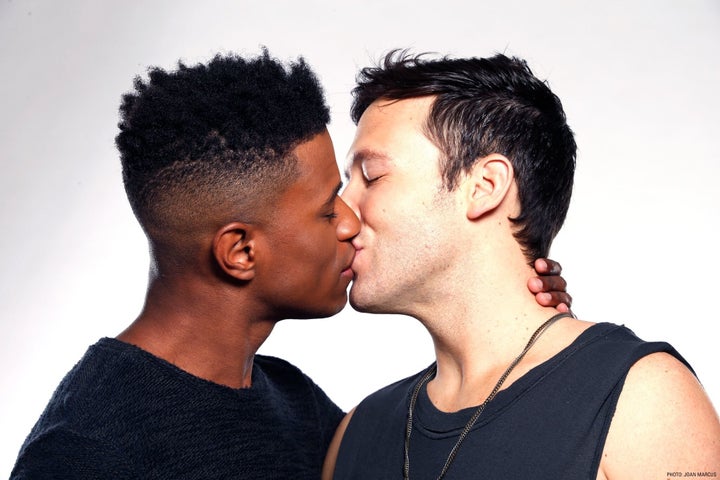 The significance of presenting such a pro-queer piece at a time when the LGBTQ community is facing an uncertain future under President Donald Trump isn't lost on the team. "When I first started writing the show, it was just my character that was traveling back to 1973, and now it feels like it's our whole country," Vernon said. Ultimately, he'd like the musical to help him "reclaim the power of being a subversive queer theater artist. I want to write work that shocks, provokes, makes people laugh at things they're not supposed to laugh at... [My show] is saying that we have to be the ones to pick up the torch from the past, march forward and make it better ourselves."
Currently in previews, "The View UpStairs" opens at Lynn Redgrave Theater at Culture Project in New York on Feb. 28. Head here for details.
Support HuffPost
Every Voice Matters
Popular in the Community