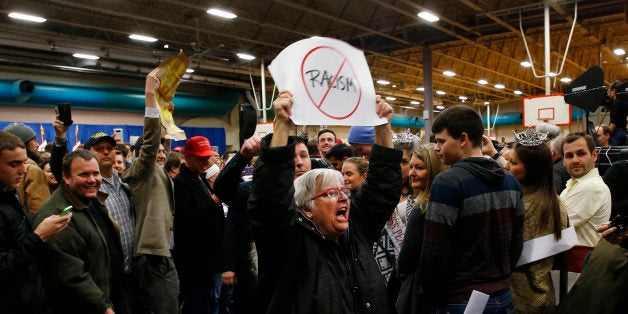 (This post first appeared at Medium.)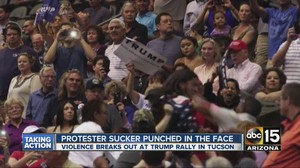 Optimism has been replaced by hate. Ideas have been sidelined for soundbites. Rallies have turned into riots.
For years, we've heard politicians and elected officials bloviate exhaustively about how "America is the greatest nation the world has ever known." We've heard soaring rhetoric championing our freedoms of speech, association and press. We've been praised as a beacon of civility and tolerance; of temperance and diversity. Turn on the TV or visit your favorite online news site and this portrait of America is completely unrecognizable. The sad reality of today is that optimism has been replaced by hate. Ideas have been sidelined for soundbites. Rallies have turned into riots.
The Donald Trump campaign for president is really the embodiment of a perfect storm of elements that has completely upended the Republican Presidential Primary and with it the entire political discourse in America.
Distrust in Washington was already at an all-time high. Gridlock and partisanship had stalled progress. Every media interview from any political figure started sounding identical: a plea for more time to hold onto their jobs.
And then comes Donald Trump.
A candidate who was viewed as a celebrity first and therefore was able to escape the normal boundaries of accountability usually reserved for traditional candidates. Someone who could embody people's anger and resentment at our broken political process. He was different. Some would say candid, authentic and refreshing. Most importantly, he was the exact opposite of what the political establishment was offering.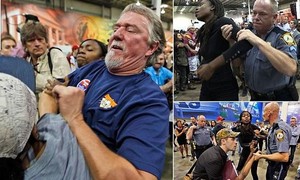 Somewhere along the way, the Trump experiment turned into something much uglier and much more dangerous. He started winning. Not a little, but by ample margins. The more outrageous his rhetoric became, the more free media coverage he received. As he said more provocative and controversial things, his supporters became more emotionally invested.
For a long time, I was able to bury my head in the sand and avoid the Donald Trump phenomenon. Like so many, I thought it more as an extension of a bad reality TV show more suited for E! rather than CNN and NBC News. That all changed when at an election night campaign rally, a reporter named Michelle Fields was reportedly "grabbed" and "yanked" by Donald Trump Campaign Manager Corey Lewandowski. The media company that Fields worked for, Breitbart News, was my client.
And thus began a bizarre back-and-forth of varying degrees of public support and public undermining of Fields by her own employer. At the heart of the conflict was the news outlet's own bias towards Donald Trump. In the immediate aftermath of the incident, Breitbart's Political Editor Matthew Boyle texted Lewandowski saying:
"...I wanna make sure that this doesn't turn into a big story. It sounds to me like it was a misunderstanding."
That text exchange reveals the real lens with which Breitbart was viewing the Fields incident. Ultimately, I made the decision to resign for two reasons. Firstly, the fact that the organization for which Fields worked had abandoned her, just didn't sit well with me. I believe loyalty is a two-way street.
Secondly, as I said recently on Fox News, I didn't sign up to work for Trump's de facto super PAC.
As we've seen in recent weeks, violence at Trump rallies are not isolated incidents. They are a pattern of escalating behavior that is intensifying with each passing day.
Sunday morning began with the CBS News headline, "Violence Erupts at Donald Trump Rally in Tucson."
It's stunning that so many who are charged with the responsibility of leaving behind a better world for their children and grandchildren, are so complicit in the rise of a man whose political legacy in America will be one of hate, anger and violence.

...the violence is just beginning.

Make no mistake about it: the violence is just beginning. It will not be long before some deranged lunatic brings a firearm to a Trump rally and innocent people are harmed. Pundits will ask who's to blame. Questions will be asked about whether Trump's dangerous rhetoric inspired such acts of violence. Trump supporters will blame the organized left for inciting more conflict. Critics will ask if the media was complacent by giving Trump non-stop free airplay.
This is the portrait that will be left behind for my generation to inherit. A nation where hate speech is concealed under the banner of free speech. Where the right of free association is contaminated by violence and ugliness. Where the "adults" are a part of the problem, lacking the courage and will to put the betterment of the country ahead of their own self-interest.
Is it any wonder why so many of America's millennials are either apathetic or averse to particpating in the political process?
Ironically, it is these millennials who are our best hope to combat and reverse this negativity and ugliness. Through our ingenuity, innovation, potential and optimism, our generation can step forward and take a leadership role in the political process.
Ask any parent how powerful it can be when a child explains the world through their eyes. When your son or daughter comes home from school, upset, because a bully tormented them. When your kid is physically harmed for thinking differently than everyone else. How would you react when one of your own is physically manhandled and then told it was their fault in the first place?
It's sickening, it's hurtful and it's exactly how Donald Trump is making America "great" again.
Calling all HuffPost superfans!
Sign up for membership to become a founding member and help shape HuffPost's next chapter