Recently I had the opportunity to see The Visit on Broadway. Swiss dramatist Friedrich Durrenmatt's tragicomic play Der Besuch der Alten Dame (The Visit) is a tale of sweet revenge. It's always been one of my favorites. And this production is masterful. As a musical it is magic. Legendary Tony Award-winning duo John Kander and Fred Ebb have served up the music and are nominated for Tony's.
And while The Visit is nominated for Best Musical, it is made magical by none other than Chita Rivera. Ms. Rivera, at the remarkable age of 82, brings vivid life to Claire Zachanassian. Her portrayal of Claire is chilling. Riveting. Regal. And above all sympathic. Ms. Rivera makes Claire Zachanassian a loving heroine. She gives understanding as to why Claire, who becomes the richest woman in the world, bought off her hometown inhabitants to murder the man who jilted her in her youth. Feeling worthless, sexless, Claire was propelled into a life of promiscuous sex. A whore she became and sings her sadness from her core. As a whore, she went on to become the wife of seven men who left her fortunes. Ms. Rivera owns the stage and sings about the denigrating life that her former lover--the only true love of her life-- Anton Schell caused her to be reduced to. Claire wisely turns her humiliation and denigration into cash. Durrenmatt sardonically serves up the role of wealthy wife and whore and how they can relate. But it is Ms. Rivera's lilting yet commanding voice that gives sympathy to her suffering. Because of her love for Anton Schell, she is consumed with a desire to pay off her entire hometown-- who witnessed her being jilted and who falsely testified against her-- to murder him. The denizens of this dilapidated, despicable village represent universal greed, another theme of The Visit. As is corruption of the sexist judicial system. The corrupt Judge of this town takes Claire's child with Anton from her by paying off witnesses to testify against her. These evil, greedy witnesses paint Claire as the town whore instead of the faithful lover of Anton Schell who is the true father of her baby. Because of these dishonest, paid-off witnesses, Claire loses her beloved baby. The Visit is about revenge, greed, a corrupt judicial system, sexism and ultimately love.
Chita Rivera brings sympathy to murderess Claire Zachanassian who wants to bring Anton Schell's coffin to her home in Italy and finally in death separate him from the woman he married instead of her, so that Claire Zachanassian and Anton Schell can be together for the rest of her life. After Anton's body is placed in the coffin, Ms. Rivera strokes it with tenderness with her one good hand. Her other hand is plastic. Her one leg is wooden. She has suffered, but with Anton Schell's dead body by her side, she smiles and suffers no more. Ironically playwrite Terrence Mc Nally who wrote The Visit is nominated for Best Book of a Musical. John Doyle, two time Tony Award winner (Sweeney Todd), has directed The Visit and Tony winner Roger Rees co-stars with Ms. Rivera.
My only criticism of The Visit was the lack of pomp and circumstance of Ms. Rivera's entrance. The coffin needed to be brought onto stage with a grand, majestic, sinister air, but it merely appeared on stage surrounded by two eunuchs and a servant wearing a top hat. In some versions of the play live cheetahs drew a gold chariot holding the coffin. But this weakness did not take away from Ms. Rivera's performance which has deservedly earned her a nomination for a Tony as Best Actress in a Musical. Based on what I saw of her performance in the Visit, she has my vote.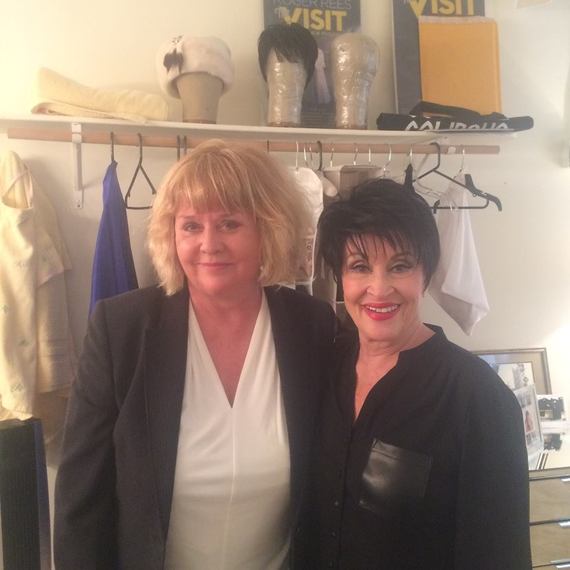 After Chita Rivera's mesmerizing singing, dancing and acting, my friend Heather Mac Rae, took me backstage to meet her. Heather had replaced Diane Keaton in the original Broadway production ofHair so going to a play with Heather opens up a world of backstage glamor. We climbed up a spiral staircase as I huffed and puffed, amazed that Ms. Rivera does this for each performance.
"How do you do those stairs at 82?" I asked her as she continued to radiate enthusiasm. She just laughed as I struggled to catch my breath and was so proud to shake the hand of the woman who should win the Tony for Best Actress in a Musical... And who is a true beauty and radiant spirit up close and personal.
Calling all HuffPost superfans!
Sign up for membership to become a founding member and help shape HuffPost's next chapter