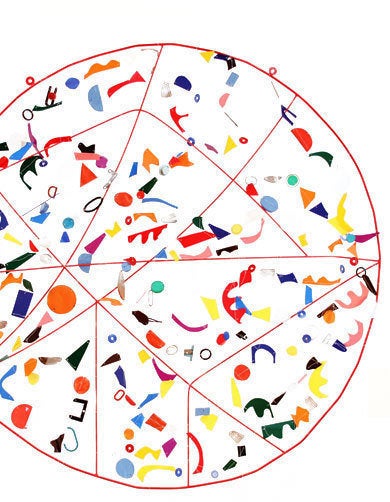 David Ascalon, an Israeli-born sculptor living in Cherry Hill, New Jersey, who had lost grandparents and other family members to the Nazis, was perhaps an obvious choice to create a Holocaust memorial in Harrisburg, Pennsylvania.
His design -- a stainless steel Star of David base below a series of shiny stainless steel poles, seemingly bound up by a dark, rusty-looking metal "spiral serpent" that resembles barbed wire -- was selected in 1993 by the Jewish Federation of Greater Harrisburg. The 15-foot tall sculpture that was placed in a park along the Susquehanna River in 1994, and he was paid $35,000.
"The stainless steel core represents the Jewish people," Ascalon said, "because stainless steel has an eternal look." The decayed "serpentine rusting shape," on the other hand, symbolizes the Nazis.
Like all of us, artwork deteriorates over time, especially outdoor sculpture. Within 10 years, the Holocaust sculpture needed repairs because the barbed wire serpent had become overly rusted. The metal he had been supplied back in 1993 was not to the specifications he had ordered. Ascalon volunteered to do the restoration, asking only to be reimbursed for the costs.
This is where the story gets seriously weird. Ascalon's request was rejected. Instead, in 2006, the Parks and Recreation Department of Harrisburg chose a restorer who replaced the original barbed wire motif with a shining stainless steel replica and scratched out Ascalon's name from the memorial's base, replacing it with his own. What's more, a lawyer for the Jewish Federation demanded that Ascalon stop claiming to be the artist of the memorial. In 2010, Ascalon brought a lawsuit in U.S. District Court against the city's Parks and Recreation Department, the Jewish Federation and the restorer for violating his moral rights.
Raise your hand: Who thinks the weird part is what was done to this artist and his sculpture, and who thinks it is weird to sue for one's moral rights?
In fact, artists' moral rights have been enshrined in law for 20 years through the Visual Artists Rights Act, or VARA, which was enacted as an amendment to the U.S. Copyright code in 1990.
VARA is a fairly limited statute, preventing the owners of artworks of "recognized stature" from destroying them and forbidding these pieces from being altered in some way without the artist's approval. The thinking behind these moral rights is that unapproved alterations or destruction may damage an artist's reputation. The law establishes mechanisms by which an artist may retrieve a work of art that the owner might otherwise destroy, as well as enables an artist to disclaim ownership of a piece that has been altered. Works of art are narrowly defined as a painting or drawing, or sculptures, graphic and photographic prints in limited editions (signed and numbered by the artist) of 200 or fewer copies.
Today, many questions have arisen that could not have been predicted in 1990. Do artists have the right to stake out where that artwork will be placed -- permanently? Can artists claim that whatever they make and identify as art has to be treated accordingly? If a damaged artwork undergoes restoration and the artist doesn't like how it was done, can the artist claim the work was "destroyed"?
Back in 1990, it seemed as though the issue was making sure that collectors didn't intentionally damage or destroy significant works that they owned. Among the examples given, for instance, was a black-and-white mobile by Alexander Calder, displayed in a building at the Greater Pittsburgh International Airport that was turned into a stationary sculpture in 1958 and painted the city's official colors, green and gold. A few years before that, the industrial green paint on one of David Smith's metal sculptures was removed because the purchaser didn't like it, and a mural by Arshile Gorky at the Newark (New Jersey) Airport was whitewashed. Stupid stuff; there ought to be a law.
Those kinds of problems rarely happen, although Ascalon's Holocaust memorial does come close. More often, other situations arise not necessarily envisioned by lawmakers that courtroom judges must decide. Take, for instance, the VARA involving Swiss installation artist Christoph Buchel and the Massachusetts Museum of Contemporary Art in North Adams. Buchel had been commissioned by MassMoCA to create a new, giant work that was to be titled "Training Ground for Democracy." The museum agreed to buy and haul in the things he wanted in the assemblage (including a movie theater, a mobile home, a carousel, a voting booth, a police car, a bus, an oil tanker), but the list just kept growing. When the museum ran out of money, Buchel refused to have anything more to do with his installation, and the museum filed a lawsuit under the federal Visual Artists Rights Act in 2007 to determine its legal options -- could MassMoCA exhibit the unfinished work or even demolish the artwork? An initial ruling found that the law did not apply to incomplete artwork, and then another court overturned that decision, asserting that unfinished pieces are covered. More litigation to come.
Brooke Oliver, a San Francisco lawyer who has represented a number of artists in moral rights cases, principally dealing with building owners wanting to do away with a mural, says: "It's the age-old question of what is art. The courts have difficulty in determining what the law protects, because it's not clear what the art is."
Or, is an alteration -- even one made in the name of conservation -- a form of destruction? Removing the rusted metal and replacing it with a more durable steel gave new life to the Ascalon memorial, but it changed the artist's intentions. "This alteration is abhorrent, and runs completely contrary to the core vision of the Memorial, which was based on the notion of creating a striking and stark visual contrast between the Jewish people and their Nazi oppressors," according to the lawsuit. "The sculpture as modified now creates a visual equivalency between good and evil, which is a mutilation and bastardization of the artwork and its purpose." Last month, an out-of-court settlement was reached, and "the artwork will be restored in accordance with my father, David Ascalon's, vision," according to his son, Eric Ascalon.
Another complicated VARA case involved sculptor Audrey Flack. She had been hired in the early 1990s to create a monument in the Borough of Queens, but the nonprofit commissioning group ran into trouble, and the project was discontinued after the artist had created the bronze casting molds and a 35-foot tall clay head. Those molds and head sat outside the foundry for several years and became damaged. By the late 1990s, however, the group's troubles were resolved and they proceeded with the monument, hiring one of Flack's assistants to resculpt the face rather than Flack herself. She brought a VARA lawsuit against the group, which filed to dismiss the action, but that motion was denied, leading to an out-of-court settlement in the artist's favor. "We were able to get the judge to stretch the statute to include models in what was protected under the law," Barbara Hoffman, Flack's lawyer, said. "The judge was open-minded."
Judges often make rulings based on precedent, but there are few and almost all of them at the lower court level, which carry less weight than decisions made at the Appellate or Supreme Court level. The Audrey Flack decision did not get to the merits of her lawsuit but only if it could be tried in court; a settlement (especially one with a nondisclosure clause) between parties offers no precedent for the next judge. Few VARA lawsuits get very far up the judicial chain, because of the cost to the artist. "It is very expensive to bring a VARA suit," Scott Hodes, a Chicago lawyer who has represented several artists in these actions, said. "You're talking $200,000, $250,000. Even nonprofit lawyers won't take these cases unless they're a slam dunk."
Oliver claimed that a major effect of the Visual Artists Rights Act has been to inform prospective buyers of art of "recognized stature" that they cannot do whatever they want with the pieces they purchase, because they, too, may find themselves with legal costs. Perhaps the largest precedent set in the 20 years since the law was enacted has been that the majority of contracts commissioning artists to create new artworks contain clauses in which artists waive their VARA rights. Avoiding the problem may be the easiest solution for judges who don't want to wade into this.

Popular in the Community